September 11, 2011
F1 Update!: Italy 2011
A bright, beautiful sunshiny day met the F1 Circus as they formed up on the grid at Monza. The Red Bull of Seb Vettel sat on pole for the 10th time this season, but seemed to be down on speed. Would either of the two McLarens be able to disrupt his plans, or would he run away and hide on the fastest track of them all? THIS is
your
F1 Update! for the 2011 Grand Prix of Italy!
*LIGHTS OUT
: At the front of the field, the leaders had perfectly acceptable starts, but things were different down towards the back of the grid. HRT's Daniel Ricciardo went into anti-stall, jammed in 3rd gear, then stalled anyway. Since he was starting 23rd, there was nobody to run into the back of him other than his teammate Vitantonio Liuzzi, who managed to get past easily. We'll come back to Liuzzi in a moment. Back up with the leaders, Seb Vettel
was
passed heading into the first turn. The surprise came from who did the passing. Ferrari's HWMNBN, the hopes and dreams of Italy propelling him forward, sneaked by the Red Bull on the inside and led the Thundering Herd into the first turn. Just for a moment, the cheers of the partisan crowd drowned out the screaming of 23 V8 engines turning at 18000rpm.
*TOTAL CARNAGE
: Vitantonio Liuzzi either had God's Own Start or a RATO unit stuffed up the tailpipe of his HRT, for he had passed five cars right off the bat and was heading to the inside of victim number six with a big head of steam. Then two things happened: first, the RATO unit ran out of oomph. Second, victim number six decided that he didn't want to be passed by a HRT, even one with an Italian driver at Monza, and moved over enough that the opening up the inside was no longer there. Liuzzi, being a hot-blooded son of Italy, decided to try and pass anyway and wound up with his right wheels on the grass. The car immediately snapped to the left. Now at this point, a
great
driver would gather the car up and continue on with maybe a slightly elevated pulse rate. A
good
driver would save the car, maybe spin, and rejoin the field at the back of the pack, wiser and still racing. But this was Vitantonio Liuzzi. He immediately overcorrected and found himself sideways on the grass, moving around 150mph and not slowing down in the least... just as the Thundering Herd filtered through the first chicane.
Nico Rosberg had to be feeling pretty good about his chances today. He had a car that had shown a good turn of speed through the weekend. Further, he was on an alternate tire strategy from everybody else in the top ten. He had started the race on the prime tire (medium rubber), and if he could manage to stay in contact with the leaders, he'd be able to attack on the option rubber when everybody else switched to the prime late in the race. Meanwhile, Renault's The Red Menace looked like a definite contender for points today as well. As the two of them guided their steeds through the chicane side-by-side, neither of them saw what was bearing down on them from the right side.
Liuzzi slammed into the side of the Renault, which was then driven into the side of the Mercedes. All three cars were ruined and came to a halt in a pile of carbon fiber in the center of the track. Rubens Barrichello's Williams had nowhere to go, but he somehow managed to get whoa'd up in time to avoid becoming the fourth victim of the wreck. He came to a stop completely blocked by the pileup, but he was able to eventually continue. Liuzzi was hit with a five-spot grid penalty for the next race for
being a dumbarse
causing an accident with his lousy driving. Berndt Maylander was duly summoned to the track, and a three-lap Safety Car period commenced while the Italian track marshals
went on strike
broomed the carbon fiber off the track.
*GAME ON, RACE OVER
: When Maylander pulled over and the race resumed, HWMNBN and Vettel jumped away from the rest of the field, led by Lewis Hamilton. Hamilton has shown that he has no idea how to react on restarts in the past, and he hasn't improved a jot since. Vettel was all over the back of the Ferrari for one lap, during which time the two McLarens and the sole remaining Mercedes managed to close the gap. Then going into Second Lesmos the inevitable happened and the Red Bull passed HWMNBN. By the end of the lap Vettel had over a second on the Ferrari. By the end of three more laps, he had a 10 second lead and the race was functionally over. The only hope the rest of the field had was that the Red Bull pit crew would make a mistake. They didn't, despite the psychic attacks of F1 fans the world over (minus Germany and Austria). The remaining 30-odd laps were merely formalities to discern who would finish second. That honor went to Jenson Button, nearly 10 seconds back after Vettel went into cruise mode with five laps remaining. HWMNBN finished third with Lewis Hamilton all over the back of him. Slappy Schumacher finished fifth.
*THREE INTERESTING STATS
: If Seb Vettel wins the next race, he will clinch the Driver's Championship with four races left to go. Sometime during this race, Vettel led his 500th lap of the season. Nobody else has led as many as 100 laps. Finally, the first five finishers were all past World Driver's Champions, with 12 trophies between them (Slappy 7, HWMNBN 2, and one each for Lewis, Jenson and Sebby).
*DRIVER OF THE RACE
: Seb Vettel. There's no question that Vettel is a good driver, but one knock on him is that he can't race in a crowd. Well, he put the lie to that when he passed HWMNBN for the lead. The best car + one of the best drivers = pure gold.
*TEAM OF THE RACE
: McLaren. Even though they made a fundamental error in car setup, running too much rear wing and therefore hamstringing their top speed on the fastest track in F1, the team made it work. The drivers compensated, and the pit crew performed amazingly. At one point, they got Hamilton in-and-out in three seconds flat. Red Bull has claimed that they've done a sub-3.0 second stop in practice, but that's not under race conditions. Three seconds is probably the best you'll see all year. A second/fourth finish is about as good as anybody could hope for these days.
*MOVE OF THE RACE
: Seb Vettel saw his race strategy ("Get in the lead, get over a second ahead, cruise to victory") blowing up in his face. One of the toughest drivers to pass, HWMNBN, was in front of him and three drooling silver cars were snapping at his heels. If he didn't get ahead of the Ferrari, he was going to be in trouble fast. So for a lap and change after the Safety Car came in, he harried the Spaniard like there would be no tomorrow. Then going into the Second Lesmos, he saw a narrow opportunity and jumped on it. Difficulty: it was to the
outside
of the Ferrari. Probably muttering "In God and Adrian Newey I trust," Vettel steered himself into the gap.
Even the incredible amount of downforce generated by the body of the Red Bull couldn't keep Vettel from sliding wide as he pulled alongside the Ferrari, and he put two wheels into the grass.
Remember what happened to Liuzzi back at the start? Vettel simply gathered up the car and continued on as if nothing happened. Then it simply became a drag race down to the Variante Ascari... and Vettel was on the inside.
After this pass for the lead, the race was over. A helluva nice move with a fine example of car control thrown in... yeah, that's a Move of the Race!
*MOOOOOOO-OOOOVE OF THE RACE
: Since Lap 1 incidents are not eligible for either MotR or Mooo-otR awards, Liuzzi's attempted shortcut across the first chicane can't win this. Eagle-eyed readers might have noticed the complete absence of Seb Vettel's teammate Mark Webber from this F1U!. That's because he took himself out of the race early. At the same time that Vettel was working on HWMNBN, Webber was trying to get past Felipe Massa's Ferrari. Unfortunately, the Australian tried to pass Massa in the first chicane. He was on the outside of the first bend, which would put him to the inside of the second bend, but Massa had the racing line and squeezed Webber hard. Instead of backing out, Webber tried to make it work anyway. He hopped the curb and plonked right into the side of the Ferrari. Massa spun, and Webber's nose went bye-bye.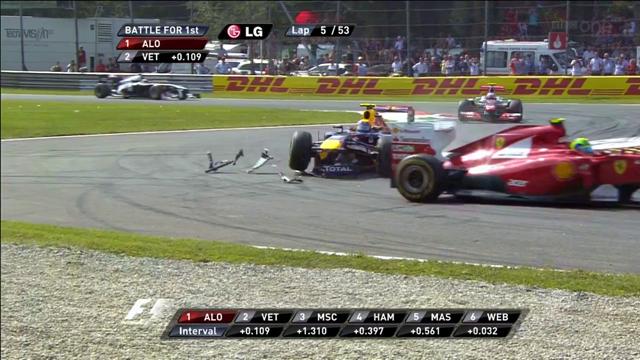 Keep an eye on that wing endplate marked "Total". Webber continued on, hoping to make it back to the pits to get a new nose. Perfectly logical, the car was still moving and tires didn't seem to be cut... and hey, around Monza not having a nose wing probably helps on the straights! Unfortunately, there are
some
turns around this circuit, and heading into Parabolica, Webber got a little carried away.
Oh look, there's that endplate again! It was jammed under the chassis, taking even more downforce off the car. Steaming into Parabolica, Webber couldn't get slowed up at all and drove right off the track, through the kittylitter and into the tire barrier. Congrats, Mark Webber, you earned yourself the Mooooo-oooove of the Race by self-inflicted stupidity!
*SELECTED DRIVER QUOTES OF THE RACE
:
"Who da man? I da man! Just another pleasant Sunday drive." - Seb Vettel
"Lewis? That's how you pass Slappy." - Jenson Button (
note: for about five or six laps, Hamilton did everything he could to pass Schumacher and couldn't pull it off. Then Hamilton goofed a turn, letting Button blow past him and Slappy at the same time.
)
"Forza tifosi!" - HWMNBN
"Screw you, Button." - Lewis Hamilton
"Penalty? Me? At
MONZA
? Yeah, like that'd happen." - Slappy Schumacher (
note: he deserved one for his "defensive" driving against Hamilton
)
"Thanks, Mark." - Felipe Massa
"I think I would like to start even further back on the grid for the next one, because it seems that whenever I have a poor grid position, I finish in the points" - NKOTT (
note: real quote. Yeah, try that, see how it works out for you.
)
"Did you know I'm the cousin of Dario Franchitti? I am, y'know." - Paul di Resta
"These are the first points I've ever scored in F1. Now I'm only 608 behind Uncle Ayrton!" - Bruno Senna
"Meh." - Seb Buemi
"There's not a lot to say. At least I avoided the accident." - Hesychast Maldonado
"I had a brilliant start... right up to the accident. Then I managed to high-center myself on a curb backing out of the mess. Nice job, me." - Rubens Barrichello
"I had a great start, passing Jarno and then seeing the HRT coming into T1 in a pretty hardcore style..." - Heikki Kovaleinninninnie (
note: real quote
)
"Suck it, haters, I've got paper for next year, hahahahahahahahahahahaha!" - Jarno Trulli
"The car was a little hard to drive. But then, it is a Virgin, so I shouldn't be surprised by that." - Tim O'Glockenspiel
"Could this race have gone any worse? Well, I could have been in a HRT." - Daniel Ricciardo
"First I lost third gear. Then I lost every gear. The car doesn't accelerate well in neutral." - Sergio Perez
"I went from having gears to having no gears. Think it's a Sauber thing?" - Gandalf Kobayashi
"I had an idea there was something wrong when my power steering stopped working. Then I couldn't shift gears, so I just parked it and walked home." - Adrian Sutil
" 'Self inflicted stupidity?' It's all Massa's fault." - Mark Webber
"I was really looking forward to the race and then during the formation lap I realised that I had no second gear. That's not good." - Custard d'Ambrosio (
note: real quote
)
"AIEEEEEEEEEEEEEEEEEEE!" - The Red Menace
"AIEEEEEEEEEEEEEEEEEEEEEE!" - Nico Rosberg
"Um... oops. Oh, and AIEEEEEEEEEEEEEE!" - Vitantonio Liuzzi
And so the Italian Grand Prix comes to an end, and so too does the European leg of the F1 season. It's all flyaways from now on... see you in two weeks when we'll be under the lights in Singapore!
Posted by: Wonderduck at 08:41 PM | Comments (13) | Add Comment
Post contains 2113 words, total size 14 kb.
Posted by: Avatar_exADV at September 11, 2011 10:53 PM (pWQz4)
Posted by: Author at September 11, 2011 11:33 PM (9KseV)
Posted by: Wonderduck at September 12, 2011 06:04 AM (o45Mg)
Posted by: Steven Den Beste at September 12, 2011 05:47 PM (+rSRq)
Posted by: Wonderduck at September 12, 2011 07:10 PM (o45Mg)
Posted by: David at September 12, 2011 08:52 PM (Kn54v)
Posted by: David at September 12, 2011 09:09 PM (Kn54v)
Posted by: Wonderduck at September 12, 2011 11:12 PM (o45Mg)
Posted by: Avatar_exADV at September 13, 2011 02:30 AM (GJQTS)
Posted by: David at September 13, 2011 11:48 AM (ttXyi)
Posted by: Wonderduck at September 13, 2011 04:55 PM (o45Mg)
Posted by: flatdarkmars at September 13, 2011 05:57 PM (zxqxC)
Posted by: Wonderduck at September 13, 2011 07:11 PM (o45Mg)
Comments are disabled. Post is locked.
41kb generated in CPU 0.0161, elapsed 0.2111 seconds.
47 queries taking 0.1994 seconds, 213 records returned.
Powered by Minx 1.1.6c-pink.