August 01, 2010
F1 Update!: Hungary 2010
It was just as bad as we thought it'd be. But the winner wasn't who we expected. THIS is
your
F1U! for the 2010 Grand Prix of Hungary.
STRATEGERY
: At the start, the RB6 of Seb Vettel pulled away from HWMNBN's Ferrari at a rate of one second per lap, and there was nothing anybody could do about it... until Heikki Kovaleinninninnie's Lotus lost a wing endplate. This wound up right in the center of the track, a hazard that brought out the Safety Car. Everybody dove for the pit lane except for Vettel's teammate Mark Webber, who inherited the lead. But then Vettel decided to give his teammate a gap as the Safety Car pulled in, holding up the field while Webber tagged right behind the SC... and earned himself a drive-through penalty in the process. Still, no worries for Vettel: he was substantially faster than everybody else but his teammate, and Webber would have to pit to get off his soft tires. Except when he did his drive-through, he came out behind HWMNBN's Ferrari, and Webber made his supposedly fragile soft tires last until Lap 43 while stretching his lead out to about 25 seconds. He stopped, changed tires and came out a few seconds ahead of second place. Race over, it was only a question of how far ahead Webber would be. The answer was almost 18 seconds, with Vettel third, unable to get around the Ferrari.
BORING
: The Hungaroring has been on the F1 calendar for 25 years. This particular race seemed about that long on it's own. When the F1U! staff is fast-forwarding through coverage, it's bad. THIS is how we go into F1's summer break? Great. Thrilling, I'm sure.
*DRIVER OF THE RACE
: Mark Webber. To go 43 laps on a set of soft tires is impressive enough. To do so while turning fast lap after fast lap while opening an insurmountable lead is nearly miraculous. Yet that's exactly what the Red Bull driver accomplished on his way to becoming the season's first four-race winner. There must be some panic amongst the other teams at the moment.
*TEAM OF THE RACE
: Red Bull. First-third and they take over the lead in the Constructor's Championship and Driver's Championship? Yeah, pretty darn good. Could have...
should
have... been better, with only Vettel's stupid maneuver after the Safety Car prevented them from sweeping the top two steps of the podium. If ever a team needed the summer break...
*MOVE OF THE RACE
: Mark Webber wasn't the only one to stretch his tires; Rubens Barrichello did as well, running his hard tires for the first 60 laps. His luck on the worn rubber wasn't as good, though, and after he pitted he came out in 11th place, behind his old teammate, Slappy Schumacher. For four laps, Rubens harried Slappy until they came onto the front straight. Rubens pulled to the inside, and Slappy in his normal style decided to make it hard for him, despite his opponent being faster and on fresh tires. He began driving Rubens hard to the wall as the Brazilian pulled alongside. Barrichello's right tires got close to the concrete... very close... and then even closer than that. How close?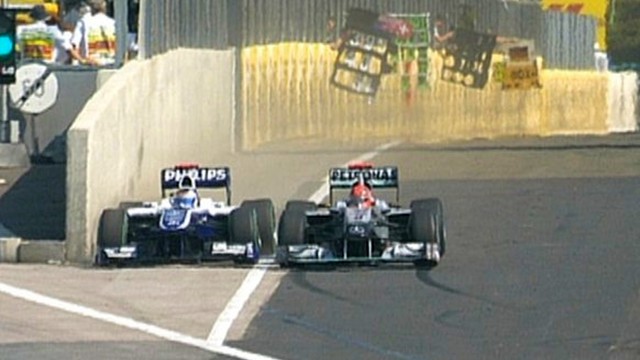 Yeah, about that close. Fortunately the wall ended before the Williams ended up grinding its starboard side down to the cockpit, and Barrichello made the pass cleanly, if angrily. He was heard on the radio demanding that Slappy be black-flagged. He wasn't, but he was given a 10 grid-spot penalty for the next race. We here at F1U think he should be flogged for such a dangerous stunt. We also think that Rubens Barrichello just won himself a Move of the Race.
*MOOOOOOOOOO-OOOVE OF THE RACE
: When the Safety Car came out, there was pandemonium in the pit lane, what with all the cars diving in to change tires. The first hint we got that something was wrong came when we got a camera shot of Adrian Sutil's Force India tangled up with Robert Kubica's Renault. And yes, Renault's lollypop man did release Kubica right into Sutil's path, but he had good reason to be distracted.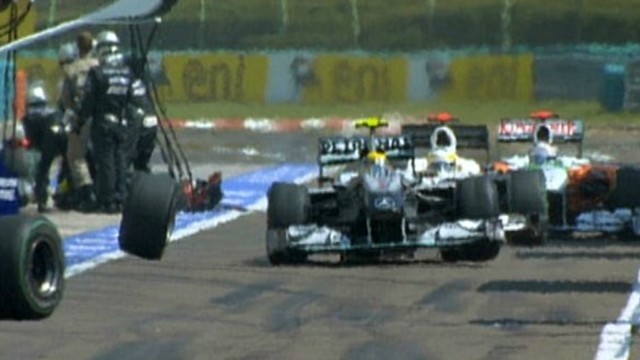 The Mercedes mechanics sent Nico Rosberg out without adequately tightening his right-rear tire, which came off at high velocity, rolled through the Sauber pitbox and into the Williams crew. At that point, it was "caught" by Nigel Hope, one of their mechanics. As Rosberg said later, "I was more worried about the (40-pound) tire than I was about Nige, one of my old Williams truck drivers. He's a big guy." Hope was taken to the medical station with bruised ribs. One Mooooooo-oove to the Mercedes guys!
*SELECTED QUOTES OF THE RACE
:
"Not bad for a #2 driver... no, wait, I used that one already. How about 'Red Bull gives you wings from your teammate'? Aw, hell, how about 'I win'. I like that one." - Mark Webber
"I'm glad Massa wasn't in third place." - HWMNBN
"I don't understand why I was given the penalty." - Seb Vettel (
note: real quote
)
"MUCH better than last year." - Felipe Massa
"Racing for my job makes me concentrate much better." - Vitaly Petrov
"RARRRRHHH! HULKENBERG SCORE POINTS!" - Nico Hulkenberg
"My official quote was written by the team's media representative." - Pete Rose
"No matter how you look at it, I'm still the reigning Driver's Champion, and I'm in striking distance for this year's. Life is good." - Jenson Button
"A wizard is never late. Nor is he early. He arrives precisely when he means to. And I meant to finish ninth." - Gandalf Kobyashi
"I had to work pretty hard for the point in a fight that wasn't fair or clean, but I will let others be the judge of that." - Rubens Barrichello (
note: real quote
)
"There was just enough space for him to pass me without touching each other. It was a hard fight, and this is what we are here for." - Slappy Schumacher, (
note: real quote. He believes every word he says. He also believes in flying unicorns farting rainbows. He doesn't drive for Ferrari anymore.
)
"On the way down to the first corner Slappy pushed me over to the left side and I had to go on the brakes, or I would have gone off the track and I don't think it was very fair on his part." - Seb Buemi (
note: real quote. Now this is just whining.
)
"Vacation." - Vitantonio Liuzzi
"14th was the best I could hope for, and we're all really pleased. It's a great day for the team." - Heikki Kovaleinninninnie (
note: real quote.
ah, lowered expectations
)
"It's a great day for the team." - Jarno Trulli (
note: real quote
)
It's a great... eh, not really." - Timo Glock
"It could have been worse." - Bruno Senna
"I had a good first lap, running between the Lotuses." - Lucas Di Grassi (
note: real quote
)
"This just might be the best finish I've ever had in my F1 career." - Sakon "DJ DNF" Yamamoto
"It could have been a brake problem. Or the driveshaft. Maybe a gearbox." - Lewis Hamilton
"AIEEEEEEE!" - Robert Kubica
"Wow, my tire is going faster than I ever did." - Nico Rosberg
"AIEEEEEEEE!" - Adrian Sutil
"Very short race for my one year anniversary as a F1 driver: one lap." - NKOTT
Okay, so that's it for a month! We'll see you at Spa-Francopants on August 29th, but stay tuned for the latest in F1 news during the summer vacation. Toodles!
Posted by: Wonderduck at 04:42 PM | Comments (5) | Add Comment
Post contains 1260 words, total size 9 kb.
1
I'm curious how did Kobayashi end 9th from 23rd if overtaking in Hungary is impossible.
Posted by: Pete Zaitcev at August 01, 2010 06:30 PM (/ppBw)
2
We here at F1U think he should be flogged for such a dangerous stunt.
I agree with our esteemed host, that ten-spot grid penalty is nowhere near harsh enough. If they'd touched, or if Rubinho had touched the wall, the results could have been devastating. (This bears an eerie resemblance to an incident in the (IIRC) 1988 Spanish GP, when Aryton Senna crowded Alain Prost against the pit wall at 180 mph. That was the beginning of the bitter animosity between them; in a post-race interview, Prost accused Senna of having a death wish.)
IMHO, Michael Schumacher's comeback is as big a flop as Michael Jordan's comeback. Being in a mid-pack car is a contributing factor, of course, but his team-mate Rosberg has a 59-point lead on him in the standings. If you ask me, Schumi's little stunt stinks of desperation--a driver wouldn't do something that stupid over one lousy point unless he thought his seat was on the line. (A driver shouldn't do something that stupid under
any
circumstances, but you know what I mean...)
Posted by: Peter the Not-so-Great at August 01, 2010 08:14 PM (c62wM)
3
Pete, five cars DNFing and six rookie teams helped. That's 11 spots right there. The rest occurred during the safety car pitstopping, because there was darn little actual action on-track.
Peter TNSG, you mean Jordan's second comeback, because the Bulls won three championships after his first one.
The thing is, I think it only stinks of being Schumacher's style of driving. No, let me boil that down further: his concept of
racing
. He's legendary for crepe like this, for bending (or outright breaking) the rules if it'll gain him a point, a position, an advantage. When he was winning everything in sight with Ferrari, he knew he would get away with it, because he was SCHUMACHER. I think he still believes that the FIA or F1 can't (or won't) touch him. You'd think his parking scandal at Monaco a few years back would have disabused him of that notion, but this
is
Slappy we're talking about.
Posted by: Wonderduck at August 01, 2010 10:17 PM (iJfPN)
4
Oops--I forgot about Air Jordan's first retirement from the NBA. (That was when he tried his luck in major-league baseball, right?)
As for Schumi, I guess this move is in line with the other shenanigans he'd pulled over the years, but it's a lot worse in two ways:
a) It wasn't just petty and underhanded, it was horribly dangerous, too. Even when he punted people off track, like he did to Damon Hill and tried to do to Jacques Villeneuve, he did it in low-speed corners where the risk of death or injury was much lower.
b) He was risking so much for so little. In his other notorious stunts, he was trying to seal the championship, or at least trying to stay in contention. This time, he was trying to hold on to one point, when he's so far back in the standings that one point would be meaningless to him; even with the current points scheme, it would take a miracle for him to become
Weltmeister
again.
Posted by: Peter the Not-so-Great at August 02, 2010 08:06 AM (c62wM)
5
I'm surprised that HWMNBN didn't just inform Webber that he was going faster and to let him through.
Y'all know I'm a Shumey fan, but his return has been less than impressive. Sometimes it's better to retire and be the elder statesman.
Posted by: Mallory at August 02, 2010 08:50 AM (WJ2qy)
Comments are disabled. Post is locked.
30kb generated in CPU 0.0133, elapsed 0.1722 seconds.
47 queries taking 0.1636 seconds, 205 records returned.
Powered by Minx 1.1.6c-pink.