September 23, 2012
F1 Update!: 2012 Grand Prix of Singapore
We can honestly say that it wasn't a bright sunny day in Singapore today. That's because it's a night race! So: it was a clear, hot, humid night at this island city-state as Lewis Hamilton led the rest of the field onto the starting grid. But would he hold his position and cut into HWMNBN's points lead? Or would Archmandrite Maldonado or Seb Vettel get past the McLaren driver and make their charge towards the Ferrari driver's score? Or, just maybe, the Spaniard himself might win the race and stick a shiv into the back of everybody's championship hopes. THIS is
your
F1 Update! for the 2012 Grand Prix of Singapore!
*LIGHTS OUT
: When the race began, it immediately became obvious that this one was Lewis Hamilton's to lose. He pulled quickly away from Seb Vettel who had gotten ahead of Maldonado before they reached the second turn. Behind them, we saw four cars side-by-side into Turn 2, and the usual havoc caused by minor contact. Felipe Massa was the biggest loser in the deal, dropping from 13th at the start to dead last with a lacerated left-rear tire. The Red Menace's Caterham lost its nose, stopped, had it replaced, and left the pits before the Ferrari had made it to the pit lane, that's how bad it was for the Brazilian.

*SO ON THEY RACE
: While it wasn't entirely one-sided in the favor of the McLaren driver, Hamilton slowly opened a decent lead as the leaders hit their first pit stops around Lap 10; the super-soft tires were one-lap quick, but multi-lap fragile and lasted about as long as used tissue paper. By the time the first pit rotation was over around Lap 20, Hamilton had a 1.5 second lead over Vettel, who headed Jenson Button by three seconds. Maldonado and HWMNBN filled out the top five, and it looked like, barring incident or failures, that's how it was going to stay... and F1 cars have become nigh-on bulletproof in recent years.
*INCIDENT AND FAILURE
: ...and then we saw this.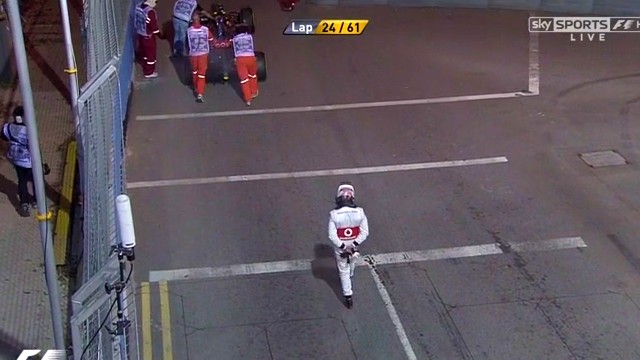 Lewis Hamilton, his gearbox turned into metal shavings and hate, pulled his car into a runoff zone gloomily walked away, out of the race from the lead. Both Seb Vettel and HWMNBN had to be laughing whole-heartedly. Then we had an incident as Narain Kittylitter's suspension snapped, sending him into the wall and bringing out the first Safety Car of the night. While the cars perambulated behind Berndt Maylander, HWMNBN started to laugh
again
as Archmandrite Maldonado withdrew from the race with a hydraulic failure. In the span of a few laps, HWMNBN had gone from fifth to standing on the podium, through no action of his own.

*RESTART, NO WAIT
: Once the Safety Car made its way off the track, the race resumed for a grand total of one full lap before Berndt Maylander made his second appearance of the evening. Slappy Schumacher had managed to crash into the rear of Jules Vergne's Toro Rosso under braking (see the Moooo-ooove of the Race). There was another scramble into the pits to get any car on the super-soft tires off them, and away everybody went again.
*TIME'S UP
: The two safety car periods lasted nearly 10 laps between them, thereby guaranteeing that this race was going not going to go the full 61 laps. Y'see, there is a two hour time limit to any F1 event, and Singapore is always right up against that limit; last year's ended after 119 minutes, for example. When time reached zero, Seb Vettel led Jenson Button and HWMNBN across the line, two laps short of the scheduled 61. It was all a bit anti-climactic, to be honest, though there was no way anybody was going to catch Vettel, nor was the Ferrari going to run down the McLaren.
*DRIVER OF THE RACE
: Felipe Massa. He had to pit at the end of Lap 1 after one of his rear tires got slashed by a front wing. He emerged from the pits dead last. He wound up finishing in 8th place, earned a Move of the Race, and may have saved his Ferrari career. Good show for a guy who hasn't been the same since his horrible accident.

*TEAM OF THE RACE
: Marussia. What? Well, nobody particularly distinguished themselves this race. To be sure, Red Bull gained points on their closest rival McLaren, but when Hamilton went out they had a chance to bury them. That didn't happen. Ferrari got both their cars in the points, but combined they didn't score as many as Button. Lotus got both in the points as well and still lost points to Ferrari. Somebody had the chance to make a major statement in Singapore, and nobody stepped up to do so. So when the dust cleared, nobody noticed that Tim O'Glockenspiel had brought his Marussia home in 12th place, the best finish for the team ever. So tra-la, congratulations to Marussia, now the clear 10th-place team in the constructor's championship!

*MOVE OF THE RACE
: On Lap 43, after the second Safety Car had gone in, Ferrari's beleaguered Felipe Massa was wanting to get by Bruno Senna's Williams something fierce. Coming out of Turns 10, 11 and 12, the red car was all over the back of Senna, and then Massa thought he saw an opening.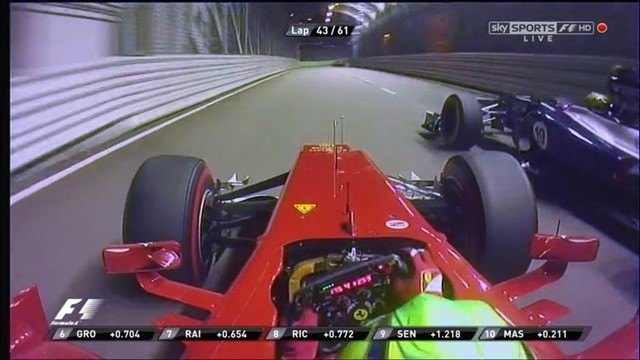 Under normal circumstances, there's no way anybody would think about making a pass at this spot on the circuit. Turn 13 is a horribly tight left-hander that just isn't a good place to make a move. Massa, however, is under great pressure from Ferrari, with some thinking that he's driving for his very career in F1. So away he went, never expecting that his fellow Brazilian would attempt to murder him.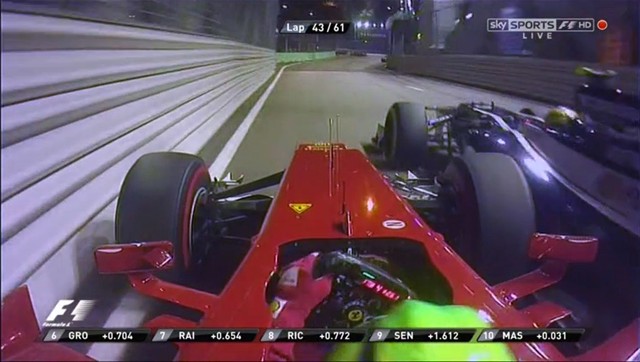 For his part, Senna had made the decision that Massa was NOT getting by in one piece and moved left on the Ferrari. To be fair, there was no obvious contact between the two, nor did Massa touch the barrier. Having said that, we here at F1U! have no idea how that occurred. To make matters worse, the Ferrari driver then dropped the car altogether and it began to slalom down the track. Senna, his sense of self-preservation showing, moved to the right to avoid what was inevitably going to be an pile of carbon fiber shards and tears. Somehow, Massa regained a modicum of control, honked the wheel hard left, and prayed.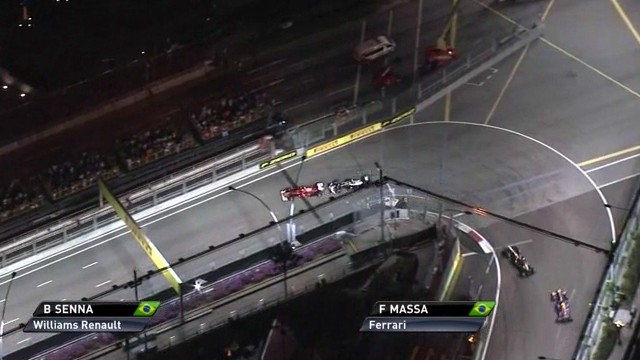 He came out of the turn ahead of Senna, and managed to stay there. The SKYF1 broadcasters may have had the right of it when they said that it "wasn't an overtake, it was just an attempt not to crash." Well, it was the best attempt not to crash of the race! Felipe Massa, here's your MotR!

*MOOOOO-OOOOVE OF THE RACE
: After Narain Kittylitter's Safety Car pulled in to restart the race, the surviving runners were, as usual, single-file. There was jockeying, but it looked like everybody was more or less content to let tire temperatures come up. At Turn 14, there were two cars side-by-side, Jules Vergne to the outside of a Sauber. Behind them was Slappy Schumacher, coming hard. Maybe too hard, as he apparently neglected his braking point. There was a huge cloud of tire smoke and brake dust behind the two dueling cars... and then:
The surprised and exasperated radio call from the Mercedes pit wall to the seven-time world champion was...
telling
: "What happened there?
What
happened there???" We suspect the reason we didn't hear Slappy's reply was that it was unfit for a family broadcast. We here at F1U! note that this is the second year in a row he's had an incident like this under the lights at Singapore, and suggest that perhaps his eyes aren't as good as they used to be... after all,
ours
aren't. Congratulations, Slappy, here's your Mooooo! Oh, and a 10-spot grid penalty for Japan, too. Honorable mention goes to Mark Webber, who passed Gandalf Kobayashi for 10th place near the end of the race at one of the few places you can manage to get all four tires off the circuit, thus earning a 20 second time penalty and losing his one point. Good job!
*SELECTED DRIVER QUOTES OF THE RACE
:
"I'd like to dedicate this race to Professor Sid Watkins." - Seb Vettel (
note: real quote
)
"It's a shame Lewis had a failure. Gosh. How sad." - Jenson Button
"I can't hear you from way up here in first place in the driver's championship." - HWMNBN
"BRING ME YOUR FINEST MEATS AND CHEESES!" - Paul di Resta
"Settle down there, skippy." - Nico Rosberg
"mrmrbldmml rmlrbdlllblbelm rmrmrmbls." - Kimi Raikkonen
"...and I didn't hit anybody at all!" - Lettuce Grosjean
"
Now
may I have a contract, Mr di Montezemelo sir?" - Felipe Massa
"I have nothing to say that is either relevant or true." - Daniel Ricciardo
"I prefer being on the podium. At least then it means people talk about me driving for Ferrari then." - Sergio Perez
"Wait, what? I was penalized
how much
? You've got to be kidding me!" - Mark Webber
"I finished 12th, despite hitting the wall and knocking the suspension out of alignment. In fact, I got faster. Maybe we should do that every race!" - Tim O'Glockenspiel
"Beaten by a Marussia. Oh the pain, the shame." - Gandalf Kobayashi
"Well, that sucked." - Nico Hulkenberg
"On the bad side, I finished 15th. On the good side,
my car didn't burst into flame
." - Heikki Kovaleinninnie
"I got a 20 second penalty for ignoring red flags during practice. That's the stupidest (bleep) (bleepin) (bleep) penalty possible." - Charles ToothPic
"I must admit that the race dragged on a bit for me, and the last five laps never seemed to end." - Pete Rose (
note: real quote
)
"What do you mean, '
stop the car and get out without touching it
?' " - Bruno Senna
"Meh." - The Red Menace
"AIEEEEEEEEEEEEEEEEEEEEE!" - Jules Vergne
"Um... sorry?" - Slappy Schumacher
"
You know it was a good race when you didn't hit or bite anybody
." - Archmandrite Maldonado
"Oof. Ow. AIEE." - Narain Kittylitter
"So... Mercedes it is, then." - Lewis Hamilton
On that bombshell, we leave Singapore and head towards the Land of the Rising Sun! We'll see you at Suzuka in two weeks!
And here's McLaren's
Tooned
for the race:
Posted by: Wonderduck at 05:02 PM | Comments (3) | Add Comment
Post contains 1736 words, total size 12 kb.
1
I bet Hamilton felt like killing someone. What a disappointment!
Posted by: Steven Den Beste at September 23, 2012 08:29 PM (+rSRq)
2
His body language seemed quite... interesting.
Posted by: Wonderduck at September 23, 2012 08:46 PM (DLZof)
3
I liked SPEED's (was it Will Buxton that said it?) take on Massa's attempt not to crash: "Give him a new contract, and a new pair of underpants!"
Posted by: flatdarkmars at September 24, 2012 08:52 AM (I55Es)
Comments are disabled. Post is locked.
31kb generated in CPU 0.0118, elapsed 0.111 seconds.
47 queries taking 0.1031 seconds, 203 records returned.
Powered by Minx 1.1.6c-pink.