September 08, 2013
(Mini) F1 Update!: Italy 2013
Rain. Rain is the great equalizer in F1. Rain will make contenders out of midpackers, garbage out of champions, and exciting races out of boring ones. As the field headed out to the grid a half-hour before the start of the 2013 Grand Prix of Italy, they were clad in Intermediate tires, courtesy of showers passing overhead.
*THE RACE
: But when the cars rolled away for the recon lap, the track had dried completely and all were wearing slicks... and we here at F1U! were considering drinking heavily. When the lights went out and the entire Herd thundered down to the ridiculously tight first chicane, polesitter Hannibal Vettel fed us all a scrap of hope when he locked up his front-right tire, flatspotting it and imparting a serious vibration to the front of his car. As a result, Vettel stopped before the 2nd place Ferrari of HWMNBN. The Spaniard stayed on track for as long as he could, praying for the gray skies to open up and force everybody onto rain tires, but no luck. He pitted on Lap 27, giving first place back to Vettel in the process. And that's the way it stayed until late in the race, when both Vettel and teammate Mark Webber in third were warned about a serious gearbox problem. Instructions were issued to short-shift whenever possible, so better to protect the unhappy assembly. This killed any chance that Webber had to catch the Ferrari, and allowed Vettel's lead to drop from nearly 15 seconds to a meager five. But that's how the race ended as well, bringing an end to the European leg of the F1 season.

*WHAT DOES IT ALL MEAN?
: It feels like the rest of the season is a fait accompli. Vettel could sit out the next two races and even if HWMNBN won them both, he'd still be leading the driver's championship. He could sit out the next
three
races before Shiv Hamilton would be in the picture. Red Bull has a lead of 104 points over Ferrari in the constructor's championship... and a maximum of 43 points can be earned by a team per race. Vettel has now won half of the races run this season, and it just seems impossible for him to be headed the rest of the way. The next race is at Singapore in two weeks, and there's probably no circuit on the calendar that would be a more prototypical "Red Bull Track." Yeesh.
*ON THE OTHER HAND
: A Ferrari on the podium at Monza is reason enough for the
tifosi
to go insane. Here's a picture taken by HWMNBN after the trophy ceremony: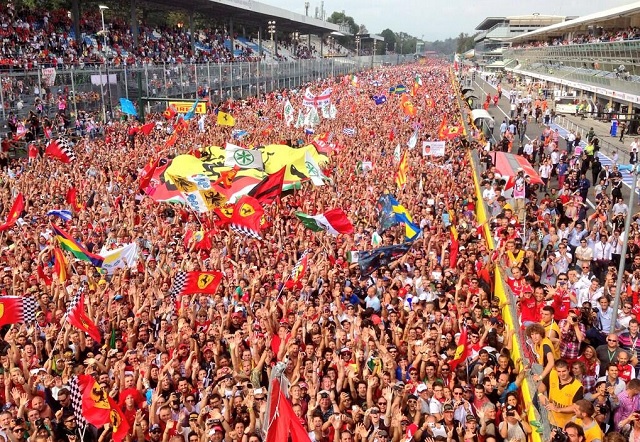 Just imagine what it would have been like if he had actually WON.
*FINALLY
: McLaren
Tooned
50
Ep04, just in time for
Rush
...
It's worth watching with the captions on...
Posted by: Wonderduck at 07:46 PM | Comments (2) | Add Comment
Post contains 475 words, total size 3 kb.
1
I think the biggest scandal right now is that McLaren is only 5 points ahead of Force India in the constructor's championship. It's been a long time since McLaren has had such a terrible season.
Meanwhile, Red Bull is more than a hundred points ahead of Ferrari.
Posted by: Steven Den Beste at September 08, 2013 09:48 PM (+rSRq)
2
Egad those were bad captions.
Posted by: Mauser at September 09, 2013 02:47 AM (TJ7ih)
Comments are disabled. Post is locked.
22kb generated in CPU 0.0107, elapsed 0.0767 seconds.
47 queries taking 0.0701 seconds, 202 records returned.
Powered by Minx 1.1.6c-pink.