September 25, 2011
F1 Update!: Singapore 2011
It was 92° and humid as the cars formed up on the grid for race start. Would the heat cool off the red-hot Seb Vettel, who could clinch the World Driver's Championship this race? Or would the cold-silver McLaren of Lewis Hamilton, lined up next to the polesitter, ruin the party? Or perhaps the fire-red Ferrari of HWMNBN could start nibbling at Vettel's nigh-on insurmountable lead. THIS is
your
F1 Update! for the 2011 Grand Prix of Singapore!
*LIGHTS OUT!
: As the race began, all the usual tropes about the start of F1 races applied. The Red Bull of Seb Vettel made a good start and immediately began to pull away from the field. His teammate had another installment of the Mark Webber Lousy Start
©
series, giving Lewis Hamilton a chance to get past. When the Australian defended his position by drifting to his left, he left the door open on the right-hand side for both McLaren's Jenson Button and HWMNBN to streak by into second and third respectively. While it was a blisteringly exciting beginning to the race, from then on it was all Vettel, all the time.
*DOMINATION
: By the end of the second lap, the lead was already 3.5 seconds over Button. By the end of Lap 6, it was 8.2 seconds. By Lap 15, Vettel's lead was nearly 12 seconds over the Briton, and nearly 30 seconds over the Force India of Paul di Resta, who was in third place by virtue of not yet having stopped for tires. When both Vettel and Button pitted for tires on the same lap and Red Bull's crew got their man out in 3.2 seconds, it was clear that the race was over; the only remaining question was "would Vettel clinch the championship today?"
*AS IT TURNS OUT
: Earlier in the week, we here at F1U! said that is Vettel won and HWMNBN finished off the podium, Vettel would eliminate the Spaniard from contention and thereby clinch the championship. While the first part of the equation was undoubtedly true, it didn't take into account Jenson Button. While Vettel opened up a 20-second lead on the McLaren driver at one point, as long as Button finished second, the driver's championship could not be clinched. Appearing to realize that, Mark Webber began to close up the gap to the McLaren, but at no point managed to get closer than five seconds to the Glare on Wheels.
*ENDING
: While the race was surely over by the first turn, that doesn't mean there wasn't some glimmers of hope for those who aren't rooting for Sebastian
Newmacher
Vettel. With some ten laps to go, the Red Bully's lead over Jenson Button was roughly ten seconds. With six laps to go, it was 8.6 seconds and dropping rapidly. At first we here at F1U! thought that Vettel had just "dialed it back" to conserve fuel or to limit wear on the engine... but then we realized that Button had just ripped off the fast lap of the race. Then he did it again. Vettel may have slowed, but the British pilot had the bit in his teeth and was pushing hard. When he was balked by backmarkers with five laps to go, it looked like the game was up; he lost nearly two seconds in the first sector of the track alone. Once past the slowboys however, Button again gave it the beans and the gap to the leader continued to drop. While it seemed awfully unlikely that the McLaren would catch the Red Bull, it sure looked like it was going to occur. Three laps to go, 3.7 seconds... two laps, two seconds... when Seb Vettel swept across the line, Jenson Button was only 1.7 seconds behind. That's pretty amazing, considering that Vettel had nearly thirty seconds in-hand at one point in the race. Mark Webber, who apparently ran the tires off his car in his attempt to catch up to the rocket-powered Button, finished a distant third, nearly thirty seconds adrift of the McLaren. Ferrari's HWMNBN was fourth, some 25 seconds behind the Australian. Fifth went to Lewis Hamilton over a minute back of the winner. Sixth went to Force India's Paul di Resta, who, while 111.067 seconds behind Vettel, was the last man unlapped.
*STANDINGS
(AND FALLINGS)
: Seb Vettel has eliminated everybody from contention from the Driver's Championship... save for Jenson Button, holding on by the proverbial skin of his teeth. With five races remaining in the 2011 season, there are a maximum 125 standing points available. Seb Vettel's lead... is 124 points. If Button wins every race from here on out, and Vettel finished lower than 10th in every race, Button will win the championship. If anything else occurs, if the Red Bull driver manages to come in 10th in one of the next five races, the season is over. So while we can't
quite
hose down Seb Vettel with champagne yet, the bottles are standing by.
*DRIVER OF THE RACE
: Seb Vettel led from lights to flag today, yet he's not getting the DotR award. Jenson Button was in second place by the first turn and stayed there the rest of the race, in the process showing his teammate just who's in charge at McLaren... and he's not getting the DotR either. No, today's Driver of the Race is going to Force India's Paul di Resta, who drove the hell out of his steed and finished a brilliant sixth after losing fifth place to a pissed-off Lewis Hamilton on Lap 55 (of 61). Good tire strategy, mixed with a shedload of pace and a Button-like ability to protect his tires from excess abuse, kept him on the first screen of the SPEED leaderboard all day long. The rookie has been impressive all season, but today he did it towards the front of the field and got to show his skills to the world. DotR material for sure.
*TEAM OF THE RACE
: We here at F1U!
so
want to give this to Force India. This was the first time all season both of their cars were in the points (6th and 8th), and as just mentioned, di Resta's drive was helped along by the team's excellent tire strategy. But we just can't do it. Red Bull gets it with their 1st-3rd result, a pit crew that's second to none, the perfect chassis, you name it, they got it. FIndia gets an honorable mention though.
*MOVE OF THE RACE
: On Lap 10, Mark Webber blew the doors off of HWMNBN for third place in a pass that we here at F1U! were sure would be the MotR. We were wrong, because 24 laps later he again passed the Ferrari driver for third place. Except this time, it was even more amazing because of how and where he did it. The field was jumbled by the Safety Car that had just gone in as Lap 34 began. HWMNBN was just ahead of Webber as they came through Turn 9, but a mess of slower cars were in front of the two as they approached the tricky Turn 10, the "Singapore Sling" left-right-left corner best known for being Gandalf Kobayashi's launching pad both in practice and in Quals. As they approached the braking zone for the turn, Webber slipped to the inside of the Ferrari and decided that he didn't need to actually
brake
.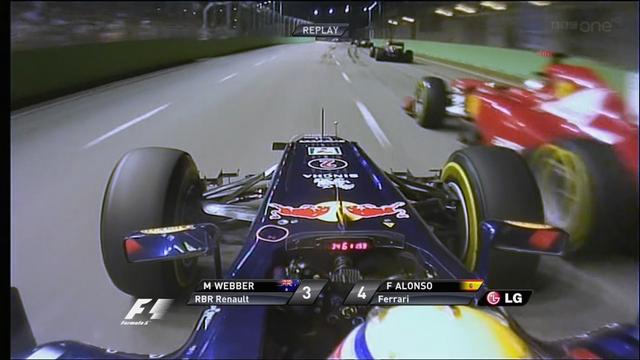 The Spaniard, apparently caught by surprise by Webber's decision to forgo the clampers, made no immediate attempt to make life hard for the Aussie.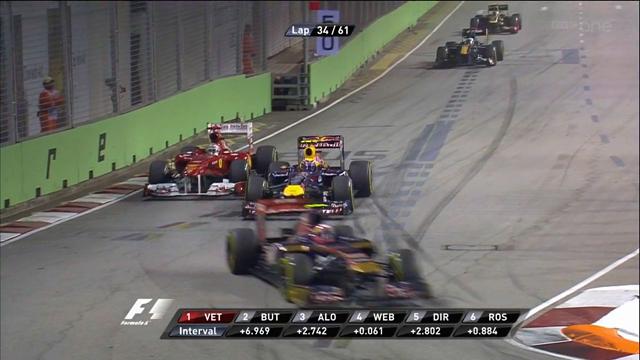 As they got to the point of no return, Webber threw out the anchor, dragged his feet, did everything but put the RB7 into reverse, to slow down... and did it all without a puff of tire smoke. HWMNBN, his jaw bouncing off his lap, could only watch in amazement.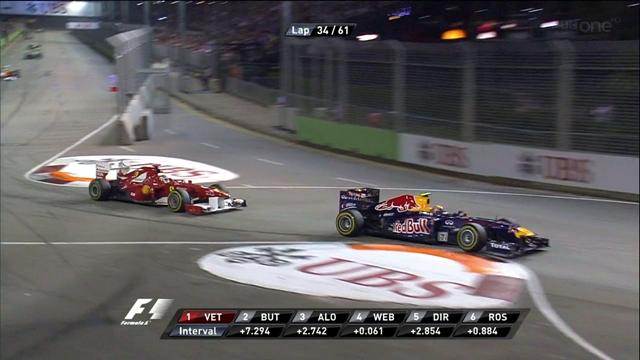 But it would all go to naught if the Red Bull overextended himself into the turn and got too much curb at Gandalf's Launching Pad. Didn't happen. Webber looked like he was on rails as he went through the most dangerous point on the track, completing the pass with style and finesse... and earning the MotR in the process.
*MOOOOOO-OOOOVE OF THE RACE
: At the end of the race, we were going to give the Moo to Slappy Schumacher for his use of Sauber driver Sergio Perez' car as a take-off ramp.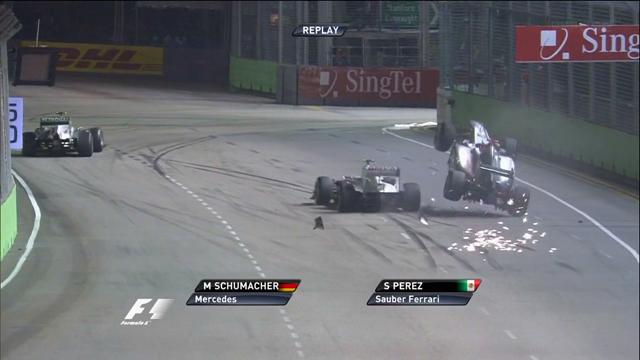 No. Instead, we're giving this to the driver who is rapidly becoming one of the most clumsy in the field: 2008 World Driver's Champion Lewis Hamilton. In today's incident, he was harrying Felipe Massa for position on Lap 13. Either because he misjudged where his front wing was, or out of sheer cussedness, Hamilton wound up applying a liberal dose of carbon fiber to the Ferrari's rear tire in a maneuver that was completely unneeded. He was faster than Massa and could have passed him at nearly any point on the circuit the next lap.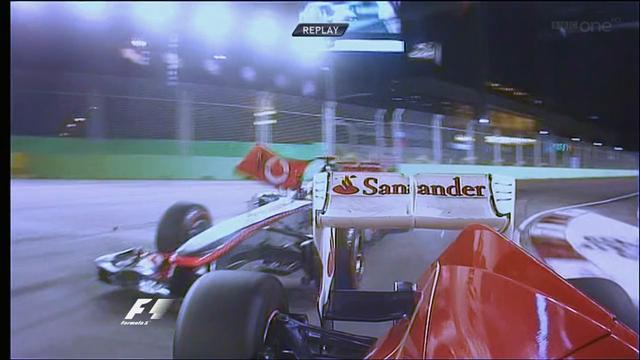 The result? A punctured right rear for Massa, which disintegrated on his way back to the pits. This dropped him down to 16th, never to be seen again.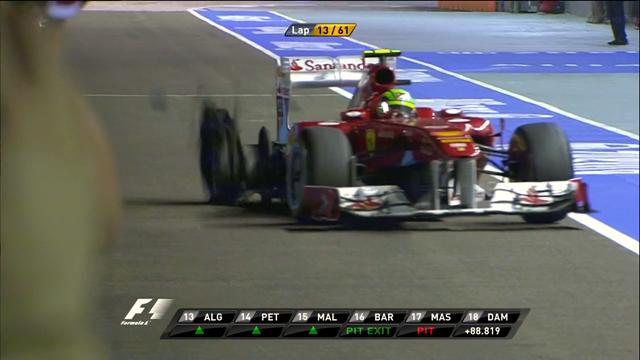 On the other hand, Hamilton lost the entire left-side element of his front wing. Despite this, he stayed out for another lap in a car with a distinct lean to the right.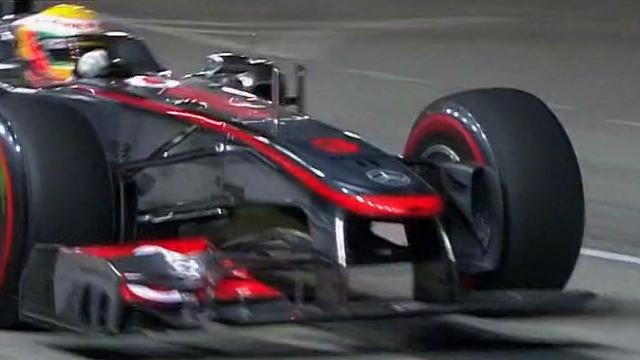 He also earned himself a drive-through penalty and
some after-race sarcasm
from Massa. He wound up finishing fifth. Just think what might have happened if he had controlled himself a little better... a podium? Second? For ruining both Massa's race and your own, Lewis, here's your Mooooooooo.
*SELECTED DRIVER'S QUOTES OF THE RACE
:
"See you in Japan." - Seb Vettel
"When I came to McLaren, everybody said I had just become Jenson Barrichello to Lewis Schumacher. See how that's turning out now, eh?" - Jenson
Barrichello
Button
"I'm starting a petition to restore launch control to F1 cars." - Mark Webber
"So this is what it is like to not be on the podium here, eh? Next year, we'll have Massa crash." - HWMNBN
"(silence)" - Lewis Hamilton
"I've peed myself with delight!" - Paul di Resta
"My rear end was clumsy all day. Wait, that didn't come out right..." - Nico Rosberg
"Paul who?" - Adrian F'n Sutil
"My thoughts are, again, (Hamilton) cannot use his mind. Again, he could have caused a big accident." - Felipe Massa (
note
:
real quote
)
"Silly Slappy, why are you in air? You can't even fly!" - Sergio Perez
"I was able to follow Massa quite consistently. You can decide for yourself if that's a good or a bad thing." - Seventy Maldonado
"I have nothing to say that is either relevant or true." - Seb Buemi
"There are whispers that I should retire. Retire? In my moment of triumph? I think you underestimate my chances." - Rubens
Button
Barrichello
"I was given a drive-through penalty for ignoring blue flags. This was quite a surprise. I didn't see any blue flags." - Gandalf Kobayashi (
note: real quote
.
Sometimes, these just write themselves
.)
"The first lap was good." - Bruno Senna (
note: real quote
)
"I made it through the race without bursting into flame, unlike last year. That's a good sign." - Heikki Kovaleinninninnie
"Today, we had a race to forget. I finished behind a Lotus." - The Red Menace
"And nearly a Virgin." - Custard d'Ambrosio
"I didn't completely ruin the car. That's a start." - Daniel Ricciardo
"Does anybody really care what I say? No? Fair enough." - Vitantonio Liuzzi
"You know why they didn't bring out the Safety Car for my wreck? Nobody cared." - NKOTT (
who crashed just barely off the racing line with two laps to go
)
"My gearbox failed. On the plus side, I was faster downhill then." - Jarno Trulli
"AIEEEEEEEEEEEEEEEEEEEEEEEE!" - Michael Schumacher
"How does Custard hitting the right rear of my car cause the steering wheel to jam to the right? I don't get it." - Tim O'Glockenspiel
So that's Singapore, and we've still got something to race for in Japan! Barely. We'll see you in two weeks from the fantastic Suzuka Circuit, see you then!
Posted by: Wonderduck at 09:12 PM | Comments (4) | Add Comment
Post contains 2026 words, total size 14 kb.
Posted by: Steven Den Beste at September 25, 2011 10:28 PM (+rSRq)
Posted by: Avatar_exADV at September 25, 2011 10:41 PM (GJQTS)
Posted by: Wonderduck at September 25, 2011 11:44 PM (o45Mg)
Posted by: Avatar_exADV at September 26, 2011 01:52 AM (GJQTS)
Comments are disabled. Post is locked.
34kb generated in CPU 0.0122, elapsed 0.0791 seconds.
47 queries taking 0.0714 seconds, 204 records returned.
Powered by Minx 1.1.6c-pink.