January 21, 2010
Random Anime Picture #51: Obsession To Detail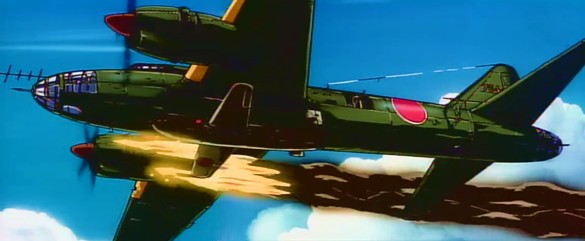 -
The Cockpit OVA
, ep02
If there's one thing military-based anime do well, it's concentrating on the appearance of the hardware being used. Case in point, the picture above. That's a
Mitsubishi G4M
, perhaps better known by its Allied reporting code of "Betty."
Unfortunately, Bettys were known by their crews as the "Type One Lighter," or "Cigars". That's what happens when you put big, non-self-sealing fuel tanks in a lightly-built airplane with no armor... and then put it in the path of the
Big Blue Blanket
.
You may also notice that it's carrying a
Yokosuka MXY-7

Ohka
... which is the whole point of this episode from
The Cockpit
. Considering that most of the Ohkas that were carried aloft never made it to a target, and the Bettys almost invariably were shot down, the above picture seems particularly detailed. Episode 02 also the only of the three episodes I like. Eventually, I'll get around to a writeup like I promised
back in November
.
Posted by: Wonderduck at 06:25 PM | Comments (2) | Add Comment
Post contains 168 words, total size 2 kb.
1
The Baka-bombs would have been a lot more effective if the Betties hadn't been so vulnerable. The Baka-bomb was faster than a normal kamikaze and had a bigger bomb load. Once the Baka-bomb was detached and its engine began burning, it was damned hard to stop.
Posted by: Steven Den Beste at January 21, 2010 07:08 PM (+rSRq)
2
Actually, it wasn't so much that the Bettys were vulnerable, but that the Ohka had such a short range (about 35km under power). That meant, for them to take advantage of their high speed, the Bettys had to get in close... at which point, their vulnerabilities became manifest.
There was an alternate version of the Ohka designed, and apparently built in some small numbers, to use a
motorjet engine
. This would have increased the range, but lowered the speed somewhat.
There were also standard Ohkas designed to be launched from rails, much like the German V-1, and therefore didn't need a carrier airplane. They were going to be used when the Allies invaded Japan, and probably would have been horrifically successful.
I can only find one example of an Ohka being shot down after it was released. The
USS Jeffers (DD-621)
hit one with a 5" round, detonating the warhead. Unfortunately, it was only 50 yards or so away when it exploded, and caused substantial, but not hull-integrity threatening, damage.
Posted by: Wonderduck at January 21, 2010 07:22 PM (Cpxcy)
Comments are disabled. Post is locked.
20kb generated in CPU 0.0283, elapsed 0.6555 seconds.
46 queries taking 0.642 seconds, 164 records returned.
Powered by Minx 1.1.6c-pink.