January 21, 2010
Random Anime Picture #51: Obsession To Detail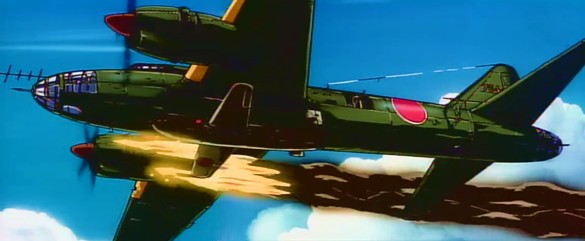 -
The Cockpit OVA
, ep02
If there's one thing military-based anime do well, it's concentrating on the appearance of the hardware being used. Case in point, the picture above. That's a
Mitsubishi G4M
, perhaps better known by its Allied reporting code of "Betty."
Unfortunately, Bettys were known by their crews as the "Type One Lighter," or "Cigars". That's what happens when you put big, non-self-sealing fuel tanks in a lightly-built airplane with no armor... and then put it in the path of the
Big Blue Blanket
.
You may also notice that it's carrying a
Yokosuka MXY-7

Ohka
... which is the whole point of this episode from
The Cockpit
. Considering that most of the Ohkas that were carried aloft never made it to a target, and the Bettys almost invariably were shot down, the above picture seems particularly detailed. Episode 02 also the only of the three episodes I like. Eventually, I'll get around to a writeup like I promised
back in November
.
Posted by: Wonderduck at 06:25 PM | Comments (2) | Add Comment
Post contains 168 words, total size 2 kb.
20kb generated in CPU 0.0099, elapsed 0.109 seconds.
45 queries taking 0.1021 seconds, 162 records returned.
Powered by Minx 1.1.6c-pink.