August 05, 2019
Random Anime Picture #148: Get Out Of My Head
This past winter season, there was a series called
Kaguya-Sama: Love Is War
. The basic plot sounded interesting: two brilliant people at an elite high school are too proud to confess their love to each other, so they engage in an unannounced "intellectual" duel to get the other to do it first. These two are surrounded by other characters, of course, and yadda yadda yadda hijinks occur. So, I recently decided to take a stab at it.
See what I did there?

To be frank, the two main characters are exactly the sort of people in anime I detest... self-absorbed, unlikable, and completely out of touch with reality, with a massive side order of arrogance. It wasn't until the final vignette of Ep03 that either showed some signs of humanity. In it, Kaguya, the female protagonist, walks to school for the first time in her life (elite school, remember? Her family is stupidly rich) and ends up escorting a 4th grader who is walking alone and scared. Despite all that, it's visually quite a striking show, and I can't help but admit to getting some self-loathing enjoyment... self-loathing in that I am kinda disgusted that I find such people entertaining in some way. The visuals for the OP are quite good, and the song sounds like something Tom Jones would have had a field day with. The ED, on the other hand, is 100% pedestrian.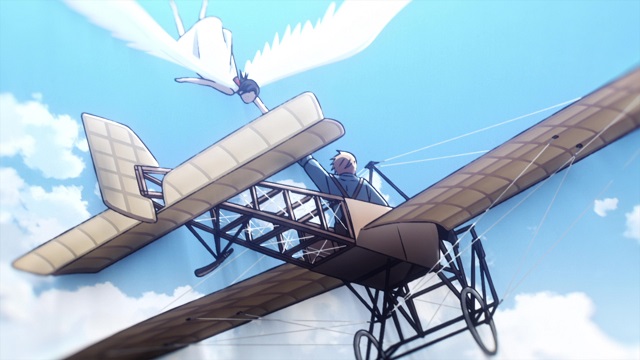 Except for the Bleriot XI. And the zeppelin. Pedestrian except for those.
Until the aforementioned Ep03 rolled around. The ending for Ep03 dropped this in our laps:
...and I
can't get it out of my head
. I wake up in the morning, and there it is... "Chika, Chika, Chika-chi-kaaaa!" I go to bed at night, and there it is... "Suki suki doki doki!" It's amazing just how earwormy it is, how stuck in my brain it's become, and my only hope is that by infecting you with it, the music gods will take pity on me.
Sorry about that.
Posted by: Wonderduck at 12:07 AM | Comments (7) | Add Comment
Post contains 343 words, total size 3 kb.
1
I wish the shows I'm watching had half the animation of that ED.
-j
Posted by: J Greely at August 05, 2019 12:49 AM (ZlYZd)
2
The chars get a lot more likable later in the show. Or more like... they get confronted more or more with their inner insecurities, and it becomes more and more obvious that the asshole personas they try to keep up are a pretty thin mask. They're not oblivious, so much as -terrified- of each other's disapproval...
Posted by: Avatar_exADV at August 05, 2019 01:11 AM (v29Tn)
3
I bounced off the show pretty hard after that first episode, but DANG that ED is a thing. Was she animated on the 2s or on the 1s? (CG assist?)
Posted by: GreyDuck at August 05, 2019 07:31 AM (hDUbp)
4
That was either some fancy mo-cap, or they were meticulous about tracing the reference footage. It's actually kind of uncanny-valley with the unrealistic anime head on a properly proportioned and moving body.
Posted by: Will at August 05, 2019 11:34 AM (6usQx)
5
Clips from that ED show up in all sorts of memes, and now I know which show it came from. I'm not sure what value this provides me, but I am happy nonetheless.
Posted by: David at August 05, 2019 04:24 PM (A/T0R)
Posted by: J Greely at August 06, 2019 03:56 PM (ZlYZd)
7
Yeah, I didn't post the full song viddy (which is also on yootoob) because it ISN'T the ending video... and that's at least half the fun to me.
Posted by: Wonderduck at August 06, 2019 09:18 PM (ssz1E)
24kb generated in CPU 0.0149, elapsed 0.4822 seconds.
48 queries taking 0.4721 seconds, 171 records returned.
Powered by Minx 1.1.6c-pink.