May 22, 2016
Random Anime Picture #118: Quick, Henry, the Flit!
-Strike Witches: Victory Arrow
, OVA#03
I don't know when or where I first heard of Flit. I assume it was in
The Calculus Affair
, one of the best Tintin stories around. I wouldn't have known what it was, y'know, but I would have instinctively accepted it and moved on. "Spray Flit, bugs die." The perfect example of this unswerving acceptance of anything Tintin said as true was in... um...
The Red Sea Sharks
, I think. At one point, Tintin describes a fighter plane as a "Mosquito." I just assumed that was a nickname for
all
fighter planes (I was very young when I learned to read using Tintin...).
As it turned out, Tintin was referring to a
very
particular aircraft, the DeHavilland Mosquito, but I didn't know that. To this day, I still think of fighter planes as "mosquitoes", though only to myself.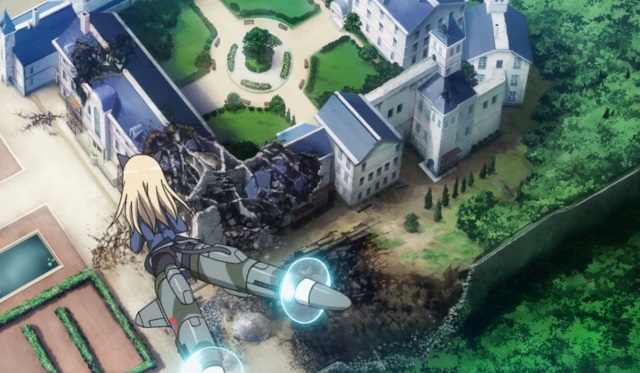 FLIT! Right, right. Back to that. I didn't really know what Flit was, just that it killed bugs. That sprayer ("a flit gun") though... that's iconic. I wonder what Tintin would think of
Strike Witches
? And suddenly I feel this desperate need for a crossover...
Posted by: Wonderduck at 03:00 PM | Comments (1) | Add Comment
Post contains 196 words, total size 2 kb.
May 13, 2016
Random Anime Picture #117: Skydiving
-ARIA the Avvenire
OVA 2
Man, reentry when you're wearing a full-length dress has got to be an iron-clad beeyotch, that's all I've gotta say.
Akari's unfortunate experience with lithobraking had some serious consequences for Aqua. Nuclear winter just can't compare to the horror that is Undine Winter. Mars will never be the same... again.
Okay, yes, I'm joking. It's
ARIA
, you think something bad happened? There were three series, an OVA, multiple picture dramas, the manga, and of course the
Avvenire
, and I can't think of a single negative thing that occurred in any of them. When the closest I can come is the retirement of Aria Company's original Black Gondola, you know it's a cheerful series. Unless you count my picture of
Grandma as a retired Kancolle shipgirl
, that is.
Just go watch. If you're a fan of
ARIA
, you've already seen it, of course, but watch it again. It's worth it, if only for the effort the animators put into Akari's long plummet.
Posted by: Wonderduck at 11:17 PM | No Comments | Add Comment
Post contains 171 words, total size 2 kb.
21kb generated in CPU 0.0261, elapsed 0.1028 seconds.
45 queries taking 0.0854 seconds, 163 records returned.
Powered by Minx 1.1.6c-pink.