November 19, 2017
Random Anime Pictures #140: I Did NOT Expect That
As I've gotten more interested in the past months about anime-based figures, I've seen a bunch based on characters from something called "To Love-Ru." They've mostly been very good-looking, and there's a series of figures that are probably the best-looking I've ever seen... ridiculously expensive, waaaaaay out of my price range, but the best-looking. But I knew nothing about the series except that one pink-haired character wears a weird hat. So with so little to look at this season, I decided to give it a shot.
-To Love-Ru Darkness
, Ep01
Never mind the zombies being attacked by giant plants. A careful eye will notice that the pink-haired schoolgirl is... um... crouched in an interesting location. This is not by accident.
TLRD
is perhaps the single-most ecchi anime I've ever seen that isn't flat-out hentai. And it was broadcast! "But Wonderduck," I hear you say and really, are you using whitening strips, your teeth look great, "if that picture is representative, it isn't
that
over-the-top, right?"
No. It's even more than that. Remember the
High School of the Dead OVA
? That was nothing in comparison to this show. Now, nothing I've shown you here is out-of-the-ordinary... or even particularly worth commenting on. That's because I don't dare put the NSFW stuff on the front page. I warn you again: if you click "more", you're going into NSFW-land.
Last warning: beyond here is NSFW.
more...
Posted by: Wonderduck at 11:31 PM | Comments (6) | Add Comment
Post contains 479 words, total size 4 kb.
November 17, 2017
Random Anime Pictures #139: Ohfertheluvva...
See, now they're just pandering. A beach episode. The fifth episode of twenty-six, and already it's a beach episode. Then the best shot of the whole thing is also the one where the Tagonist is most fully dressed. I don't understand how this show thinks
at all
.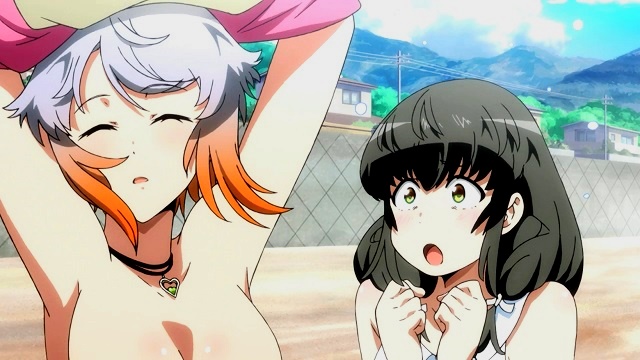 Well, okay, maybe I do a bit.
This was the episode where everybody that wasn't a die-hard
Aquarion
fan jumped ship... and apparently, some of the die-hards did, too. I know I'm not going to go any farther with it. What's the point? I don't like giant robot/mecha as a rule, I don't like shouted special attack names, and I really don't like shows throwing in beach episodes less than a fifth of the way through the run. I mean sure, the fanservice is nice, but if the series is
this
desperate
this
early, the trainwreck that's coming is going to be immense. No thanks.
Nope. Ain't gonna work.
Posted by: Wonderduck at 11:57 PM | Comments (4) | Add Comment
Post contains 164 words, total size 1 kb.
25kb generated in CPU 0.0144, elapsed 0.1606 seconds.
46 queries taking 0.1506 seconds, 171 records returned.
Powered by Minx 1.1.6c-pink.