June 11, 2013
Ships, Nothing But Ships
So I've been spending time looking at warship photos as of late, and I've come up with a bunch of good ones for display over at Reddit's
r/warshipporn
subsite. I don't think I'm tooting my own horn when I say I'm the most clever as far as picture titles go, but this post isn't about that... no, it's about my favorite pictures that I've put up. To start with, I was using my "mystery ship" competition shots, but I've spread out since then. Like this one:
Right in the ol' spud locker! I'm pretty sure that the Hellcat just rolled off the end of the USS
Charger
's flight deck, but that's not what it looks like!
Want more? Well, click the word!
more...
Posted by: Wonderduck at 10:30 PM | Comments (1) | Add Comment
Post contains 256 words, total size 2 kb.
June 04, 2013
The Books of Midway
71 years ago the US Navy won the greatest victory at sea, perhaps ever. It will come as no surprise to most of my readers that I've been fascinated by the Battle of Midway for years. Last night, I realized that I had no plans for the annual June 4th post, so my eyes headed to The Shelf. Perhaps one of the books there could give me an idea... and then I realized that the idea was staring me in the face.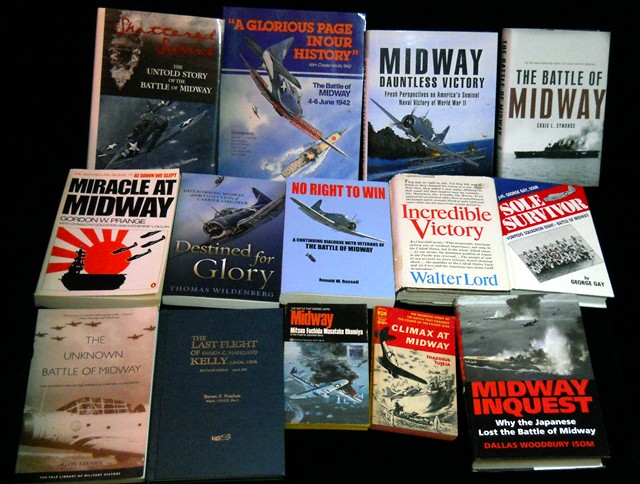 Not all of these books are excellent, of course. There's really two categories of Midway books: those heavily influenced by Mitsuo Fuchida's
Midway: The Battle That Doomed Japan
, and those that aren't. It's that second group where you get the real meat. All four of the books on the top row fall into that rarefied strata... which is not to say that the above picture has the books in any sort of order! They're just positioned to fit in the picture.
Even the books from the first category, such as Gordon Prange's
Miracle at Midway
, have substantial value. Ironically, the weakest book of the bunch is the very first: Fuchida's. It has been made clear through ongoing research, both here and in Japan, that he played fast and loose with the truth. Well, that's unfortunate, but the truth appears to have come out.
I haven't completed Dallas Isom's book, so I can't say what I think of it yet. What I've read has managed to furrow my brow a few times... not always in a good way, it must be said. It's certainly been worth the $4.95 I spent on it, though.
Of course, I forgot to put
my newest addition
in the picture... it's sitting on my dining room table. I haven't read it yet; it's going to be my business trip reading in a couple of weeks.
I wonder if any other single battle has generated as many books as Midway has? D-Day, probably, but that isn't really a single battle, is it? The Battle of Britain, likely... except that was less a battle and more of a campaign.
Maybe
Stalingrad... but probably not.
And that's how it should be.
Posted by: Wonderduck at 07:14 PM | Comments (7) | Add Comment
Post contains 371 words, total size 3 kb.
23kb generated in CPU 0.016, elapsed 0.3997 seconds.
46 queries taking 0.3898 seconds, 169 records returned.
Powered by Minx 1.1.6c-pink.