January 31, 2016
Battleship, Row!
World of Warships
continues to hold my attention, at least to some extent. Today brought me a new milestone in the game: my first battleship.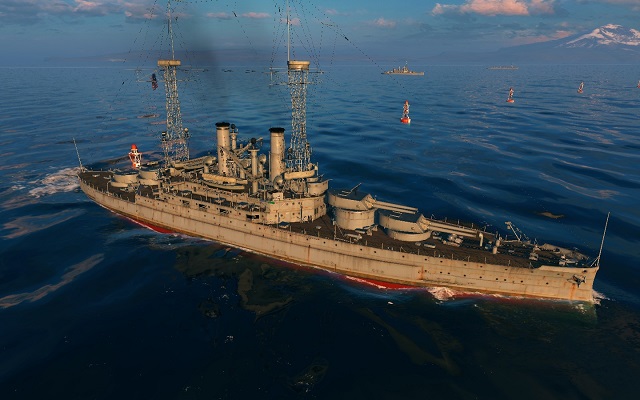 As usual, click for biggernation

Yep, it's a
South Carolina
! On one hand, first big-gun vessel to have its main armament all on the centerline. On the other hand, it's only slightly faster than continental drift, some planets have a better turn radius, and its armor is... lets be charitable and call it "insubstantial."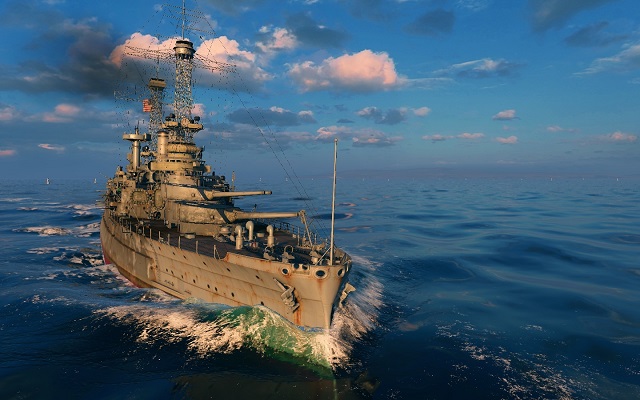 However, it does make for some pretty screenshots! That's something I haven't complemented WoWS on yet: how good it looks. For a free-to-play game, it looks unimaginably pretty. Back when I was playing text games on my TRS-80 Model III, I never would have thought that games would look like this:
If you're only able to click on one picture to make it bigger, click this one.

Mind you, these pictures aren't from some replay system or cinematic cutscene... nope, this is actual gameplay. I didn't even notice the gunnery clock on the forward cage mast when I was playing, but yup, it's there! Just loads of little detailing on these models. Unfortunately, the first match I played with the ship, I wound up being sunk by the combined firepower of two battleships and a cruiser. The third match was even worse, as David and Clayton (aka TheSquirrelPatrol and MachineCivilization) and myself found ourselves facing Tier V and VI cruisers, backed by a couple of
Kongos
. Outranged from the very beginning of the match, all we could do is close the range as fast as we could, and dodge incoming fire. "But Wonderduck," I hear you say, which is impressive considering my headphones are cranking '
The Outbreak of World War
' right now, "I thought you said the
South Carolina
is slow and can't turn."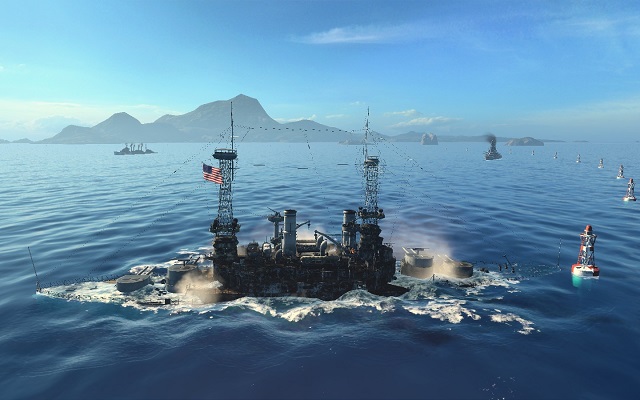 That's right, I did. Please note, this isn't a screenshot of my
South Carolina
sinking, but David's. He at least went down guns blazing. Me, I exploderated after getting to fire a total of one volley. I believe those rounds moistened a destroyer. Perhaps in a few years, the corrosive nature of the salt water I splashed upon the DD will gnaw a hole in it somewhere. Alas, that was my only contribution to the fight, for it was at that moment the
Kongo
got in range and suddenly there was a
South Carolina
-shaped hole in the ocean where my ship had been.
SoCar in better, more intact, times
Hopefully we won't be uptiered quite so badly next time.
Posted by: Wonderduck at 01:01 AM | Comments (14) | Add Comment
Post contains 424 words, total size 4 kb.
January 27, 2016
FoF Kongo, WoWS Style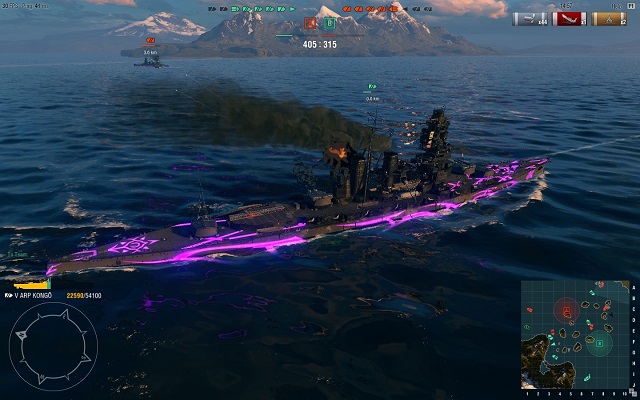 click for biggerness

So as near as I can tell, the Fleet of Fog vessels in
World of Warships
are simply supercharged versions of their non-FoF counterparts. Lord knows the guns sure seem to have an extra punch as they turned me into cottage cheese in no time flat. Non-players of the game might have missed it, but y'all take a close look at the harbor my
St Louis
is in... it might look awfully familiar.
It's an enjoyable enough game, but I'm not sure if it's really catching my fancy. If it was more "realistic", I could see myself going crazy-go-nuts over it, but the arcadey gameplay is a turnoff. Maybe if I was any good at the game it'd make a difference. Heh. As-is, I have no idea how to make it more realistic without making each match hours long, but I'm no game designer.
For which fact we should all be grateful.
Posted by: Wonderduck at 07:10 PM | Comments (10) | Add Comment
Post contains 159 words, total size 1 kb.
39kb generated in CPU 0.0151, elapsed 0.0886 seconds.
46 queries taking 0.077 seconds, 185 records returned.
Powered by Minx 1.1.6c-pink.