January 29, 2012
Name This Mystery Ship XI
Well,
this
is a fine kettle of fish. I received an e-mail this afternoon from the Official First Friend of The Pond, Vaucaunson's Duck. Attached was a challenge: "Name This Mystery Ship." After working on it for an hour or so, I gave up. And now it's your turn... and I don't know the answer!
My guess is that it's a destroyer, destroyer escort, or frigate. The flag looks Dutch, but my searching didn't turn up a match of any sort. I guess it could be a cruiser, but it seems like the armament is awfully light for that.
Name the ship and if Vauc can verify that your guess is correct, you win a post on a topic of your choice! As usual, I won't write about politics, religion or pr0n... anything else is free game. Have at it, y'all!
Posted by: Wonderduck at 06:29 PM | Comments (11) | Add Comment
Post contains 146 words, total size 1 kb.
January 03, 2012
Combustable Vulnerable Expendable 79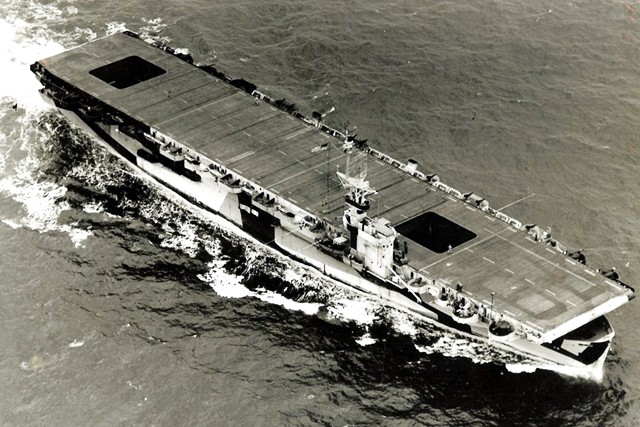 The USS
Ommaney Bay
(CVE-79) was the twenty-fifth of the fifty
Casablanca
-class escort carrier built. Constructed in just over two months by the Kaiser Company shipyard in Vancouver, WA, she weighed in at just over 10000 tons at full load. At full steam, she could move her crew of 860 men and the embarked "composite wing" of 28 planes at 19kts. Like most other escort carriers, she wasn't designed to fight with the fleet. Instead, CVEs were to be used first as stopgaps, then when bigger carriers became available, to free up the more capable CVs and CVLs to hunt for bigger targets. In effect, the CVE became a air support unit, providing air cover for amphibious landings. It was in this role that she was off Leyte as part of Taffy 2 when Admiral Kurita's fleet famously attacked Taffy 3. Ommaney Bay helped sink one of the Japanese cruisers and aided in the defeat of the larger Japanese force. And it was in the air support role that the
Ommaney Bay
was going to serve as she transited the Sulu Sea.
Then the kamikazes came.
more...
Posted by: Wonderduck at 08:37 PM | Comments (15) | Add Comment
Post contains 567 words, total size 4 kb.
32kb generated in CPU 0.0277, elapsed 0.295 seconds.
46 queries taking 0.2733 seconds, 187 records returned.
Powered by Minx 1.1.6c-pink.