November 21, 2016
When WoWS Grinds My Gears
I'm still playing
World of Warships
, though nowhere near as often anymore. Still, I've managed to break into Tier VI a couple of times while playing almost exclusively against bots. My first Tier VI ship was the
New Mexico
, a big, slow, heavily armored US battleship that costs 45000xp stock... no small feat, considering that a good match vs bots will net you ~500xp.
My second Tier VI ship is the
Cleveland
, an American light cruiser that holds the distinction of being built in greater numbers than any class of cruiser by any navy ever. It's a good ship, I just hate it... I just can't get the hang of its rainbow-arc guns... but that's not why I'm here. Like many Tier VI cruisers, the
Cleveland
has a "float fighter" on-board that it can launch for limited protection against enemy planes.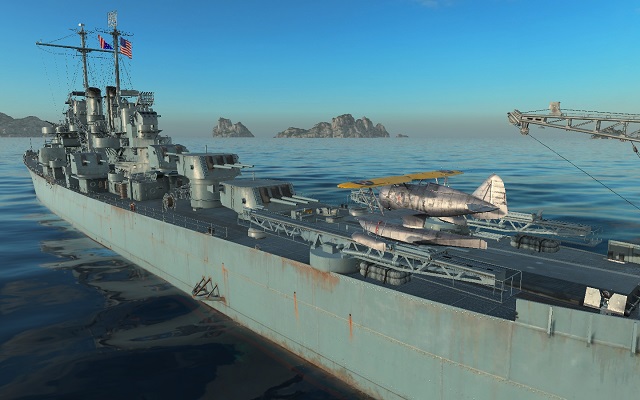 In this particular case, it's a non-existent float variant of the Grumman F3F "Flying Barrel." This cheeses me off something fierce, and it's one of the few things I really dislike about this game: the amount of "Paper Ships" involved... or in this case, "Paper Planes". There was a perfectly good float fighter out there that they could have used, one that actually existed!
The Grumman F4F-3S "Wildcatfish". Yup, they basically stapled a pair of floats to the underside of a Wildcat and ran it through testing. I can only imagine that performance was... well, let's be charitable and call it "lacking." But who cares? When you've got a cool nickname like "Wildcatfish", you don't
need
to be fast or maneuverable.
It was no A6M2-N "Canoe of Destiny" though, I'll tell you what.
Posted by: Wonderduck at 11:33 PM | Comments (14) | Add Comment
Post contains 279 words, total size 2 kb.
27kb generated in CPU 0.0131, elapsed 0.0856 seconds.
45 queries taking 0.0767 seconds, 173 records returned.
Powered by Minx 1.1.6c-pink.