December 30, 2014
Torpedo Planes
In the runup to the beginning of World War II, the aircraft carrier began to force itself into the position of "Queen of Battle", wresting the title from the massive guns of the battleship. As strategies and tactics on how to use the planes the flattops provided began to coalesce, it was generally assumed that the dive bomber, while accurate, would provide support to the true shipkiller: the torpedo bomber. This thinking makes much sense to a Navy. After all, when it comes down to it, a bomb punches holes in the decks of a ship, letting in air. A torpedo, though... a torpedo makes big holes in the side of a ship, letting in
water
. Water, while pretty much required for a ship to be a ship, is also not something you want
inside
your ship. It causes ships to sink. Bombs may wreck the upper decks, may set fires, may explode deep inside the hull, but only rarely will they actually be a direct threat to the hull integrity of a warship bigger than a destroyer.
A torpedo attack was conducted based on the requirements of the dropped weapon itself. Depending on the nation, a plane may have to fly as low as 50-100 feet and as slowly as 115mph or less to successfully launch the torpedo and have it swim correctly to the target. Launching outside of those parameters could result in broaching or porpoising, or even the torpedo breaking up upon impact with the water. Early on, this wasn't considered a problem; most torpedo planes could barely reach 200mph unladen and with a tailwind. With a 2000lb weapon being lugged around, such lofty velocities were mere dreams. At the start of the war though, nobody truly understood the sort of murderous anti-aircraft fire a prepared warship could throw up, let alone multiple ships in a layered defense. Then carriers started to embark modern, effective fighter planes, and torpedo attacks began to become suicide runs. Only when part of a "combined arms" attack, with dive bombers, torpedo planes, and fighters all arriving on a defended target at the same time, could the crew of a torpedo attacker have a prayer of seeing their bunks that evening.
There were three major torpedo planes flying off of aircraft carriers in the early years of World War II, one each from Japan, the United States, and Britain. That's not to say there weren't others in use; the Brits had an effective bomber in the Beaufort. Germany used the He-111, Italy a number of different multi-engine planes, and American PBY Catalinas were known to carry a pair of torps. However, for the sake of this post, I'll only be looking at the three carrier planes in use: the Fairey Swordfish, the Douglas TBD Devastator, and the Nakajima B5N.
more...
Posted by: Wonderduck at 11:57 PM | Comments (12) | Add Comment
Post contains 1776 words, total size 12 kb.
December 10, 2014
Mayfly
In 1911, the Royal Navy eagerly awaited the official delivery of His Majesty's Airship No.1, infuriatingly nicknamed "The Mayfly". She was to be the RN's first airship, the largest and fastest in the world.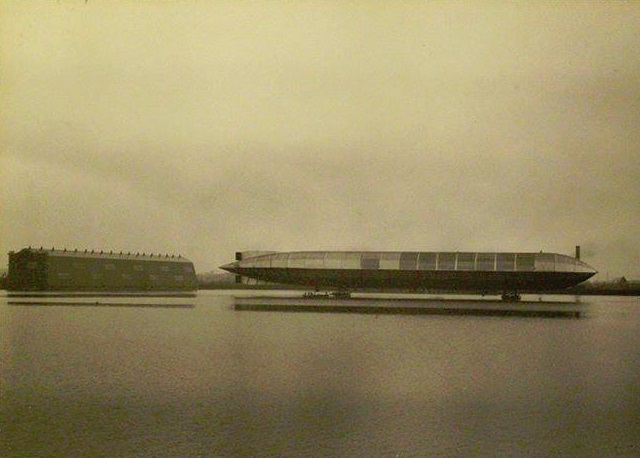 In pre-delivery tests, the usual panoply of problems were discovered, none of which were unable to be solved. Except for one tiny difficulty that refused to go away, no matter how hard the crew at Vickers worked at it: she couldn't fly. Make no mistake, she could float (barely), but nothing more than a tiny amount, and that only in perfect conditions. She weighed in at 19.5 tons and had the lifting ability of 19.7 tons. Something had to be done.
There were two options. The first was obvious: add more lift. However, "obvious" doesn't mean "easy." For an airship, it means cutting the beast in half and adding a new section containing more gasbags. This is also a relatively expensive way of accomplishing the task. The second option is easier: lighten ship. Get extra weight out of the hull and you'll be able to fly without changing the amount of gas involved. Of course, this is what the folks at Vickers decided to do. They went in and replaced structural members with thinner, lighter pieces... including the main keel. The day came for a new flight test.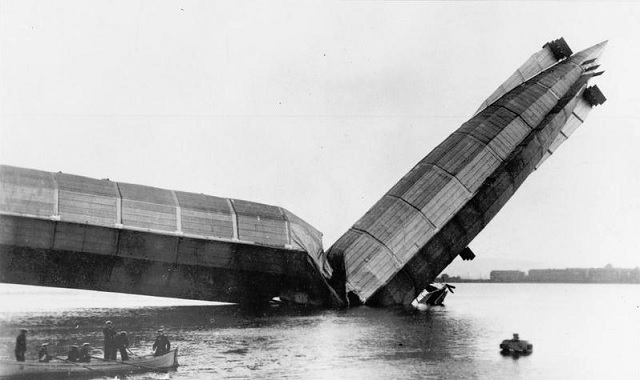 A gust of wind caught the Mayfly as she came out of the hangar, tilting her hard to starboard. While the groundcrew struggled to roll her back over, she snapped in half. As her crew abandoned ship, the two ends rose in a V-shape, ironically proving that cutting the internal weight down fixed her flight problems. Soon enough, however, the Mayfly settled into the waters at Barrow-in-Furness.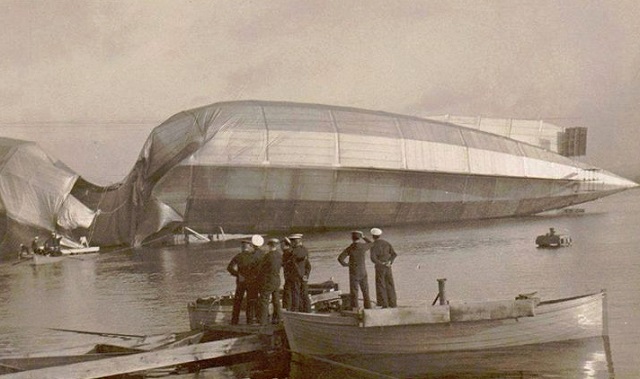 Fortunately, none of the crew was injured, and British airship development went into something of a dark period. It took five years for HMA.09 to take to the air, under the guiding hand of designer HB Pratt, who had predicted the failure of the Mayfly. Pratt's main assistant was a young man named Barnes Wallis, who wound up with a successful career designing unconventional bombs. He was the designer of the "Dambuster"
bouncing bomb
, as well as the "
Tallboy
" and "
Grand Slam
" weapons.
Posted by: Wonderduck at 11:27 PM | Comments (5) | Add Comment
Post contains 373 words, total size 3 kb.
December 07, 2014
73 Years Later
The USS
Arizona
looking glorious
in pre-war white, some years from her ultimate fate in Hawaii.
It was 73 years ago today when the United States was plunged into the maelstrom of World War II by the attack on Pearl Harbor.
It was 73 years ago today that
Arizona
became more than just a ship to the American people, but a symbol to rally around.
Which doesn't mean it wasn't more than that to those who served upon her. To them, the
Arizona
was home, their shipmates brothers.
Today, there is a memorial to the
Arizona
in Pearl Harbor, but most moving is that the ship is still leaking... some melodramatically say bleeding, or weeping... oil into the waters entombing the ship.
Today is likely the last official meeting of the
USS

Arizona

Survivors Association
. There are only nine names remaining on the Association's list, none of them younger than 93. Four survivors are in attendance today at Pearl Harbor's ceremonies.
Soon, the phrase "Remember Pearl Harbor" will be all we can do; those who were THERE will be gone. Time marches on.
Posted by: Wonderduck at 12:00 PM | Comments (4) | Add Comment
Post contains 186 words, total size 2 kb.
38kb generated in CPU 0.0182, elapsed 0.149 seconds.
47 queries taking 0.1365 seconds, 184 records returned.
Powered by Minx 1.1.6c-pink.