October 21, 2019
Akagi Found!
As I semi-postulated would occur in the
Kaga
post, Paul Allen's team has now found what they are pretty sure to be the
Akagi
.
Guess the report on them having another ship's location was right! All of this was breaking just shortly before I'm typing this, so we don't have much information yet, and the RV
Petrel
apparently either hasn't been down yet or they haven't released any footage. Still, we can tell a lot from these sonar images. Like
Kaga
,
Akagi
is sitting upright, and it sure looks like she hit with not too much horizontal motion. I'm hardly an expert on that sort of stuff, so take it with a grain of salt.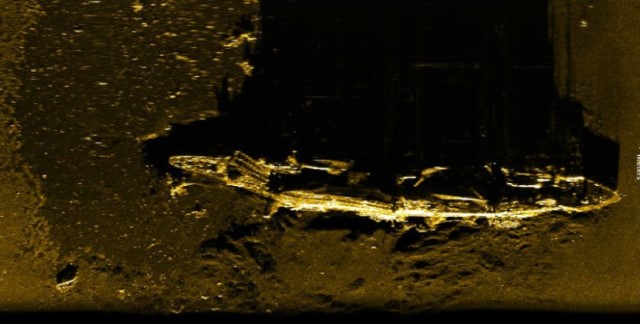 I'm pretty sure the bow is to the left in both images. If she landed stern-first, that might explain the "arrow-head" shape... the impact could have compressed the stern maybe? Of course, the flight deck is gone, though I wonder if the
Akagi
's massive underdeck supports might still be there? In any case, this is just as exciting as the
Kaga
finding, and for similar reasons. Hopefully we'll get to see more as the day goes on!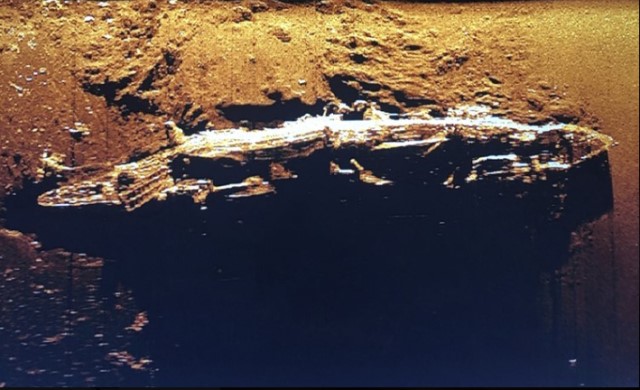 edit
: forgot to mention... according to a comment I saw from Jon Parshall over at the Petrel's facebook page, the Nauticos company did
not
share the location of the chunk of
Kaga
's hull with Paul Allen's team... they found the ship on their own, making all this even more incredible.
Posted by: Wonderduck at 01:31 AM | Comments (8) | Add Comment
Post contains 244 words, total size 2 kb.
1
Kaga and Akagi.
So who's next?
Posted by: Ben at October 21, 2019 10:17 AM (osxtX)
2
Soryu
would be the obvious next one to be found. She went down in the vicinity of
Kaga
and
Akagi
and around about the same time. If the Petrel Bunch are still searching (instead of researching the hell out of the two wrecks they've already found), I'd expect her to be located within the week.
Hiryu
and
Mikuma
will be much more difficult to find as both were sunk after a substantial amount of undamaged sailing time.
Posted by: Wonderduck at October 21, 2019 01:19 PM (zI5rk)
3
"What's next?" led me to wonder "What's left?" And a quick google search is surprisingly unhelpful. There are of course tens of thousands of shipwrecks scattered on the ocean floor, and there are some major ships of historical interest like the Santa Maria waiting to be found, but of the major WWII combatants that got sunk, I can't seem to find a list of the ones that haven't been found.
Posted by: David at October 21, 2019 04:00 PM (A/T0R)
4
Clearly there can only be one next target for the search.
Posted by: Pixy Misa at October 22, 2019 10:30 PM (2yngH)
5
Well, they found the Yamato in 1985, but as far as I know finding the Space Battleship Yamato would involve time travel or dimension jumping.
Posted by: Ben at October 23, 2019 08:25 AM (osxtX)
6
Shokaku, Taiho, and Hiyo would be nice finds, but the water depth for them are probably far deeper than at Midway. A similar problem would apply to USS Princeton.
HMS Barham should be easier - the depth is not as deep and they should have a good idea of where she, but given how far off HMS Ark Royal was compared to where the Royal Navy recorded her as sinking at, it will not be easy. The three Italian heavy cruisers lost at Cape Matapan would have the same issue.
Posted by: cxt217 at October 23, 2019 09:45 PM (LMsTt)
7
Sorry about the outage, your site should be back to normal now!
Posted by: Pixy Misa at October 29, 2019 04:36 PM (2yngH)
8
And the answer for "next?" appears to be
Johnston
, or possible Hoel, the ID isn't confirmed yet.
The crew of R/V Petrel must be working their behinds off, but the thrill of finding one historical wreck after another has to be amazing. I imagine they've done a ton of prep work to narrow down these search areas.
Posted by: David at October 31, 2019 04:19 PM (A/T0R)
24kb generated in CPU 0.0127, elapsed 0.0851 seconds.
48 queries taking 0.0747 seconds, 171 records returned.
Powered by Minx 1.1.6c-pink.