May 07, 2013
Mystery Ship VIII Update!
In
November of 2011
, I put up a "Name This Mystery Ship" contest that proved to be one of my favorites.
The correct answer was the SS
Mamari
, aka "Fleet Tender C". A former passenger liner, she had been taken over by the Royal Navy and converted into a HMS
Hermes
decoy. As it turns out, I had not seen another picture of this erstwhile vessel until just about a week ago, when I also found out her fate. First, the second picture: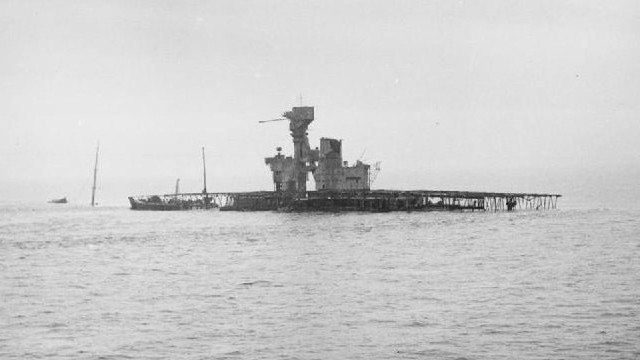 As it turns out, the
Mamari
was a very good decoy indeed. On June 3rd, 1941, she was attacked by German aircraft. In the process of evading them, she got stuck on the wreck of a tanker. While the Admiralty intended to refloat her, a few days later the
E-boats
came. After a couple of torpedoes, she ended up as you see her here. You can see just how skimpy that "flight deck" was. It couldn't even be used as a transport.
So there you are... more Fleet Tender C!
Posted by: Wonderduck at 09:39 PM | No Comments | Add Comment
Post contains 177 words, total size 1 kb.
May 01, 2013
Something Strange And Wonderful
So the other day I was searching for pictures of the
USS

Liscome Bay
when the contents of a thumbnail caught my eye and made me do a metaphorical doubletake. I simply could not for the life of me figure out what I was looking at. Of
course
I had to click on it.
Click the pic for much bigger
And then I started to laugh. The USS
Thetis Bay
, CVE-90, with deck-parked PBY Catalinas as she ferries them back to California in 1944. I've never seen anything like that before! I looked a little closer, and realized there was also a
J2F Duck
on deck, to boot! The Hellcats pale by comparison. I guess it makes perfect sense to ferry PBYs like this... it's not like they could fly the entire way on their own, particularly when they've been beaten up like these ones... but you just don't expect to see them dwarfing the carrier they're on.
It reminds me of the
C-130 landing on a supercarrier
: sure, it works, but
man
does it look weird.
Posted by: Wonderduck at 08:28 PM | Comments (10) | Add Comment
Post contains 181 words, total size 2 kb.
25kb generated in CPU 0.0202, elapsed 0.3348 seconds.
45 queries taking 0.3254 seconds, 171 records returned.
Powered by Minx 1.1.6c-pink.