February 16, 2016
The Chesapeake Raider
By 1912, the US Navy had gotten pretty good at the whole dreadnought thing, more or less. They'd commissioned six battleships in three classes, carrying either eight or ten 12" guns in four or five twin turrets. Unlike the Royal Navy or the German Navy which tended to employ "wing" turrets, the US Navy had firmly stuck to putting their turrets on the centerline. In the case of the
South Carolina
class of ships, this meant while they only had eight guns, they could all fire to one side or the other. The original HMS
Dreadnought
, on the other hand, carried 10 guns: six on the centerline in three turrets, then a wing turret on either side of the superstructure. Thus both ships could fire eight guns to a broadside, but the
SoCar
didn't have to carry the extra weight of an extra turret around (note: while it's true that the wing turrets could fire straight ahead or behind, thus giving the
Dreadnought
an advantage on paper, in practice this was never really done: the gun blasts would damage the ship!). For the fourth class of US battleship, it was decided that 10 main guns just wasn't enough: twelve were needed. And thus was the
Wyoming
-class born.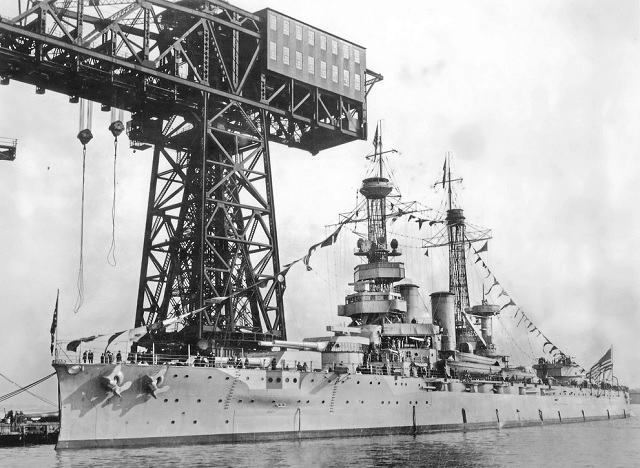 The name ship of the class, BB-32, was commissioned in September of 1912 and weighed in at just over 27000 tons at full load. While small for what we now consider a battleship, at the time she was the heaviest ship in the fleet and amongst the heaviest anywhere. She was the first US ship to incorporate an anti-torpedo bulkhead, and her main armor belt was 11" thick. Her machinery could scoot her along at a touch over 20kts at 26000hp. What was uncommon about her was the way her guns were arranged.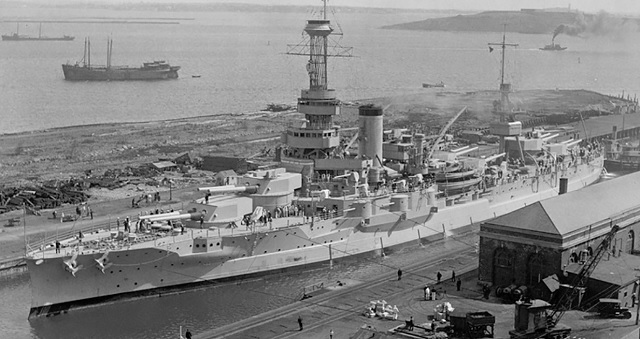 Three superfiring turret pairs, all on the centerline: one pair forward of the bridge structure, two pairs aft. One pair was roughly amidships, the other aft. In theory, the four rear turrets could all fire directly astern. In practice? Well... not so much. The superfiring midships turret might be able to, the decklevel one would have serious difficulties.
While I hate to use a videogame representation for this article, good pictures of the ship from the side are hard to come by. At least this way you can clearly see the positioning of the turrets. The rear four were all quite capable of firing "over the shoulder", with clear arcs of fire forward. On the whole, however, the six centerline turret concept can't be considered a success; the extra weight of the turrets, and extra holes pierced through the main deck, put unneeded stress on the body of the ship (the Japanese had similar problems with their
Tone
-class cruisers, which had five turrets all forward of the bridge).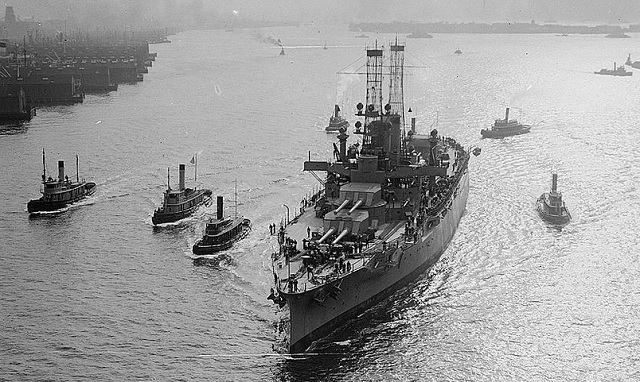 Once the United States entered World War I, the
Wyoming
was part of Battleship Division 9. In late 1917, BatDiv9 reinforced the Royal Navy's Grand Fleet at Scapa Flow, becoming 6th Battle Squadron. The wartime service proved to be relatively unexciting, and
Wyoming
returned to home waters in April 1919. She bounced back and forth between Atlantic and Pacific Fleets until the early '30s, when she was named flagship of the Training fleet and began her life as a "demilitarized" gunnery training vessel: half her main guns were removed, her anti-torpedo bulges and side armor went away as well. It was at this point she was renumbered as AG-17.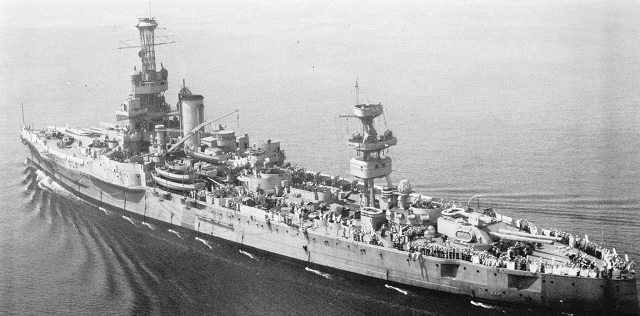 In place of the three removed main turrets, a startling proliferation of smaller guns appeared. From .50cal machinegun mounts to 5" turrets, the
Wyoming
trained tens of thousands of sailors in the art of naval gunnery of all sorts as World War II got started. Homeported in the Chesapeake Bay area (ergo her nickname of "Chesapeake Raider"), she served in this manner until early 1944. At that time, the last of her 12" guns were removed, replaced instead by more 5" turrets.
With the arrival of the kamikaze threat in the Pacific, the Wyoming became more important than ever, becoming a testbed for anti-kamikaze tactics. It was in this role that she was employed when the war ended. She lasted for a couple more years after that, being decommissioned in 1947 and scrapped at the end of that year. Not so bad for a dreadnought-era vessel, that.
UPDATE
: A closeup shows that they're clearly not lights.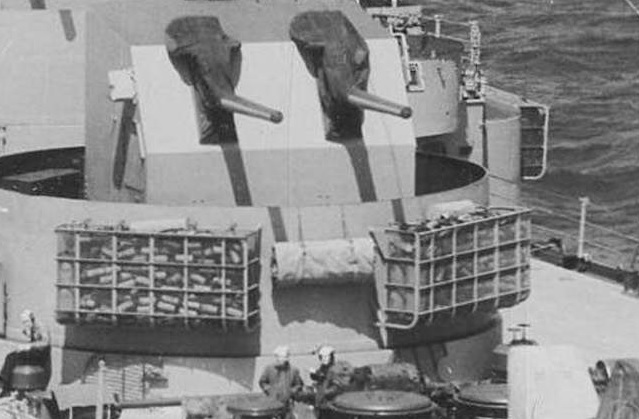 Having said that, I'm not entirely sure what's going on here. To me, they look like baskets with... floats?... in them? Like what you'd see on fishing nets. Emergency-use nets, like if they were rescuing survivors they'd throw them over the side to give the survivors something to climb up? I have no idea...
Posted by: Wonderduck at 10:50 PM | Comments (15) | Add Comment
Post contains 790 words, total size 6 kb.
Name This Mystery Ship XXXI: Don't Call It A Comeback
It's been over a year since the last time I did one of these, but what the hell, here we go again!
As always, CTX and FDM can't play until I take them off the leash. Everybody else, remember the rules: no image searching, no google, nuthin' like that. Just good ol' detective work. You get one guess, so make it count. The winner (as declared by me, and my decision is final) will get a post of their very own about anything they want (no pr0n, politics or religion, however) within reason.
So what are you waitin' for? Get t' guessin'!
UPDATE: Brickmuppet wins with his text message to the Duckphone late this afternoon. A post on this ship (at which point, the name will be revealed!) will be up later tonight. If anybody names the ship before then, I'll be royally peeved, so please don't.
Posted by: Wonderduck at 01:50 AM | Comments (19) | Add Comment
Post contains 157 words, total size 1 kb.
February 01, 2016
Showboaters
It was late, I was getting tired, and I decided that before I made my way into the embrace of Hypnos, I'd go take a few ships out for a sink in World of Warships (I'd had a run of bad luck recently). Once I had signed on, I discovered that Avatar was online as well... and shortly thereafter, we had been joined by David. After a few successful battles, I finally realized that I was on the verge of falling asleep in my chair. I called for one last fight, but we needed to get some glamour shots of the squadron before we packed it in. Av and David both agreed. David brought out his brand-spankin'-new
Wyoming
-class dreadnought, while Av and I decided to play escort in our
St Louis
es.
click for bigger if you'd like
Since David was both larger and less able to maneuver than our more nimble cruisers (and this is probably the only time you'll hear a
St Louis
described as "nimble"), the task of getting close fell to us. Av's declaration that we'd "get close enough to jackstaff cargo" notwithstanding, it proved to be slightly more difficult than I expected. On the other hand, Avatar's crew was playing frisbee with David's, so what do I know? For the record, that's Avatar at the top, David in the middle, and yours truly at the bottom.
Closest approach. Throughout the night, the three of us seemed like we'd been maneuvering together for years. Indeed, at one point I was in my
South Carolina
and the other two in
St Loo
's, and the way the game started put them in front of me. The game began, Avatar moved a kilometer ahead of David, and I was a klick behind, bringing up the rear. The appearance of a bad guy off to port made Avatar call for our merry band to head that way... and from my vantage point, all three of us began the 90-degree turn at the same time, and finished the turn at the same time. Like we had planned it that way, and had drilled in the battle turn together for weeks. It was really quite cool.
Alas, my position at the left of the formation meant that I was on the "shadow side", and thus all side shots were silhouetted against the setting sun. I could not pivot my camera around far enough to get a shot from the right side of our band and still get all three of us in the shot. Fortunately, David took advantage of not having to do anything but motor straight ahead and got some decent shots himself; by all means, click on it for a larger version. Look at that battleship, all dolled up in a purty camouflage and stuff.
Alas, all good things must come to an end, mostly because the bad guys finally showed up and it was time for us to go to work. It was a good match, but really, the most fun was our attempt at imitating the Blue Angels in ship form. We honestly cleaned up, our little band doing a good job while being slightly outnumbered. Towards the end of the match, however, my discipline broke down as I laid eyes on the one sight every surface skipper wants to see in battle.
"CARRIER!" followed by sadistic chuckling. Now, this particular carrier had been a pain in the butt all game, so it was with pleasure that I gave it broadside after broadside, setting it ablaze a few times... until I racked up three citadel hits in one volley. Understand: in WoWS, citadel hits are like hitting a grand slam home run. A single citadel hit can take half a battleship's HP away. Three of them at once on a carrier? Surprisingly, it
didn't
sink from that, but if I had sneezed on it, it probably would have capsized. It only took one more hit for it to get all splodey. Good times, good times.
So why aren't you playing?
Posted by: Wonderduck at 10:51 PM | Comments (5) | Add Comment
Post contains 672 words, total size 5 kb.
49kb generated in CPU 0.018, elapsed 0.102 seconds.
47 queries taking 0.0898 seconds, 202 records returned.
Powered by Minx 1.1.6c-pink.