March 25, 2013
"...and Screw This Whole Area In Particular."
It's hard for a ship to look proud when painted in Measure 32, but somehow the USS
Aaron Ward
(DM-34, ex DD-773) pulls it off in this picture. Like James Bond, martini shaken not stirred, dressed in a clown costume.
Originally a
Sumner
-class destroyer, the
Ward
was taken in hand right after launching and converted to the last of 12
Robert H Smith
-class minelayers. All the conversion did was remove the torpedo tubes and add minelaying equipment (which, it might be noted, was never actually used by any of the
Smith
s in WWII). Otherwise, they were treated as any other destroyer. Joining the fleet at Pearl Harbor on February 2nd, 1945, she received additional training in and around Hawaii before joining TF 52 at Okinawa on March 22nd. She served there for around a month, leaving station occasionally for supplies and such. On April 30th, 1945, she took station at Radar Picket #10 off the coast of Okinawa. She beat off one attacker early in her stay, but bad weather kept Japanese aircraft out of the sky for a few days. That all changed late on the afternoon of May 3th. From roughly 4pm to around 730pm, she was attacked by at least a dozen kamikazes. Of those, she was hit by six.
Gone was the neatly turned-out destroyer-minelayer. Left behind was a legend.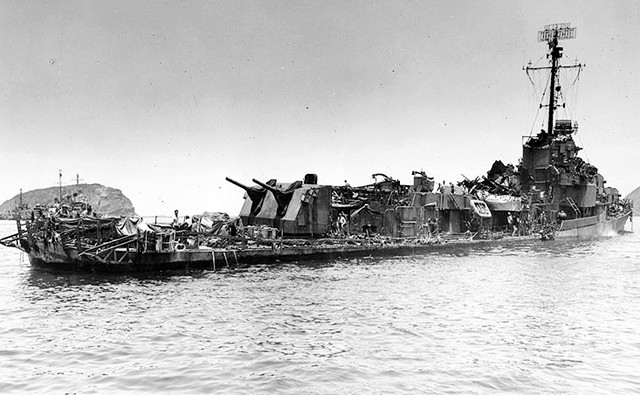 27 of her crew were killed in the attacks, but the ship was saved. Arriving in New York under her own power in August of 1945, she was judged not worth repairing. She was decommissioned in September of that same year, and scrapped in 1946.
Posted by: Wonderduck at 10:11 PM | Comments (7) | Add Comment
Post contains 276 words, total size 2 kb.
March 23, 2013
The Ugliest Warship In Any Fleet
You may remember a few months ago,
I wrote about a pair of ships
named the HMS
General Wolfe
and the HMS
Lord Clive
, a pair of Royal Navy monitors that shipped 18" guns. That little post sent me on a quiet search for more monitors, coastal defense ships, that sort of thing. And oh, but did I find some fun ones! For example, which would you rather have, a
7000ton ship with 11" guns
or a
4000ton ship with 10" guns
? Just wonderfully mind-altering designs flowed to me.
And then I stopped. I stopped because I encountered a ship that was far and away the ugliest thing I've ever seen afloat... and that includes
bifurcated ships
and
French aircraft carriers
. Ladies and gentlemen, I found a 3000ton ship carrying 15" rifles. Ladies and gentlemen, I found the Italian
Faa di Bruno
.
Technically a monitor, in truthfully this tremendously ugly thing was a barge with a bow tacked on. Her hull, not seen here because it had about two inches of freeboard, had a concrete cofferdam ten feet thick. It had a top speed of 3kts if the tide was behind it, driven by a 450hp engine. And it is hideous.
If you know of any ship uglier, leave it in the comments. Then gouge out your eyeballs.
Posted by: Wonderduck at 08:54 PM | Comments (5) | Add Comment
Post contains 224 words, total size 2 kb.
March 03, 2013
Name This Mystery Ship XXIII
Here ya go, the first Mystery Ship of 2013: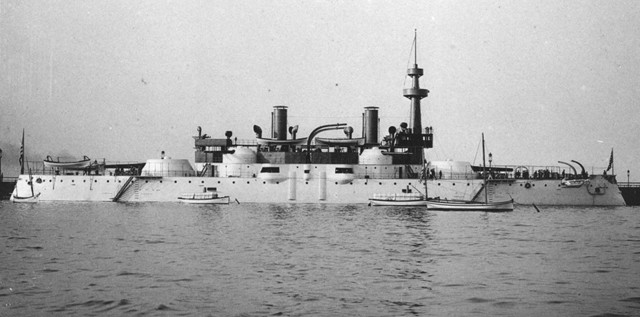 Take your best shot! Remember, no cheating... winner gets a post of their very own (no pr0n, religion or politics, though). One guess per customer. Post no bills. Winners warm up with Malt-o-Meal.
Posted by: Wonderduck at 09:51 AM | Comments (26) | Add Comment
Post contains 47 words, total size 1 kb.
40kb generated in CPU 0.0508, elapsed 0.1435 seconds.
47 queries taking 0.13 seconds, 201 records returned.
Powered by Minx 1.1.6c-pink.