September 22, 2010
Let's Talk Books
A couple of years ago, I was at the Duck U Bookstore when one of our history professors came in. At the time, we had a small area set aside on the counter for "Staff Picks", books that those of us who worked at the Bookstore had read and recommended. My two picks that month were
World War Z
, which I had just finished reading, and
Shattered Sword
, the 2005 book that turned a lot of what was known about the Battle of Midway on its collective head.
Knowing that the professor in question taught a class on WWII, I suggested
Shattered Sword
to him, and thus began a close to 45 minute dialogue on Midway and the Pacific War in general (it was summertime, during a stretch where we might go the entire day and see maybe three customers). When we were finished and the prof had purchased both of my "Staff Picks", one of my co-workers looked at me with something akin to stunned disbelief. "He's a history professor, how were you able to to talk to him like that about his specialty?", for indeed, his specialty was the Pacific War and Korea (where he himself served).
I thought for a second and replied "I read a lot." Her reaction, again, was stunned disbelief. "History books? You read
history books
for fun?"
Well, yeah. I do.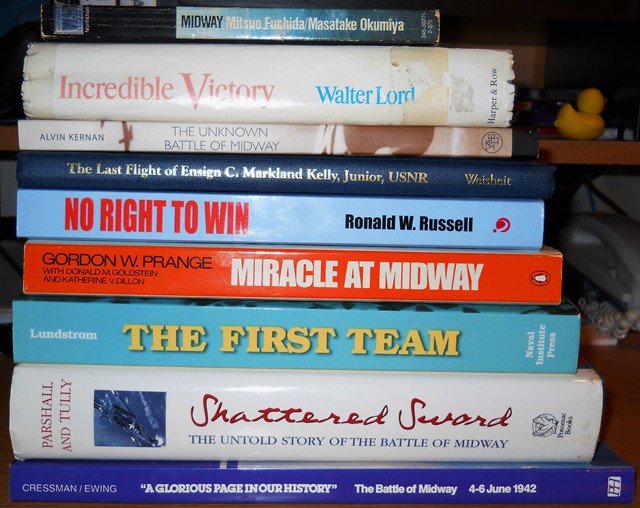 I'd like to write a little bit about some of the books on Midway that I've in my collection, if I may indulge myself a bit... and, seeing how it's my blog, I think I can.
more...
Posted by: Wonderduck at 11:05 PM | Comments (8) | Add Comment
Post contains 1794 words, total size 12 kb.
September 04, 2010
Name This Mystery Ship IV
While I am working on the post that Siergen won for identifying the HMS
Unicorn
last time around... he selected a topic I know next to nothing about... here's another possibility for someone to win their very own post on a topic of their choosing! Name this ship:

Winner gets a post on a topic of their own choosing... hopefully not one as difficult as Siergen's, but pretty much anything is free game!
I'm hoping this one is difficult... if it's not, you guys are even more obsessive than I am!
UPDATE
: Okay, maybe it was still "easy." Only took about four hours for Pete Z to come up with the
Wakamiya
, a seaplane carrier of the IJN.
She's best known as the ship that launched the world's
first naval-launched air raids
(against German targets in Tsingtao) on September 5th, 1914... 96 years ago today. In a way, this humble 8000 ton vessel with its four seaplanes and canvas-and-metal hangars is the direct predecessor of today's 104000 ton, 85 plane
Nimitz
-class carriers.
Funny how these things happen, isn't it?
Posted by: Wonderduck at 07:21 PM | Comments (5) | Add Comment
Post contains 184 words, total size 1 kb.
27kb generated in CPU 0.0134, elapsed 0.0909 seconds.
46 queries taking 0.0815 seconds, 174 records returned.
Powered by Minx 1.1.6c-pink.