December 07, 2017
The Forgotten Pearl Harbor Memorial
The whole world is familiar with
what happened to the USS
Arizona
at Pearl Harbor that fateful day in December of 1941. In remembrance of that tragic loss, a touching memorial was built over the sunken remains, and is a tourist attraction unlike any other perhaps in the world.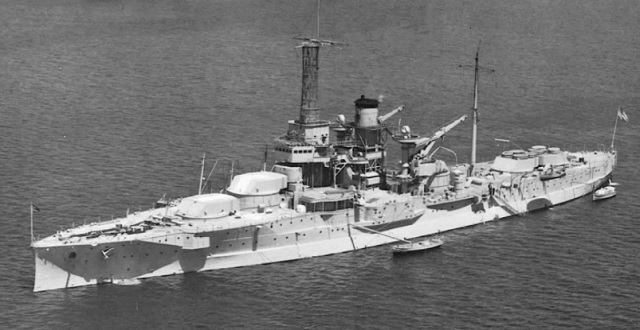 In 1941, the USS
Utah
was no longer a glamorous ship. Once a Dreadnought era
Florida
-class battleship, in 1931 she was converted to a radio-controlled target vessel (AG-16), both her main and secondary batteries removed, and her torpedo bulges shaved off the hull. In 1935 she was given a the new assignment of anti-aircraft training. To which end, she was given an ever-changing collection of AA guns, from .50cal machineguns all the way up to the famous 5"/38 dual-purpose gun. It was in this duty that she was at Pearl Harbor on Dec 7th, 1941.
Moored in a position normally used for the US Navy's aircraft carriers, torpedo planes from the Japanese carrier
Soryu
closed in on her. While the squadron leader waved the run off, correctly identifying the
Utah
as not worth attacking, six planes did not get the message and dropped on her. Of these six torpedoes, two hit the seriously unprotected vessel which immediately began to list . Some 12 minutes after the attack on her began, she rolled over onto her port side and settled to the bottom of the harbor. Some years later, an attempt to salvage her was made, but was unsuccessful. It was decided to leave the hulk where it lay.
A small memorial plaque was placed in 1950, and a larger memorial erected in 1972, seen to the right in this picture. Only those with a military ID can visit, and like the Arizona Memorial, it is considered a war grave as the ship still holds the remains of 58 crewmen killed on Dec 7th, 1941. She's not as well-remembered as the
Arizona
; she was neither as glamorous or her loss as dramatic. She is still one of a perishingly few remaining touchpoints for the events of the day that began the Pacific War. In many ways, she deserves better.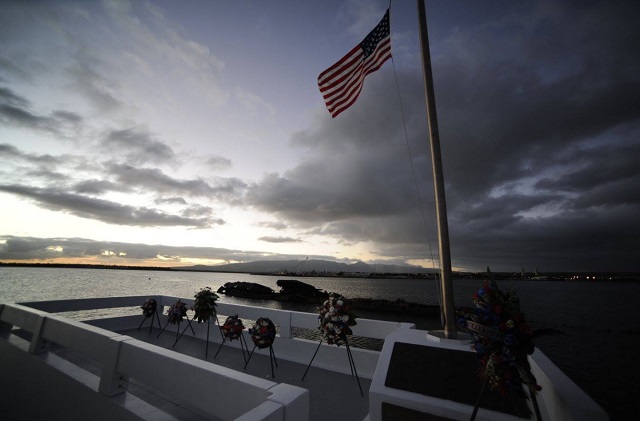 Posted by: Wonderduck at 09:33 PM | Comments (3) | Add Comment
Post contains 362 words, total size 3 kb.
1
Huh. You learn something new every day.
I'm guessing that either more or fewer torps dropped on the
Utah
would've made basically no change in what came after, but still. She took enemy hits meant for other vessels, that's gotta count for something.
Posted by: GreyDuck at December 08, 2017 09:40 AM (dPlYR)
2
A single torpedo hit may have been survivable. Emphasis on "may". She did not have what you'd think of as a full compliment of men onboard for a ship that size, only around 500. For a ship basically unprotected against torpedo damage, they might have been able to save her if she'd only taken one. The ship had just come off an advanced gunnery training cruise, so she was about as ready for action as she could be, I suppose... not like she was having major internal repairs or something.
Anything more than the two she received... well, she capsized in 12 minutes. It's hard to imagine her going over any FASTER, even with more hits.
Posted by: Wonderduck at December 08, 2017 07:29 PM (EVb8m)
3
The flipside of my pondering is, if she'd taken the full complement of torps (if the squadron leader hadn't been perceptive enough), would that have helped anything else in the harbor? (I'm guessing not. There were bombs and torpedoes aplenty for everyone, one presumes.)
Posted by: GreyDuck at December 08, 2017 11:20 PM (rKFiU)
22kb generated in CPU 0.0316, elapsed 0.5691 seconds.
48 queries taking 0.5506 seconds, 166 records returned.
Powered by Minx 1.1.6c-pink.