January 21, 2012
Random Anime Picture #68: What, Again?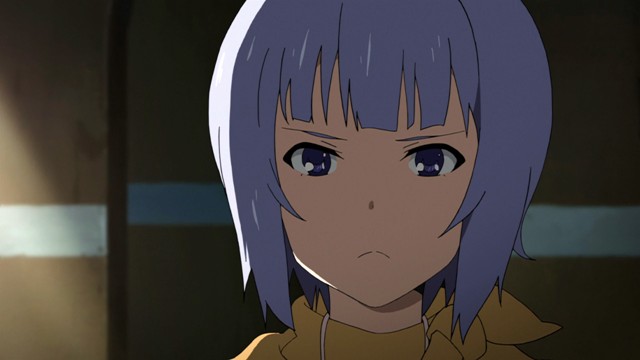 -Sora no Woto
, Ep13
Didn't I just
do
one of these a couple of days ago? Well, yes,
yes I did
. Except that one actually had a point to it (i.e., don't watch
Kill Me Baby
). This one, on the other hand, is some attempt at an explanation of my lack of actual content here at The Pond of late. One could argue that it's been 18 days since
my last post of any real value
. I will concede the point. It's not like I don't have big things to write about... indeed, I've got two major posts staring me in the face (Best Late War Fighters,
Katawa Shoujo
).
Thing is... I just don't feel like writing. Part of it is work-related; we've been going great guns all month in preparation for the start of Spring classes, which occurred this week. Tuesday, to be exact, which might tell you just how sick I really was
this past Wednesday
. Anyway, work is part of it. The aforementioned
Katawa Shoujo
and
Skyrim
are also reasons why I haven't blogged much. It may not be a coincidence that my output went through the floor the same day that
KS
was released. I'm enjoying my time in two radically different imaginary worlds for radically different reasons. I just... look, I've been here at The Pond for a long time (well, in blog time at least). I still enjoy blogging, it's just a different sort of enjoyment now.
Back in the "
old days
," when nobody knew who this Wonderduck guy was, I wrote to a) entertain myself; and b) make people aware that there was a hyperintelligent duck with phenomenal (for a duck) typing skills out there who might have some interesting things to say. Then once I got noticed by a few folks who decided to stick around, the "
new day
" of blogging dawned. In some ways, I felt I had to keep one-upping myself. This led to mammoth posts that took waaaaaaay too long to write; 4100 words and eight hours?
For an episode of

Rio Rainbow Gate!
?
Maybe I'm just getting old, but the immense need to write seems to have gone away at some point over the past few months. Maybe having that tooth pulled let it all leak out? I'm not going anywhere, don't fret none 'bout that. I'm not even taking a hiatus. I'm just... going to take it easy for a bit. Not for long, and you might not even notice a difference, but I'm going to stress less about blogging and try to have myself a little fun again.
Besides, the F1 thing starts up in earnest this week when Caterham rolls out their 2012 car to begin the F1 Pr0n season. I weep for my lost weekends...
Posted by: Wonderduck at 09:14 PM | Comments (10) | Add Comment
Post contains 467 words, total size 3 kb.
1
Could be worse, you could be like me and write long anime reviews that nobody apparently reads. It would probably help if I did more current stuff, rather than the things I've been getting from NetFlix....
I also have a LiveJournal, but I had to make all the personal entries private because I had a stalker. An amazingly pathetic one, but a stalker nonetheless, so the audience there is limited to about 60, maybe, if they haven't all migrated to Facebook. That and Russian spammers on the public entries (the politics stuff).
I get more readers for my Mad Scientist porn on DeviantArt than I do for my blogs.
Posted by: Mauser at January 22, 2012 06:33 AM (cZPoz)
2
Mauser, I read them. FWIW it took a couple of years of writing and a couple of lucky breaks for me to have any readers at all.
Posted by: Wonderduck at January 22, 2012 09:17 AM (f/6aJ)
3
Also FWIW, I too double-space the break after a period. I thought I was the only person who did.
Posted by: Wonderduck at January 22, 2012 09:21 AM (f/6aJ)
4
Speaking of F1, I'm not sure Bahrain will happen again this year. The Shia are very restive to the Sunni elite & Iran is sticking it's big nose in the mix. A good overview is here: http://www.strategypage.com/qnd/pothot/20120123.aspx
Posted by: von Krag at January 23, 2012 10:40 AM (XIY2m)
5
I was taught waaay back when to use a double space after a period. Apparently this was never actually official per any style guides, and there is some controversy about why a lot of typing instructors set their students on that path.
Also: did you take the flock on a drive to Madison recently?
http://chicagoboyz.net/archives/27471.html
Posted by: David at January 23, 2012 01:44 PM (+yn5x)
6
Take my ducks to Wisconsin? ME? I am
offended
, David.
VK, yeah, I know. My desire to write about F1 right now is somewhat near zero.
Posted by: Wonderduck at January 23, 2012 07:21 PM (f/6aJ)
7
The problem with long reviews is how fragmented the field and the tastes are. With 40 new series every season, and a person of average free time following perhaps 3 at best, you have to hit big to evoke any kind of response. I essentially ignore anything on the Net that is not Idolmaster, for example.
Posted by: Pete Zaitcev at January 24, 2012 04:15 PM (G2mwb)
8
But Wonderduck, some of your flock is
from
Wisconsin...
Posted by: Siergen at January 24, 2012 07:13 PM (PBxDs)
Posted by: Wonderduck at January 24, 2012 07:21 PM (f/6aJ)
10
Heh, now you've got me thinking back to try to remember which blog/site I mentioned the double space thing on and just how much you've read.... *grin*
Posted by: Mauser at January 25, 2012 05:43 AM (cZPoz)
Comments are disabled. Post is locked.
22kb generated in CPU 0.04, elapsed 0.0968 seconds.
52 queries taking 0.0755 seconds, 142 records returned.
Powered by Minx 1.1.6c-pink.