January 07, 2011
Random Anime Picture #60: Gosh!
-The Disappearance of Haruhi Suzumiya
movie
I have a secret to reveal.
I love it when an author, or a tv show, or an anime, gives substantial time to a series' secondary characters. I'd much rather read about Wedge Antilles, normal guy (though an extremely talented pilot), than Luke Skywalker (Jedi God). After who-knows-how-many pages/hours/whatever we've spent learning about Our Heroes, there are times when I really like to find out more about the Second Spearcarrier On The Left... which is one of the (many) reasons I really like
Rosencrantz and Guildenstern Are Dead
. I think that's why I prefer the second and third series in the Nanohaverse over the original: in many ways, the namesake of the show isn't the
focus
of the show. Instead, the wolkenritter (in
A's
) and Riot Force 6 (in
StrikerS
) become the primary characters.
And then I read the book,
The Disappearance of Haruhi Suzumiya
... and nearly wept with happiness. No lunatic Haruhi and a story based around Nagato? Sign me all the way up for that, please and thank you very much. I think the book is the best of the four light novels translated and released here to date, but your mileage may vary. Then I found out about the movie... and that Kyoto Animation was doing it, and I began to hope for the best, but prepared for the worst. Because to put it simply, KyoAni's recent shows have been pretty 'meh' in the artwork department.
I need not have worried. KyoAni has returned to their pre-
K-On!
ification days, and the whole thing looks gorgeous as a result. If you liked KyoAni's style from before they started to get cartoony, back when they were doing
Kanon '06
, the first
Clannad
, and the original
Haruhi
series, it's worth watching for that alone.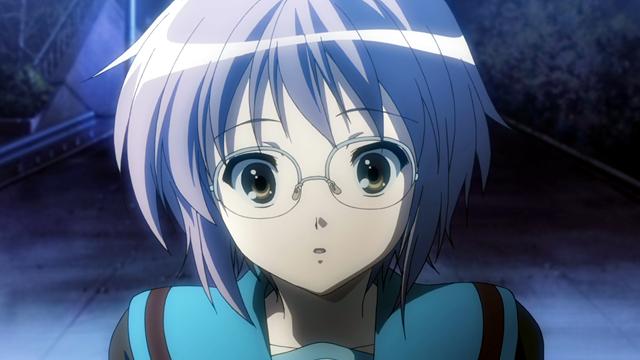 And, hey, Yuki shows actual emotion in the movie... which can't be bad, right?
Posted by: Wonderduck at 09:09 PM | Comments (3) | Add Comment
Post contains 318 words, total size 3 kb.
1
This was my favorite anime of last year, for a lot of the same reasons you gave for liking it. Also, it didn't hurt that Nagato is my all-time favorite anime character. Totally worth the four-year wait.
Posted by: Andrew F. at January 08, 2011 08:27 AM (2hEN4)
2
Somewhere, there is an .mp3 of Vic Mignogna singing his original composition, "Soldier A"... a march dedicated to the un-named characters with only one line. Wish I had a copy of it, but I didn't think to go looking for it until after the layoff...
Posted by: Avatar_exADV at January 09, 2011 04:00 AM (mRjOr)
3
Agree was a great movie, though recon could have been edited down a bit. Have to protest about Kyoani's art though, Clannad After Story was just as good if not better than the first seasons, while K-ON is rapidly climbing my top 10 list (the character designs may be cartoony, but the details in everything else is astounding)
Posted by: Andy Janes at January 10, 2011 04:20 PM (W1/yR)
Comments are disabled. Post is locked.
20kb generated in CPU 0.49, elapsed 1.007 seconds.
46 queries taking 0.8407 seconds, 164 records returned.
Powered by Minx 1.1.6c-pink.