March 21, 2008
Random Anime Picture #14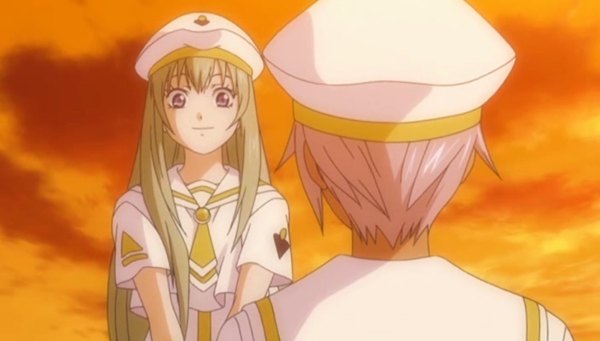 Orange Princess

-
ARIA the Origination
, ep09
Over at
Civilis' place
, I said that Alice had become my favorite character sometime in season 2, and that the recent string of episodes about her had cemented that feeling.
So when the events of episode 09 played out, I will admit to doing something much more appropriate for a college hoops game than for the laid-back
ARIA
...
Cheering.
I know this means that the series is heading into it's last episodes, and that certainly makes me sad, but if that's the cost for seeing (and hearing!) episode 09, it'll be worth it.
It's been a rough couple of weeks here at The Pond, what with the cold, and the tooth extraction (which had a complication that entailed an emergency visit to the oral surgeon... on a
Saturday night
, too), and End-of-Fiscal-Year at the Duck U. Bookstore, and there's a problem that I'm not at liberty to discuss but is extremely worrisome to me (more than the others combined, actually). In other words, life has blown chunks recently.
This episode didn't make it all go away, but it did allow me to (mostly) forget about the problems for a while.
And Alice smiled.
Posted by: Wonderduck at 12:13 AM | Comments (2) | Add Comment
Post contains 203 words, total size 2 kb.
1
I found myself cheering as well.
One of the signs of a great anime is that you are cheering for the characters or yelling the great lines along with the characters. If it's gotten you that emotionally pumped up, the creators have succeeded in getting you emotionally attached to the series.
Posted by: Civilis at March 21, 2008 04:18 AM (Ak2oi)
2
I didn't cheer, but I started grinning at the start, and kept on doing so till the end. It was one of the more powerful episodes of anime that I've seen in a while, and I know that most of that is due to the familiarity and adoration I've built up for the ARIA characters. But still, it was magical.
Posted by: TheBigN at March 21, 2008 08:34 AM (0gYAY)
Comments are disabled. Post is locked.
19kb generated in CPU 0.0372, elapsed 0.2024 seconds.
46 queries taking 0.1754 seconds, 164 records returned.
Powered by Minx 1.1.6c-pink.