May 23, 2010
Wolverine!
War.
War never changes.
In 1942, war was raging and the US Navy had a problem. It was obvious that the aircraft carrier was going to be the deciding factor in the Pacific, and a major player in the battle for the Atlantic. A gazillion carriers were going to be coming out of the shipyards, and they would need squadrons upon squadrons of planes and pilots to fill their hangars. While there wouldn't be a problem building the planes, the pilots would be another thing altogether. There would be hordes of men wearing the wings, certainly, and they would have plenty of training in how to fly their planes, but naval aviation is a different type of beast... because of the aircraft carrier.
When the Army Air Forces taught a man how to fly, they were able to assure their pilots that, at the end of a mission, they would have a nice long runway (or a well-manicured meadow) to come home to. On the other hand, most Navy pilots would be in training for carrier aviation. This meant they'd have to put their plane down on a small (at least in comparison to AAF runways) flight deck somewhere in the middle of an ocean... that was moving. That's a problem, because you can't simulate that on land. To be sure, you can paint a flight deck on a runway to give an idea of the size. You can put a Landing Signal Officer at the end on the runway to teach a pilot how to follow his instructions. You can even put arresting wires across the runway to give the rookie pilot a taste of the stresses involved with landing on a carrier. But you can't duplicate the rolling and pitching, the winds, the turbulence off the island, and the sense of scale involved (even a big carrier is very, very small in comparison to the ocean).
Prior to the start of WWII, the US Navy trained their neophyte pilots on carrier landings by landing them... on carriers. That sounds obvious and it surely is, but what do you do when it's going to take all of your current CVs just to hold the line... and they're only barely accomplishing that? Throw in the threat of submarines, and even if you had a spare carrier lying around you couldn't operate it in a manner that would make training a rookie pilot easier. Then there's this little problem with rookie pilots (and trained pilots, for that matter), in that they crash. Over and above the tragedy involved, a violent crash could cripple a carrier at a time when every flight deck mattered. But sending a squadron of pilots out to war with practically no experience on landing on a carrier deck is a recipe for disaster.
In March of 1942, the US Navy came up with an answer.
The SS
Seeandbee
was built in 1913 and plied the waters of Lake Michigan for the Cleveland and Buffalo Transit company as an excursion steamer. A coal-fired sidewheel paddle steamer with a displacement of 7200 tons, she could carry some 1500 passengers at 17 knots, she was the largest inland steamer in the world... and perfect for what the Navy had in mind. On March 12th, 1942, the
Seeandbee
"went under the knife." On August 12th of that same year, she emerged from the shipyard radically changed.
Arrow points to paddlewheel
The ship, renamed USS
Wolverine
(IX-64), certainly looked like an aircraft carrier, but looks could be deceiving. Her upperworks had been scraped clean down to the hull and a 500 foot flight deck laid down, true, but there was no hangar deck, no elevators, no catapults. Her job was to give newby pilots training on landings and takeoffs from an underway carrier without actually risking a valuable
real
carrier.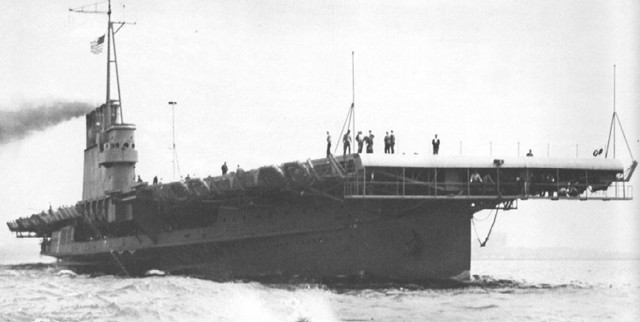 At this, she and her sister ship, USS
Sable
, were ridiculously successful. Hundreds, if not thousands, of pilots, crew, and LSOs-in-training, operating out of
NAS Glenview
, made their first flight deck landings and takeoffs from the two paddlewheel ships. They had some major limitations, however. Without catapults, their low speed was marginal for takeoffs without getting some major help from the weather. Without hangars, if a plane cracked up on landing it was pushed to the side of the fairly narrow flight deck. When enough planes were put there, the
Wolverine
was closed for the day... a common enough occurrence.
But without the
Wolverine
, the US Navy would have had a much harder time filling the flight decks of the
Essex
and
Independence
class carriers, and probably lost a lot more pilots. This unheralded and mostly forgotten ship made a major impact on the war, without firing a shot. In 1947, with the Navy having dozens of CVs made redundant by the end of the war, the
Wolverine
went to the breakers, an unsung hero of WWII.
Wolverine

at anchor, 1943. Note that the black structures on her port side do not belong to her.
Perhaps she's taking on coal.

Posted by: Wonderduck at 11:03 PM | Comments (4) | Add Comment
Post contains 839 words, total size 6 kb.
1
If you're like me you've been seeing a fair number of articles/posts on Netwar, Swarm war, or what have you. The idea bascially as applied to naval warfare, seems to use a bunch of smaller cheaper ships in place of one big, a ship that you have to use a lot of assets to protect. The study groups have been looking at the records of the "jeep" or "taxi" carriers in WWII.
In spite of their thing hulled construction they did fairly well in some carrier vs. carrier battles. While I can forsee ships being UAV carriers, some manned air craft will be needed even if they themselves would UAV launchers.
I hadn't thought about the training aspects in having a lot small carriers and modualr arsenal ships.
Posted by: toadold at May 24, 2010 03:12 PM (PsQky)
2
I love it. I'd heard of these prior to your article and this thought occurred to me then and recurred now. How many WW2 carrier training birds are on the bottom of the Great Lakes and perhaps could be salvaged? Would that be a +4 coolness factor or what?
Posted by: The Old Man at May 25, 2010 12:41 PM (+LRPE)
3
After being immersed in water for 60 years? There's nothing left to salvage.
Posted by: Steven Den Beste at May 25, 2010 04:42 PM (+rSRq)
4
Actually, three SBDs have been fished out of Lake Michigan in recent years, including one that participated in the Battle of Midway.
One of the three is on display at Chicago's Midway International Airport...
good picture of it here
. Incidentally, Midway Airport was named in honor of the Battle, just as O'Hare Airport is named after
Butch O'Hare
, Navy Medal of Honor winner. There's
a F4F-3 on display there
, and it too was recovered from Lake Michigan.
The most recent was recovered in April of 2009, some 65 years after it went into the drink, and is in remarkably good condition.
See a video of it being lifted out of the lake here
.
These planes were built to resist the salt water of the oceans; lake water isn't nearly as corrosive, and doesn't move around nearly as much. There were around 300 planes that went into Lake Michigan, and it's a good bet that many of them are in okay shape. The question is finding them, and pulling them out... Lake Michigan averages 279 feet in depth, with a maximum of nearly 1000 feet. It's a big place, and the planes are very small in comparison.
Posted by: Wonderduck at May 25, 2010 05:32 PM (blkx5)
Comments are disabled. Post is locked.
24kb generated in CPU 0.0119, elapsed 0.1198 seconds.
46 queries taking 0.111 seconds, 165 records returned.
Powered by Minx 1.1.6c-pink.