December 30, 2014
Torpedo Planes
In the runup to the beginning of World War II, the aircraft carrier began to force itself into the position of "Queen of Battle", wresting the title from the massive guns of the battleship. As strategies and tactics on how to use the planes the flattops provided began to coalesce, it was generally assumed that the dive bomber, while accurate, would provide support to the true shipkiller: the torpedo bomber. This thinking makes much sense to a Navy. After all, when it comes down to it, a bomb punches holes in the decks of a ship, letting in air. A torpedo, though... a torpedo makes big holes in the side of a ship, letting in
water
. Water, while pretty much required for a ship to be a ship, is also not something you want
inside
your ship. It causes ships to sink. Bombs may wreck the upper decks, may set fires, may explode deep inside the hull, but only rarely will they actually be a direct threat to the hull integrity of a warship bigger than a destroyer.
A torpedo attack was conducted based on the requirements of the dropped weapon itself. Depending on the nation, a plane may have to fly as low as 50-100 feet and as slowly as 115mph or less to successfully launch the torpedo and have it swim correctly to the target. Launching outside of those parameters could result in broaching or porpoising, or even the torpedo breaking up upon impact with the water. Early on, this wasn't considered a problem; most torpedo planes could barely reach 200mph unladen and with a tailwind. With a 2000lb weapon being lugged around, such lofty velocities were mere dreams. At the start of the war though, nobody truly understood the sort of murderous anti-aircraft fire a prepared warship could throw up, let alone multiple ships in a layered defense. Then carriers started to embark modern, effective fighter planes, and torpedo attacks began to become suicide runs. Only when part of a "combined arms" attack, with dive bombers, torpedo planes, and fighters all arriving on a defended target at the same time, could the crew of a torpedo attacker have a prayer of seeing their bunks that evening.
There were three major torpedo planes flying off of aircraft carriers in the early years of World War II, one each from Japan, the United States, and Britain. That's not to say there weren't others in use; the Brits had an effective bomber in the Beaufort. Germany used the He-111, Italy a number of different multi-engine planes, and American PBY Catalinas were known to carry a pair of torps. However, for the sake of this post, I'll only be looking at the three carrier planes in use: the Fairey Swordfish, the Douglas TBD Devastator, and the Nakajima B5N.
The
Douglas TBD Devastator
holds a unique place in the history of US Navy aviation. It was the first monoplane they selected for carrier use, as well as the first all-metal airplane, and the first with an enclosed cockpit. When it joined the fleet in 1937, it was possibly the most advanced carrier plane flying for any navy anywhere. Progress, however, rapidly rendered it obsolete and without an immediate replacement coming down the pike when the US entered WWII. Luck and pilot skill, more than any inherent advantages provided by the airframe, got the Devastator through the opening phase of the Pacific War, culminating in the sinking of the light aircraft carrier
Shoho
at the Battle of the Coral Sea. It earned its legacy, however, at the Battle of Midway. 41 TBDs were launched at the Japanese. Only six returned, for zero torpedo hits. All remaining Devastators were withdrawn from service shortly thereafter. The plane had a top speed of just over 200mph, a combat range of around 200 miles while carrying a torpedo, a situation which one pilot claimed it could only cruise at around 90mph, and could only just barely climb. Even unladen, it was unmaneuverable at best. It carried two .30cal machine guns for defensive purposes, one forward-firing and one on a flexible rear mount. In the level-bomber role, it could carry up to 1200lbs of bombs, and combat range was increased somewhat. The Mark XIII torpedo it carried was limited to being dropped below 50 feet and below 100mph and the plane flying straight and true. No amount of pilot skill or bravery could counteract the Mark XIII's deficiencies, up to and including not exploding even on a direct hit. It comes as no wonder that it was hacked out of the sky at Midway; it was only because dive-bombers attacked in conjunction with the Devastators at Coral Sea that it didn't suffer the same fate earlier.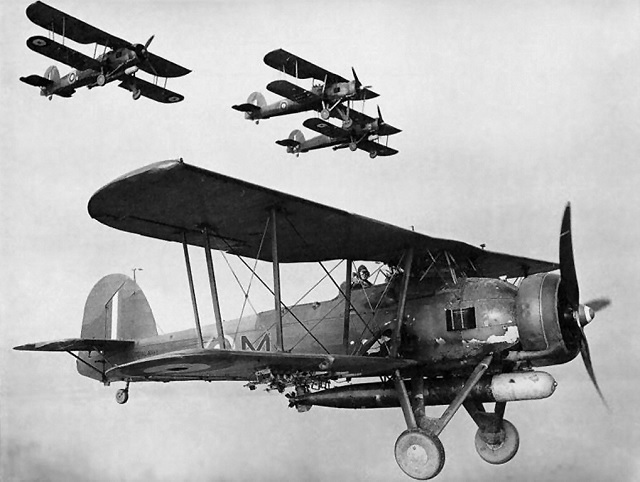 The
Fairey Swordfish
was the Fleet Air Arm's main torpedo plane when WWII began in Europe. Despite looking like a fugitive from the first World War, it actually joined the fleet in 1936, only a year before the Devastator. Like the American plane, it was considered obsolete shortly after its introduction, but acquisition of a replacement was even lower priority for the British. The Swordfish's top speed was about 145mph, even slower carrying a Mark XII torpedo. It carried two .303 cal machine guns, one forward-firing and one flexible-mounting. Despite all these limitations, it remained in front-line service throughout the War, even out-surviving its nominal replacement, the Albacore. The main reason for this was its ability to perform just about any role given to it. Its nickname of "Stringbag" wasn't earned because of all the bracing of the biplane wings, but because, just like a shopper's bag, it could carry just about anything. Bombs, torpedoes, depth charges, rockets, radar units, smoke dischargers, rescue equipment, mines, spotting equipment, you name it, it routinely took it into combat. Unlike the Devastator, the Swordfish was actually quite nimble when unloaded and could hold its own against German fighters simply by being able to turn on a dime. Like all torpedo bombers, however, it still needed to approach a target at low altitude, low speed, and in a straight line. The standard Fleet Air Arm attack profile took this to an extreme with the Swordfish, dropping down as low as 20 feet before releasing their more-robust-than-the-American torpedo at ranges of around 1000 yards. This ridiculously low attack style actually helped the Swordfish survive anti-aircraft fire as often enough defensive guns could not depress far enough to fire at them. Swordfish scored great successes with the Attack at Taranto, dealing severe damage to three Italian battleships in harbor during a night surprise attack. They also dealt important damage to the rudder of the German battleship
Bismarck
during her attempt to escape to France, damage which directly led to her sinking. However, a daylight attack on the
Scharnhorst
and
Gneisenau
during the "Channel Dash" by six Swordfish was hacked out of the sky with no results. In later years, they flew anti-submarine patrols from escort carriers during the Battle of the Atlantic, their low speed and long loiter time being perfect for such missions. The few Swordfish to serve in the Pacific were based at Colombo, Ceylon, and were easy meat for the Japanese Zero, a fighter plane that could actually outmaneuver them. They ended their careers in 1946, part of various training squadrons in England.
The
Nakajima B5N2 Type 97 Carrier Attack Bomber
, Allied reporting code "Kate", was undoubtedly the best torpedo plane at the beginning of the Pacific War. It had its first flight in 1937, was accepted into service shortly thereafter, and survived use all the way through to the end of the war in 1945, though as a second-line aircraft at that time. It was the fastest of the torpedo planes, topping out around 235mph. It also carried the most effective aerial torpedo of the time, the Type 91. This torpedo could be dropped from as high as 200 feet and as fast as 180mph and still be expected to run true; this provided the Kate with an improved chance to make it to its drop point before it was shot down. In the level bomber mode, it could carry a single 1800lb bomb, or multiple 500-pounders. However, when approached by a fighter plane it was easy meat. It had a single flexible-mounted 7.7mm machinegun and wasn't maneuverable in the least. It also had no armor to speak of, so it tended to die quickly. What it was best at, though, was its incredible range. It had a combat radius of nearly 600 miles, somewhat less carrying a torpedo. If the Japanese knew where their targets were, it would be able to hit them without fear of retaliation because of this. When the IJN could coordinate an attack with dive bombers, fighter escort and the Kate, a target stood an excellent chance of being overwhelmed. Notable successes for the Kate were, of course, the Attack on Pearl Harbor where they were responsible for all of the serious damage to Battleship Row, the sinking of American carriers
Lexington
and
Hornet
, and dealing damage that led to the loss of the
Yorktown
. Like so many other Japanese aircraft, they ended the war as kamikaze planes, blown out of the sky by Hellcats and proximity-fuzed anti-aircraft guns.
It's clear that the Japanese had the best of the torpedo planes in 1941, but it wouldn't stay that way for long. Already the B5N2 was nearing replacement by the B6N (which occurred in 1943), and the USN's Avenger debuted in 1942. One could argue that the Swordfish is a better plane than the Devastator, and it's likely this is so. Certainly it was useful longer, but it was also an anachronism designed for a certain type of battlefield. Heaven knows that if it magically replaced the TBD in American service in the Pacific up to and including the Battle of Midway, it would perform no better and likely worse. The same, however, could not be said in reverse; the Devastator could probably be expected to do passably in the tight confines of the Mediterranean or against the
Bismarck
, let's say... at least, if provided with a torpedo that worked. That the Swordfish remained in use until the end of the war speaks more to the failure of the British-designed replacements (Albacore and Barracuda) to actually retire the use of the Stringbag than to its inherent qualities. Neither TBD or Swordfish were particularly good, however, no matter how you look at it. Even the B5N had terrible faults, mainly its total lack of any protection leading to serious losses to even limited defenses. It's range made up for a lot of those problems, though.
Posted by: Wonderduck at 11:57 PM | Comments (12) | Add Comment
Post contains 1776 words, total size 12 kb.
Posted by: Steven Den Beste at December 31, 2014 12:28 AM (+rSRq)
Posted by: Avatar at December 31, 2014 06:50 AM (ZeBdf)
Posted by: cxt217 at December 31, 2014 11:56 AM (zlDqA)
Posted by: topmaker at January 01, 2015 01:38 PM (2yZsg)
Posted by: Peter the Not-so-Great at January 03, 2015 12:08 PM (gt7kt)
Posted by: AlanL at January 06, 2015 03:56 PM (HDPq1)
Posted by: Steven Den Beste at January 06, 2015 04:16 PM (+rSRq)
Posted by: Steven Den Beste at January 06, 2015 04:21 PM (+rSRq)
Posted by: Wonderduck at January 06, 2015 04:38 PM (jGQR+)
Posted by: AlanL at January 07, 2015 02:11 AM (7h/xI)
Posted by: AlanL at January 07, 2015 04:48 AM (U6uIi)
Posted by: Nick Zbinden at June 26, 2015 06:09 AM (VIZ/s)
39kb generated in CPU 0.0174, elapsed 0.0987 seconds.
48 queries taking 0.0848 seconds, 175 records returned.
Powered by Minx 1.1.6c-pink.