June 04, 2016
The Last Divebomber
It had been a very long day already for Norman. He'd been flying for three hours in search of his target. If he was very lucky, he'd get to suffer through the full two hour flight back. The fuel gauge of his plane was telling him that he might get to take a swim instead. Between then and now, though, he had to do his job while a bunch of other men doing their jobs tried to kill him. Because the date was June 4th, 1942, Norman was flying a SBD Dauntless dive bomber, he was part of Scouting Six (VS-6), flying from USS
Enterprise
, and he was about to become a very important part of the Battle of Midway.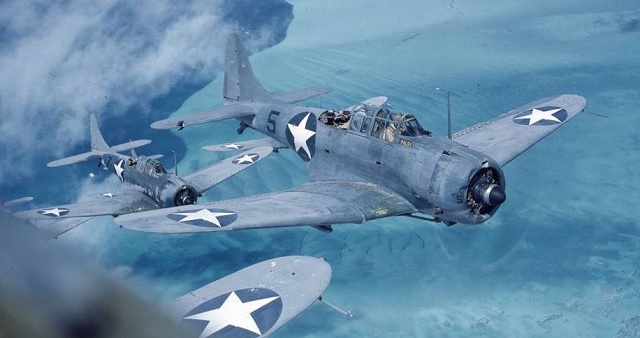 His boss, Commander Wade McClusky, led his two squadrons of SBDs down on the Japanese carrier
Kaga
. Five of the first six bombs missed, and then it was Norman's turn. He popped the Dauntless' dive brakes, throttled back the 1000hp Wright Cyclone engine, then went into his dive. Hanging against his straps, he thought back to his days in training:
dive as low as you can before you drop
, and
aim ahead of your moving target
. He also thought to himself,
that big red circle makes a great aiming point
...
He didn't release his 500lb bomb until he reached 1000' of altitude... for a dive bomber, point-blank range... and hit 9g's on the pullout, trusting the SBD's sturdy construction wouldn't fall apart under the stress. It didn't, and he made his escape from the Japanese fleet very low on the deck indeed. His bomb hit the
Kaga
's centerline just short of his target point and probably exploded in one of her hangars. The ship sank later that day.
Norman managed to nurse his Dauntless back to the
Enterprise
, landing aboard with a mere three gallons of gas left. Of the 33 SBDs to take off from the carrier that day, only 15 made it back, only 11 of them usable. Once back aboard, he ate a sandwich and took a nap. A few hours later came the call for another strike, this time against the sole remaining Japanese carrier, the
Hiryu
. Between the
Enterprise
's surviving SBDs and the Dauntlesses that had landed aboard from the badly damaged
Yorktown
, 25 planes lifted off, carrying a random assortment of 500lb and 1000lb bombs.
After another long flight, the mixed force of Dauntlesses found their target. This time, Norman's 1000lb bomb was the fourth and last to hit the
Hiryu
, all of them in her bows. Indeed, he was one of the last to attack, if not
the
last. The
Hiryu
would burn for hours, then sink on her own later.
On June 6th, Norman again found himself diving on a Japanese ship, this time the cruiser
Mikuma
.
And again, he put his 1000lb bomb on target, becoming the only pilot at the Battle of Midway to score hits on three ships. For his overall performance at this greatest victory, he would be awarded the Navy Cross.
As it turns out, Midway was Norman's last combat action. He was transferred stateside where he trained the next generation of dive bomber pilots for the rest of the war. He served in the Navy for 20 years, retiring with the rank of Captain. He'd then go on to live a full and rewarding life.
Captain Norman Kleiss, once better known as "Dusty" Kleiss, died this past April 23rd at the age of 100. He was the last dive bomber pilot to have served at the Battle of Midway to pass away.
Today is the 74th anniversary of Midway.
Posted by: Wonderduck at 11:34 AM | Comments (8) | Add Comment
Post contains 606 words, total size 4 kb.
Posted by: Ben at June 04, 2016 02:48 PM (Pk1MK)
Posted by: cxt217 at June 04, 2016 05:14 PM (bSR/T)
Posted by: Steven Den Beste at June 04, 2016 05:49 PM (+rSRq)
Posted by: Wonderduck at June 04, 2016 06:24 PM (X/kQu)
Posted by: Ben at June 04, 2016 09:16 PM (DRaH+)
Posted by: GreyDuck at June 05, 2016 08:48 AM (rKFiU)
Posted by: Nick at March 10, 2017 03:28 PM (5gY4q)
Posted by: Wonderduck at March 10, 2017 09:04 PM (UDOXQ)
27kb generated in CPU 0.0137, elapsed 0.1773 seconds.
48 queries taking 0.1681 seconds, 171 records returned.
Powered by Minx 1.1.6c-pink.