November 23, 2009
The Japanese "Saving Private Ryan"
Otoko Tachi no Yamato
, or "The Men of Yamato" in English, tells the story of the final sortie of that famed battleship. Not from a strategic standpoint, mind, but from that of her men. The script isn't brilliant, but you do know and care about these sailors by the time the American carrier planes begin to appear as the battleship approaches Okinawa.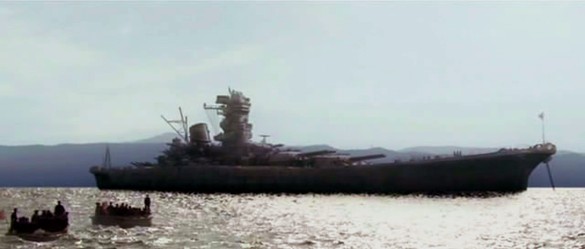 But the main character in this movie is the Yamato herself. No expense was spared in the making of this epic film, including a 1:1 scale set of the forward section of the ship, and the port side of the island area (the anti-aircraft guns in particular) that cost ¥600 million (nearly $7million).
While the producers did wind up reusing a lot of the CG footage in the two major battle scenes, it's barely noticeable amidst all the chaos of war. And make no mistake, this movie pulls no punches when it comes to the combat... if you can't stand the sight of blood, this is not the movie for you.
If you can stomach seeing people opened up by machine-gun rounds and the deck running red with blood, however, what you'll get is a war movie that ranks up near the top of the list. It's not as good as
Saving Private Ryan
or the HBO miniseries
Band of Brothers
, true, but it's lightyears ahead of, say,
Tora Tora Tora
or
Midway
.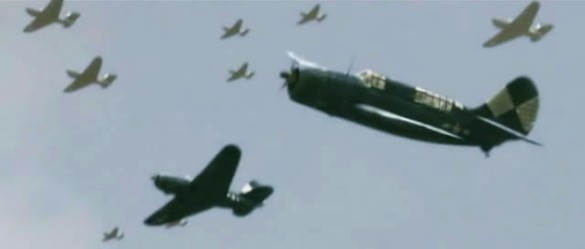 While this screencap makes it look obvious that we're looking at models or CG, in motion it's nearly flawless. The amount of detail is immense, both in the planes and in the Yamato herself.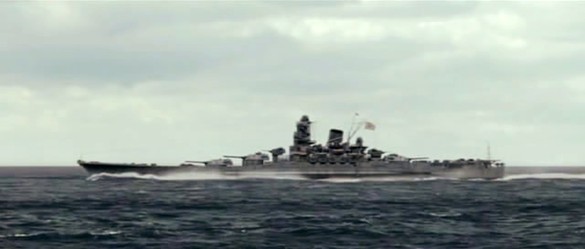 But when the final attack begins, the great ship goes to hell in a hurry. You barely notice that the whole fight is nearly 30 minutes long.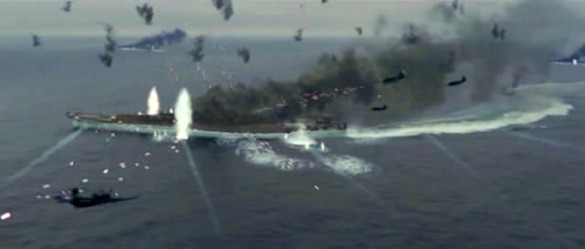 The sailors aren't supermen. There's no "one man shooting down a squadron", or even a single plane, like you might see in an American war movie. They're just there to serve the guns, and die. And die they do, in droves.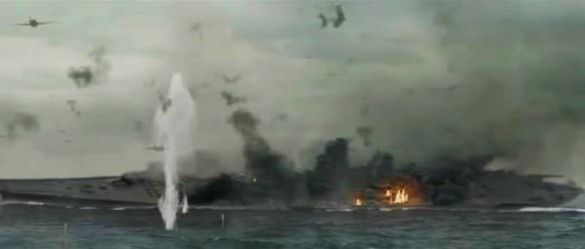 If you can find a copy of the movie, I recommend it heartily. It's well-done, historically accurate, and beautifully shot. You get the feeling that you're watching a documentary on the shipboard life of the Yamato, rather than a feature film, but it's never dull, despite the 2-1/2 hour length.
It's not perfect, but it's plenty good, and a fitting tribute to the men who crewed her.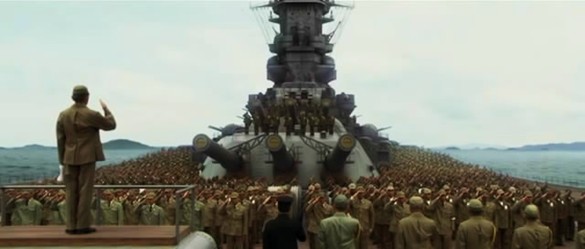 Posted by: Wonderduck at 09:51 PM | Comments (7) | Add Comment
Post contains 409 words, total size 3 kb.
Posted by: Steven Den Beste at November 24, 2009 12:30 AM (+rSRq)
Posted by: Wonderduck at November 24, 2009 08:24 AM (C32SO)
Posted by: cxt217 at November 24, 2009 03:24 PM (QSek/)
Posted by: Wonderduck at November 24, 2009 06:35 PM (C32SO)
Posted by: Jcarlton at November 27, 2009 06:24 PM (mKHVN)
Posted by: J Greely at November 28, 2009 10:50 AM (2XtN5)
Posted by: David F. Anderson at December 27, 2009 01:06 PM (2kPCR)
Comments are disabled. Post is locked.
25kb generated in CPU 0.0149, elapsed 0.1184 seconds.
46 queries taking 0.107 seconds, 168 records returned.
Powered by Minx 1.1.6c-pink.