August 09, 2009
The Best Of The Jeeps
Escort, or 'Jeep', carriers, were wartime conversions of merchant hulls. In 1942, as the US "auxiliary" carrier program spun up to full gear, every available
C-3 hull
, which was the preferred base design for conversion, had been earmarked for the
Bogue

-class
escort carrier.
The
Bogue
-class was a relatively unsophisticated design, essentially slapping a flight deck on top of the hull, and changing the old main deck to a hangar. While effective, more hulls were desperately needed to escort convoys in the Atlantic and support operations in the Pacific. To overcome the shortfall, the powers-that-be tagged four
T-3 tanker
hulls for conversion.

T-3

Esso Trenton

before conversion to

USS

Sangamon
The US Navy wasn't particularly fond of this idea. The one type of ship in even shorter supply than carriers were fast fleet oilers, designed to accompany warships and provide fuel and other supplies to short-legged ships in the vast ranges of the Pacific ocean, and the T-3 filled that bill. However, the Navy wasn't given a choice, and the four ships were taken into Norfolk Navy Yard, Newport News, Puget Sound Navy Yard and Bethlehem Steel.
The resulting
Sangamon
-class was considered the best of the converted Jeep carrier classes.

USS

Santee

, CVE-29
Longer, heavier and faster than the preceding
Bogue
-class, and the basis for the subsequent purpose-built
Casablanca
-class (which was smaller and lighter, and just 1kt faster), the
Sangamon
s could (and often did) carry 36 planes.
Unlike every other escort carrier class, the four
Sangamon
s were able to embark any carrier plane in the Navy arsenal, save for the Helldiver and the Corsair. The usual air complement was between 12-18 Wildcats and around the same number of TBF Avengers, though the
Sangamon
and the
Santee
occasionally carried the Dauntless dive-bomber. The
Suwannee
and the
Chenango
never did, for one reason or another.
They displaced 24100 tons (full load), as opposed to 16600 tons for the
Bogue
s. Unsurprisingly considering their tanker origins, they carried nearly three times as much fuel as well, giving them a range of 24000 nautical miles @ 15kts (the
Bogue
s range was just over 10000nm). They also had a huge bunkerage for airplane fuel. As a matter of fact, they could carry more fuel than a
Yorktown
or
Lexington
-class fleet carrier, and only a bit less than the
Essex
-class, despite being about 350 feet shorter. In effect, the
Sangamon
-class were self-escorting tankers.
All four began their service life in late 1942, covering the North Africa landings of
Operation Torch
. Immediately following, they transferred to the Pacific. Three of the four were hit by kamikaze (the
Chenango
avoided that fate, but suffered severe damage when a F6F crash-landed on her deck and smashed into planes parked forward). The class as a whole suffered three kamikaze hits, four bomb strikes, and a submarine torpedo hit, yet all four survived... again, testament to the survivability of their larger-sized tanker origins.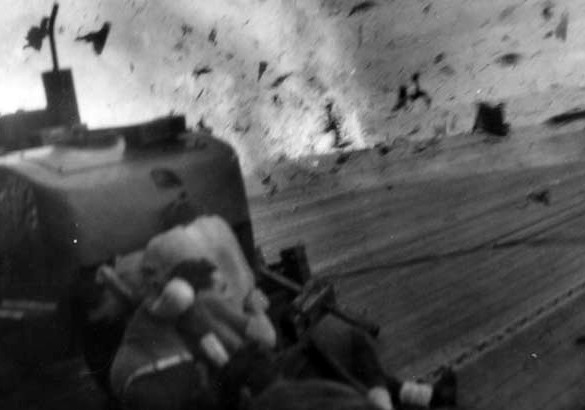 Santee

takes a kamikaze hit
As with all ships in WWII, their AA guns were substantially increased from their starting armament. Unlike most others classes, however, the
Sangamon
s handled the near-doubling of their guns without any topweight problems, owing to their tanker origins.
The only thing that separated them from CVL status was their speed. 18kts maximum was pretty good for a transport, and excellent for an escort carrier, but much too slow to operate with the battle fleet, where 25-30kts was considered standard. That's about the only statistic that the
Sangamon
s were inferior to the
Independence

-class
CVL.
All four ships of the class survived the war, earning 41
battle stars
between them. The
Chenango
and
Santee
continued in US Navy service as CVHEs (Carrier, Helicopter, Escort) until the late '50s. The
Suwannee
was put into the mothball fleet. The
Sangamon
, amusingly, was returned to commercial service in her original tanker configuration after the war, until she was scrapped in 1960.
For ships that were considered 'expendable', not a bad history.
Posted by: Wonderduck at 02:11 PM | Comments (9) | Add Comment
Post contains 660 words, total size 7 kb.
Posted by: toad at August 10, 2009 12:57 AM (Pe1td)
Posted by: Steven Den Beste at August 10, 2009 10:21 AM (+rSRq)
Posted by: Avatar_exADV at August 10, 2009 04:18 PM (pWQz4)
Posted by: toad at August 12, 2009 06:20 AM (c6lyc)
Posted by: Steven Den Beste at August 12, 2009 12:07 PM (+rSRq)
Posted by: Pete Zaitcev at August 12, 2009 01:03 PM (/ppBw)
Posted by: Steven Den Beste at August 12, 2009 07:57 PM (+rSRq)
Posted by: Steven Den Beste at August 12, 2009 07:57 PM (+rSRq)
Posted by: Avatar at August 12, 2009 11:43 PM (vGfoR)
Comments are disabled. Post is locked.
26kb generated in CPU 0.0124, elapsed 0.0786 seconds.
46 queries taking 0.0705 seconds, 170 records returned.
Powered by Minx 1.1.6c-pink.