December 28, 2012
Name This Mystery Ship XXII
I found out about this particular vessel a little over two years ago, and have been keeping it under wraps for a time when I've needed a mystery ship. Now is the time. THIS: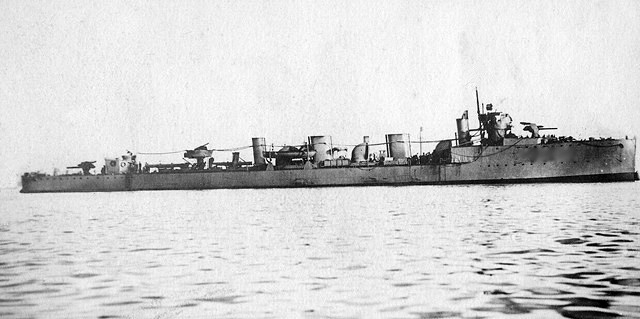 ...is the ship. As is always the case, I've photoshooped out any obvious recognition marks, but otherwise left the picture alone. The unofficial rules, as always, apply: no imagesearching or anything like that. That's cheating and makes Wonderduck cry. One guess per customer. Don't be a jerk. I am the Law. CXT and FDM, you two are in the Master's Level so no guesses from you until I give the say-so. The winner gets a post on a topic of their choosing from your humble owner/proprietor of The Pond, moi. No politics, religion or pr0n, however... this here's a fambly blog.
Get to guessin'!
UPDATE
: Brickmuppet has already guessed that the ship was the HMS
Zubian
. Unfortunately, my response broke the formatting of my "edit comments" page, so when the latest wave of spam came through, I couldn't delete them. So, instead, I deleted the original post, which corrected the problem. Yay me.
Posted by: Wonderduck at 08:52 PM | Comments (3) | Add Comment
Post contains 192 words, total size 1 kb.
1
Ah, a long time since I made mention of HMS Zubian and it finally appears in a Mystery Ship photo. She was truly one of the odder naval mash-ups, especially since the two 'sister ships' she was built out of were not identical...
C.T.
Posted by: cxt217 at December 28, 2012 11:34 PM (bfPz2)
2
I get to pick a post right?
Do one on the influence of the lobbying of protestant interest groups upon legislation regulating burlesque shows in the late 1920s.
...or
Posted by: brickmuppet at December 29, 2012 02:16 AM (vp6an)
3
CXT, I didn't want to mention the REAL reason you couldn't play.
Muppet, really? *siiiiiiiiiiiighhhh*
Posted by: Wonderduck at December 29, 2012 03:04 AM (cymHZ)
Comments are disabled. Post is locked.
18kb generated in CPU 0.0246, elapsed 0.1318 seconds.
46 queries taking 0.1133 seconds, 164 records returned.
Powered by Minx 1.1.6c-pink.