December 10, 2014
Mayfly
In 1911, the Royal Navy eagerly awaited the official delivery of His Majesty's Airship No.1, infuriatingly nicknamed "The Mayfly". She was to be the RN's first airship, the largest and fastest in the world.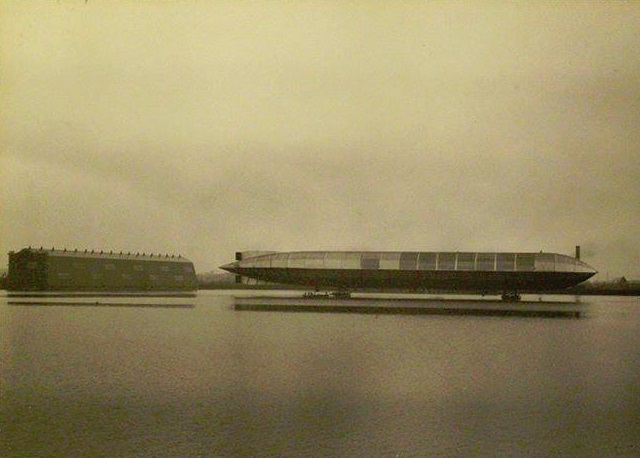 In pre-delivery tests, the usual panoply of problems were discovered, none of which were unable to be solved. Except for one tiny difficulty that refused to go away, no matter how hard the crew at Vickers worked at it: she couldn't fly. Make no mistake, she could float (barely), but nothing more than a tiny amount, and that only in perfect conditions. She weighed in at 19.5 tons and had the lifting ability of 19.7 tons. Something had to be done.
There were two options. The first was obvious: add more lift. However, "obvious" doesn't mean "easy." For an airship, it means cutting the beast in half and adding a new section containing more gasbags. This is also a relatively expensive way of accomplishing the task. The second option is easier: lighten ship. Get extra weight out of the hull and you'll be able to fly without changing the amount of gas involved. Of course, this is what the folks at Vickers decided to do. They went in and replaced structural members with thinner, lighter pieces... including the main keel. The day came for a new flight test.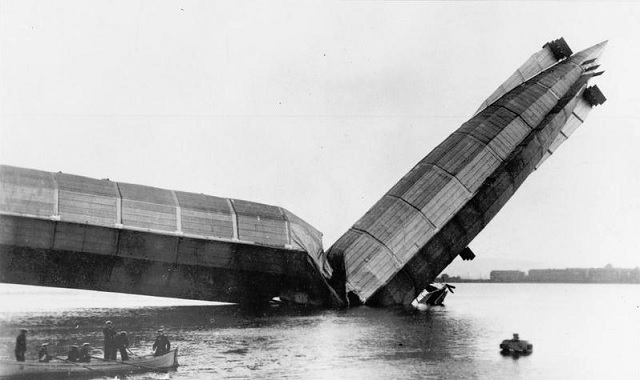 A gust of wind caught the Mayfly as she came out of the hangar, tilting her hard to starboard. While the groundcrew struggled to roll her back over, she snapped in half. As her crew abandoned ship, the two ends rose in a V-shape, ironically proving that cutting the internal weight down fixed her flight problems. Soon enough, however, the Mayfly settled into the waters at Barrow-in-Furness.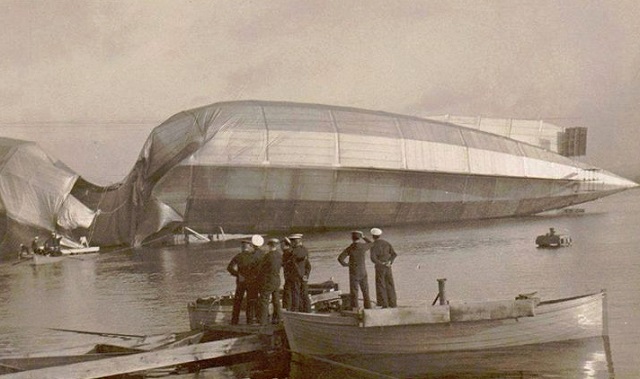 Fortunately, none of the crew was injured, and British airship development went into something of a dark period. It took five years for HMA.09 to take to the air, under the guiding hand of designer HB Pratt, who had predicted the failure of the Mayfly. Pratt's main assistant was a young man named Barnes Wallis, who wound up with a successful career designing unconventional bombs. He was the designer of the "Dambuster"
bouncing bomb
, as well as the "
Tallboy
" and "
Grand Slam
" weapons.
Posted by: Wonderduck at 11:27 PM | Comments (5) | Add Comment
Post contains 373 words, total size 3 kb.
Posted by: GreyDuck at December 11, 2014 08:27 AM (AQ0bN)
Posted by: cxt217 at December 11, 2014 02:20 PM (ztr46)
Posted by: Steven Den Beste at December 11, 2014 04:24 PM (+rSRq)
Posted by: Riktol at December 11, 2014 05:46 PM (zDlKl)
Posted by: Wonderduck at December 11, 2014 08:16 PM (jGQR+)
Comments are disabled.
19kb generated in CPU 0.0102, elapsed 0.0911 seconds.
46 queries taking 0.0835 seconds, 166 records returned.
Powered by Minx 1.1.6c-pink.