March 30, 2011
Iowa's Bathtub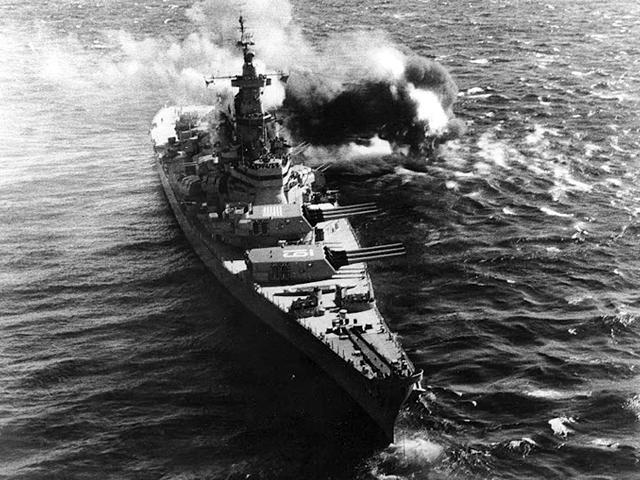 The USS
Iowa
was the namesake for what was arguably the best class of battleships ever built. Launched in 1942, she was commissioned in 1943. Displacing 45000 tons, her engine rooms could still move her through the water at a blistering 33kts. Her main armor belt was 12" thick, while her three main turrets were armored to nearly 20" in thickness. Those turrets carried three 16"/50cal rifles each, and each of those guns could fire a 2700lb shell over 23 miles. Twenty 5"/38cal guns formed her secondary battery, and could be used for both anti-aircraft or anti-surface work. Four of the mammoth warships were built.
But only one had a bathtub.
Late in 1943, the heads of state for the three major Allied countries, Joseph Stalin, Winston Churchill and Franklin D Roosevelt, were to meet in Tehran for a strategy conference. The US Navy choose the USS
Iowa
to take President Roosevelt on the first leg of the journey to Iran, crossing the Atlantic Ocean. But there was a small snag. President Roosevelt had developed an illness in 1921, at the time diagnosed as polio, that had paralyzed him from the waist down. He could only walk by swinging his legs laboriously via a twist of his torso, and leg braces and crutches were mandatory. FDR was also pretty much incapable of standing without assistance from one or two individuals. This ruled out his use of a shower, at the time the only form of bathing available on US warships. As the trip would take quite some time, something had to be installed for his use. That something was Iowa's Bathtub.
Who knew?
Posted by: Wonderduck at 08:02 PM | Comments (8) | Add Comment
Post contains 275 words, total size 2 kb.
1
Wait a minute--"at the time diagnosed as polio"? What was it, if it wasn't polio?
Posted by: Ed Hering at March 30, 2011 08:41 PM (t82kY)
2
Wait...did you photoshop in the duck?
Posted by: Brickmuppet at March 30, 2011 09:08 PM (EJaOX)
3
Ed, apparently
Guillain-Barre syndrome
is the
current frontrunner
. Take that for what it's worth... without a test of FDR's spinal fluid, we won't get a solid answer, and his spinal fluid is in something of short supply these days.
Muppet, I didn't. The picture was taken sometime in 1980, so FDR did not have a duckie in the tub with him.
I will say that "
Iowa
's Duck" has nearly taken over first place on my "WANTWANTWANT" list from Yuno's Duckie.
Posted by: Wonderduck at March 30, 2011 09:22 PM (W8Men)
4
Assuming that the toy boat is scale model of the Iowa, the full-sized duck must be immense! It might even be the oft-prophecised Uber-Duck, Harbinger of the A-quack-alypse...
Posted by: Siergen at March 31, 2011 04:40 PM (YA1UC)
5
So, is the tub still there?
Normally, I wouldn't think so...but it *was* a Presidential Tub.
Posted by: Ben at March 31, 2011 04:40 PM (gze3w)
6
It was there in 1980 when that picture was taken. Can't think of any reason they'd have removed it since then.
Posted by: Steven Den Beste at March 31, 2011 07:01 PM (+rSRq)
7
Looks like there's been a coup here... (ahem)
Posted by: Steven Den Beste at April 01, 2011 01:08 AM (+rSRq)
8
Late information has crossed my desk; as of the
Iowa
's recommissioning in 1985, the tub was still there.
Posted by: Wonderduck at October 02, 2011 10:32 PM (o45Mg)
Comments are disabled. Post is locked.
20kb generated in CPU 0.0171, elapsed 0.1067 seconds.
46 queries taking 0.0975 seconds, 169 records returned.
Powered by Minx 1.1.6c-pink.