December 02, 2017
Heh... "Devil Duck"
"Okay men, listen up."
The Marines, gathered at the stern of the troop transport, directed their attention to the weatherbeaten sergeant. Some distance away, the big guns of the
Colorado
threw 16" shells at a small piece of land in a very large ocean.
"All right. Someone up the chain screwed the pooch. There ain't no tide today, so the landing craft can't get over the reef."
Someone piped up with a lighthearted tone in his voice: "So we're going home, right?"
The sergeant rolled his eyes. "Yeah, Jenkins, we're going home. The war is over. We won. And it was all because of you." The gathered group of men laughed, but there was an audible tightness to it. "Nah, we ain't that lucky. We're going in on the alligators." A muted reaction from the men told what they thought of this... the LVTs might well be able to climb over the reef and carry them right to the beach, but on the other hand they had no armor and were slow in the water. "Any questions?"
Silence. "Awright, lets go."
The men burst out with the traditional "OORAH!" as they moved to the ship's rail... all but one of them. That one Marine joined in with a loud, clear "QUACK!"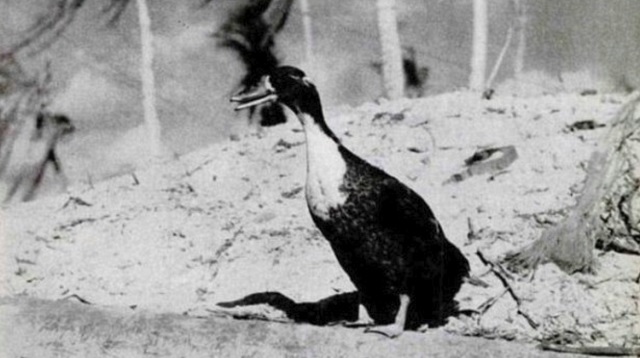 The target was Tarawa. And Siwash was going to war.
Siwash, Sgt USMC, joined the 1/10th Marines in 1943 while they were stationed in New Zealand. Allegedly won in a church raffle, it's assumed that he was supposed to be destined for dinner. But instead, the company decided to make him their mascot. When the unit shipped out as part of Operation Galvanic, the US invasion of the Gilberts Islands, Siwash went with them. I can't imagine that they intended to take him onto the beach with them, but undoubtedly someone on the transport made it clear that if Siwash was left behind,
Duck a l'Orange
was going to be on the Captain's menu. While I expect this news was greeted with growled epithets and bruised knuckles, they also knew that if they left their mascot behind, he'd be the unit's first casualty. So he hit the beach with them.
------------------------
It seems the naval bombardment hadn't bothered the Japanese defenders much. Bullets screamed through the air, and all too often those bullets found a soft-hulled LVT. The unit huddled behind as much steel as they could, but there just wasn't a lot to be found.
"Sarge, they really need to put armor on these things!"
The sergeant, who had thus far not torn strips out of anybody's hide, gave in to temptation. "Jenkins, you stupid no-good lousy excuse for a Marine, shut the hell up already! Christ, look at Siwash, he's twice the Marine you'll ever be!"
Siwash was standing atop the cargo compartment, staring in at the beach ahead. "QUACK!"
------------------------
Siwash would actually participate in three amphibious assaults during the war: Tarawa, Saipan, and Tinian. He was wounded in combat during that first landing, as he supposedly engaged an enemy rooster in hand-to-hand... er... wing-to-wing combat. Emerging victorious, he suffered many vicious pecks to the head but refused medical attention until the rest of the unit's injured were cared for. It was while the Marines had already landed on Tinian that Siwash was discovered to had laid an egg. He was actually a she! A Marine from the battalion that originally acquired Siwash later said that if they had known, there's no way they would have let her on that LVT. "Marines do not want their lady Marines to engage in personal combat with the enemy."
--------------------------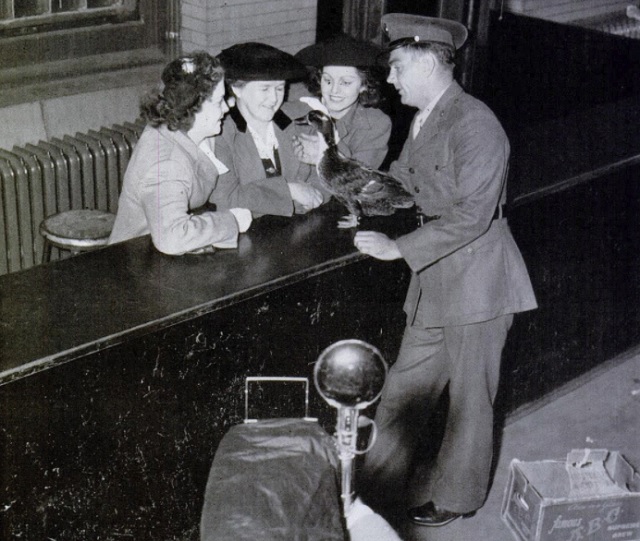 After the war, the Marine that first recruited Siwash, Cpl Francis Fagan, brought her home to Chicago to meet his family. After a short time, she was retired to a farm, which she reportedly hated. However, the outbreak of the Korean war gave the Marines a reason to call her back to the colors. She returned to Chicago to help recruiting efforts... one imagines such calls to arms as "are you as man as this duck?" or "everybody fights in the Marines... even the mascots!" After that, instead of returning to the farm she lived the rest of her years at Chicago's Lincoln Park Zoo. Her death was reported by no less a figure than Marlin Perkins, the legendary presenter of
Mutual of Omaha's Wild Kingdom
, then the director of the Lincoln Park Zoo. It was in 1954 that the world's first Devil Duck passed away of a liver disorder, which fellow Marines were sure had nothing to do with her fondness for beer.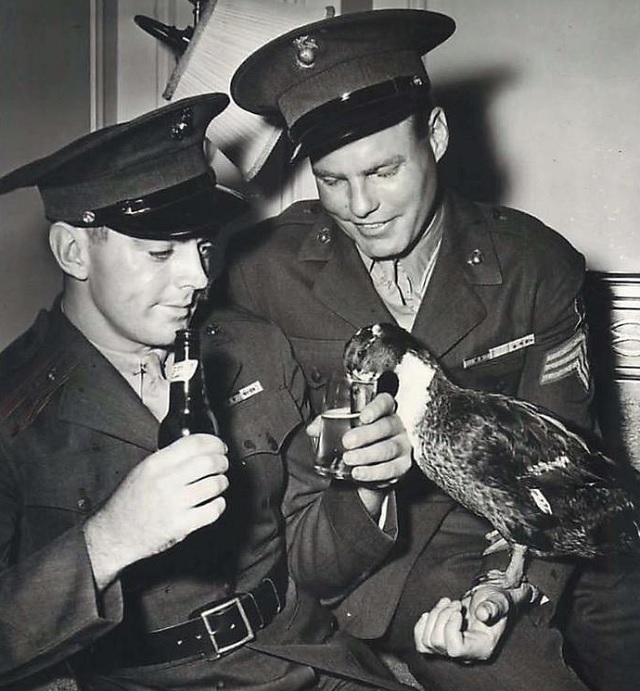 Semper Fi, quack.
Posted by: Wonderduck at 11:22 PM | Comments (1) | Add Comment
Post contains 771 words, total size 6 kb.
1
That is a wild story through and through. Devil Duck, indeed.
Ooo-rah!
Posted by: GreyDuck at December 03, 2017 07:25 PM (rKFiU)
23kb generated in CPU 0.0247, elapsed 0.5408 seconds.
48 queries taking 0.5265 seconds, 164 records returned.
Powered by Minx 1.1.6c-pink.