August 14, 2015
8/14/1945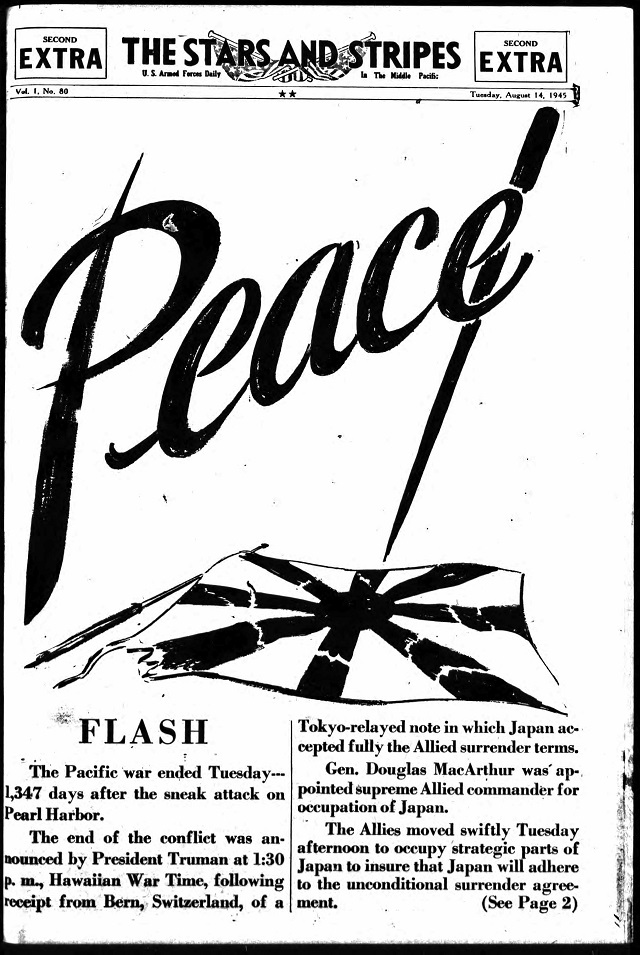 Posted by: Wonderduck at 06:32 PM | Comments (2) | Add Comment
Post contains 1 words, total size 1 kb.
1
I have an excellent excerpt that I am waiting for September 2 to post.
Posted by: cxt217 at August 14, 2015 08:36 PM (oiyoz)
2
I think this passage is a perfect way of marking the 70th anniversary:
"During the long years of the Second World War the White Ensign flew night and day. On 2 September 1945, after the formal surrender of Japan in Tokyo Bay, Admiral Fraser ordered the resumption of peacetime routine and invited the senior officers of British Commonwealth ships and a token representation from the lower deck to the first 'Sunset' ceremony for 6 years aboard Duke of York.
Allied and Commonwealth flags were flying from the fore and main yardarms with the Commander-in-Chief's flag at the masthead and the White Ensign at the gaff. Every space on the after gun mounting and the superstructure was packed with men while, in the distance, the decks of US ships were also crowded as they had been told about this strange 'Limey' rite.
When Admiral Fraser came on deck the Quartermaster reported - 'Sunset, Sir.' The 'Still' was piped. The Royal Marine guard presented arms while the band played 'The Day Thou gavest Lord is Ended' together with 'Sunset' as only a Royal Marine bugler could sound it.
For the first time in six years the White Ensign came down; the war was over - and the vast crowds on the US ships were at attention and saluting too."
David K. Brown, Nelson to Vanguard
Posted by: cxt217 at September 02, 2015 07:28 PM (gbKL5)
19kb generated in CPU 0.0121, elapsed 0.0776 seconds.
48 queries taking 0.069 seconds, 165 records returned.
Powered by Minx 1.1.6c-pink.