February 19, 2013
F1 Pr0n: Williams FW35
And thus, the last shall be... um... last? Williams F1, the legendary "final privateer", has had a bad run of it as of late. This team, one of the truly great Formula 1 names, hadn't won a race since 2004, and really didn't even seem like they were even close. In 2011, in fact, they were 9th in the Constructor's Championship with a paltry five points. Ah, but last year they came up off the mat with a win by Holy Man Maldonado in Spain, leading some to hope that the team was on their way back. Let's see what they can do with their new car, the FW35!
Well, nothing too out of the ordinary here at the nose view. It's a high nose, the highest of them all in fact, but that's probably an effect of the modesty panel. Williams claims that the FW35 is "80% new" from last year's car, to which I reply, "Sure. Why not?"
Very low cut sidepods, designed to handle a new exhaust system... in fact, pretty much the same one Caterham is using. Oh, and the one the FIA is probably going to rule illegal. Whoopsie! One clever thing the team will get away with is "blown wheel nuts." Near as I can tell, air comes in via the brake ducts, flows through a hollow axle, and out holes flush with the wheel nuts. This air fills in the vacuum around the center of the tire, which improves the aerodynamics. Red Bull tried this same trick last year, but theirs was banned because it extended past the wheel nut. Who knows? I didn't hear about it! I love the shape of the nose/front wing struts on this car; very almost art-deco-y.
All in all, it's a workmanlike car for a blue-collar team (if anything in F1 can be called "blue-collar"). Will it win? That's the question. The team is on the wrong foot by missing the first test session, but if that extra few weeks was needed badly enough for whatever reason, then it had to be done. I for one hope Williams is on the ascendance again. We shall see in just a few weeks!
Posted by: Wonderduck at 09:46 PM | Comments (6) | Add Comment
Post contains 368 words, total size 2 kb.
February 05, 2013
F1 Mega-Pr0n: Toro Rosso STR8, Caterham CT03, Marussia MR02
The last three of the new cars that we'll be seeing for a while came out today (well, Toro Rosso came out yesterday, details details), and instead of doing an individual post for each, I'm throwing them together into a F1 Mega-Pr0n!
The Toro Rosso STR8 is probably going to be very very fast, but unable to turn worth a darn. Last year's STR7 had seriously undercut sidepods; though it's hard to see here, the new chassis has done away with that. This is going to allow the weight of the radiators to be set lower down, which should balance the added drag of the larger pod, which has a new triangular front opening. As with all the other designs, the rear of the sidepods taper down quite steeply (aka "The Red Bull Style"). The team also redid the rear suspension design, allegedly allowing for more choices during setup. I find the clear plastic vanes on the top of the sidepods to be endless fascinating... I can only assume that's being done to allow the sponsor's name to be read more easily. All in all, a fairly conventional update over last year's design.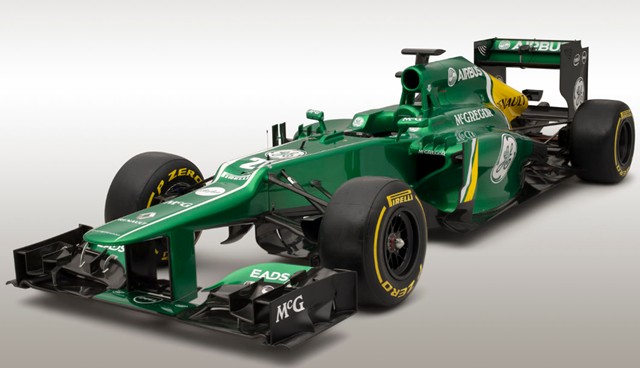 Unlike the STR8, the new Caterham CT03 DOES have majorly undercut sidepods, the Red Bull Style, and dear god in heaven they're not using the modesty panel. Bless their hearts. The big news here is that the bodywork at the back half of the car has been greatly redone, and apparently drew quite a bit of attention from the other teams in testing today... to the point where the tech regs are being hauled out to discover if it's all legal. A nice metallic green paint tops off a great paint-job... shame the rest of the car is so ugly! Put a panel over that thing, please!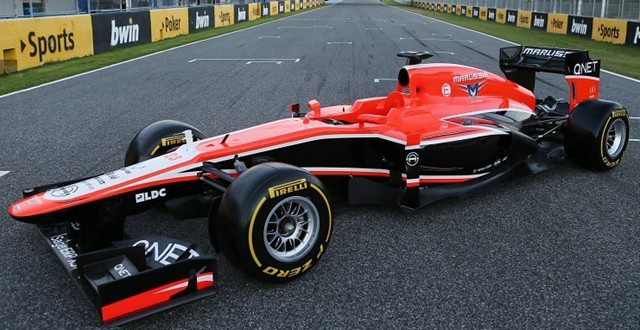 When Marussia was known as Virgin Racing, their first car was designed and tested entirely in computers, no wind-tunnel testing or anything like that. The car tanked. Last year, the MR01 managed to beat HRT while also being totally designed using Computational Fluid Dynamics. Yay. Now here, the MR02 comes out and good merciful heavens, it's gorgeous. Perhaps not so coincidentally, it's spent significant time in the wind tunnel. It's also the first design this season to have a nicely curved airbox; everybody else has straight lines and sharp angles. Lotus and McLaren have a rounded-ish airbox cover, but nothing like this. It's a beautiful car... mainly because there are practically
no
sponsor stickers on it. That's a bad sign,but we can appreciate the look until they go broke. If they do. The main change to this car is the addition of KERS, which of course isn't going to be externally visible. See, Caterham, it's not that hard to make the car look good!
So there we go! The only car left to debut is the Williams, scheduled for February 19th at the second test session. We'll keep an eye on testing in case anything interesting happens... F1 is right around the corner, folks!
Posted by: Wonderduck at 09:55 PM | No Comments | Add Comment
Post contains 513 words, total size 3 kb.
February 04, 2013
F1 Pr0n: Mercedes W04
If Force India isn't the most disappointing team in Formula 1, Mercedes is. Taking over BrawnGP after that team's one and only season, in which they won both Championships, Mercedes then brought Slappy Schumacher out of retirement to lead their team. They promptly peed the first two seasons down the leg of their firesuits. Last year, they got their first win behind Nico Rosberg, sent Slappy back to retirement, and threw their wallets at Shiv Hamilton to lure him away from McLaren. I've heard this described as a mere marketing ploy, and there certainly is some of that involved, but it will prove important in other ways. For one, Shiv is a much better driver than Slappy, which should show on-track. For another, Hamilton can actually spend time in the simulator without getting sick all over everything, unlike Schumacher. Back in his old Ferrari days, when teams had unlimited testing, Slappy was a legend, pounding out lap after lap after endless lap, and giving back immense amounts of technical feedback for the engineers to work with. Now that teams can't do that, they rely on simulators... and Slappy gets sim-sick. So now they'll get better simulator results from two good drivers. But will the car underneath Rosberg and Hamilton be any good? Here's our first look at the Mercedes F1 W04...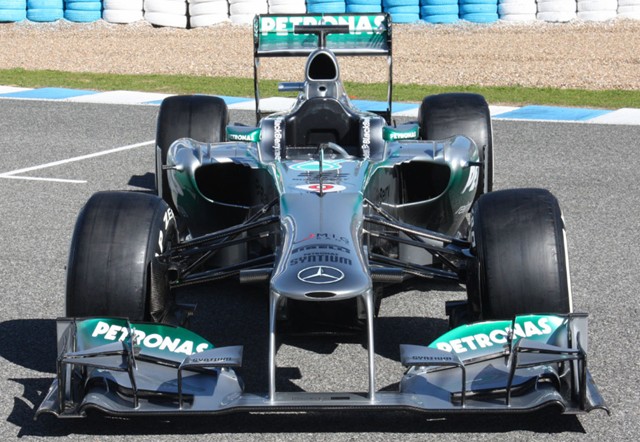 It's already being called the "ducknose." While it IS an improvement, cosmetically, over the
W03
, that's not exactly saying a whole lot as that chassis was monumentally ugly, even in a season where most of the cars were homely. There's a bunch of little changes from last year's car visible in this shot. For example, the outside edge of the sidepods are now turned up, better to shovel air towards the rear of the car. The airbox over the driver's head is now just a single piece, instead of having a main intake and then a smaller one behind it. The radiator inlets are smaller and mounted higher in the sidepod. There's even new mirrors.
As with most everybody else, Mercedes seems to be copying the Red Bull style of sidepods/exhaust on the W04. Again, if you're gonna steal, may as well be from the best. The nose has the modesty panel in place, and it still looks hideous from this angle.

However, if it wins races, it'll be beautiful in no time. I think part of the cosmetic problem is that it's a rounded nosecone joining to an essentially square fuselage. Just by definition, that's gonna be awkward. The technical websites out there are all saying that the W04 is a step back from the overly complex W03 (that ate tires like ducks eat bread) to something more aerodynamically clean. The front wing is the same one that was run at the end of 2012, so expect something new there.
Okay, it's hideous. Will the addition of Hamilton make it pretty? We'll see soon enough!
Toro Rosso rolled out today as well; I'm moving them to a F1 MegaPr0n tomorrow along with Caterham and Marussia. See ya then!
Posted by: Wonderduck at 11:24 PM | Comments (4) | Add Comment
Post contains 514 words, total size 3 kb.
February 03, 2013
F1 Prawn: Red Bull RB9
It used to be that when a team had a roll-out, you could actually, y'know, see the car. Pictures would be taken, questions would be asked, people would "ooh" and "ahh", and we'd all be impressed. And the World Champions would be the most anticipated debut of all, with everybody flocking to the event and documenting every nanometer of the chassis with a fine-toothed comb. And then, you have today's coming-out party for the Red Bull RB9, the Adrian Newey design that will defend the team's three consecutive championships... where they didn't allow media photographs. Where all the team has released are a couple of computer renderings of the new chassis. And a video called "
Rhythm of the Factory
," showing the basic steps of constructing the car. This makes it very difficult to do a F1 Pr0n for the RB9, because I'm NOT going to review a render, no matter how pretty. I made that mistake a couple of years ago with the HRT... never again. So what do we have to work with? Well, a screencap from the video:
What can we tell from this? Well, the obvious thing is the nose... the RB9 has a hybrid platypus. It's using the modesty panel, but it's a short one to improve airflow over the bump, while saving weight at the same time. I hate to admit it, but that's clever. The double-step isn't unattractive, either. They've also changed the color scheme, to reflect the new Infiniti sponsorship. I
like
the pearlescent purple; I'm actually surprised nobody else has used pearlescent colors on their cars. True, they're no longer "The Blue Cars" but oh well.
I want to get more and better pictures of the RB9 before I do a real F1 Pr0n for it, so this'll have to do for the moment.
Posted by: Wonderduck at 09:04 AM | No Comments | Add Comment
Post contains 310 words, total size 2 kb.
February 02, 2013
F1 Pr0n: Sauber C32
I'll admit a certain affection for Team Sauber. As one of the last of the true privateer teams, they were a throwback to the old times of F1, where corporate sponsorship was not a guarantee of success and a man in a shed could build a race-winning machine. Team namesake Peter Sauber was one of the true gentlemen of motor sports as well. He sold his team to BMW in 2005, who ran it until 2009 before deciding to get out of F1. The team looked like it was dead, but Sauber bought it back from BMW because he could not stand to see "his" employees lose their jobs like that. That's class, and that's reportedly the way that Team Sauber operates every day. It was thus with some sadness that the F1 world received the news last season that Peter Sauber had decided to retire (again), handing the keys to his team to Monisha Kaltenborn, the first female team principle in the sport. In the recent past, Sauber cars have been mostly white, as befitting the nice guy image of the team.
This ain't Peter Sauber's team anymore. It's also no longer
the C31
, and it's the first car this season to have some serious changes made to it. It's gone on a serious weight reduction program, with changed air intakes, and much, much smaller sidepods.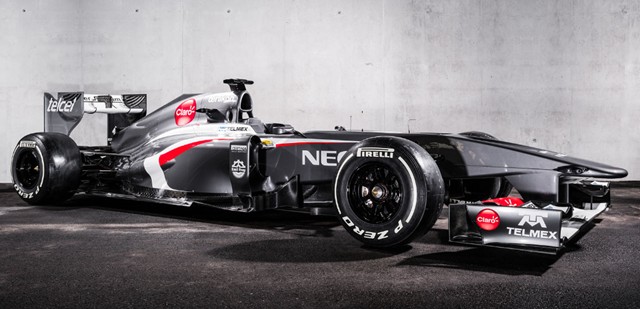 Forward of the cockpit, there's not much change. Everything aft of there, though... Apparently, when then-Sauber driver Sergio Perez had
his serious accident at Monaco in 2011
, one of the car's sidepods was heavily squashed. Car designer Matt Morris took a look at the result and said "I wonder if we can do that for real?" Here's the result. Slimmer sidepods, with the McLaren-style exhaust pipe exiting from the side of the pod. A much more compact rear end, with better aerodynamics around the rear suspension. Considering that there's nothing on the design that'll be able to be carried over to 2014, it's a remarkable job of design... makes me wonder when they started work on it?
And dear merciful heavens, that livery! I'm sorry, but Peter's Saubers all looked friendly in their white schemes, but Monisha's? That's one badass-looking car! Menacing... not something I'd want to see coming up behind me. Maybe we'll see some movement in the standings from Sauber this year... I hope.
Red Bull are up on Sunday.
Posted by: Wonderduck at 10:48 PM | No Comments | Add Comment
Post contains 403 words, total size 3 kb.
February 01, 2013
F1 Pr0n: Force India VJM06
I don't think I'm alone in believing that Force India is the most disappointing team in the paddock right now. Just a couple of years ago, the team was a KERS unit and some runoff area away from
winning their first race
, but now? Seventh in the Constructor's Championship, and nobody giving a thought to them seriously contending for podiums let alone wins. They are, as they say in baseball, "organizational depth," out there because, well,
someone
has to be
the backup shortstop at Triple-A Charlotte
. So, what are Force India bringing to the track this year?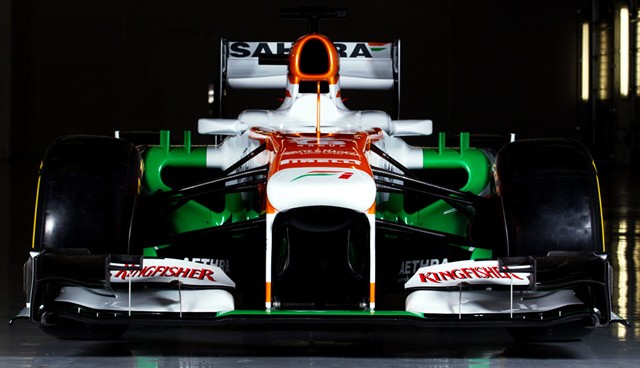 According to the guys in the white lab coats and the perpetually tired looks, the VJM06 is completely new, with nothing being carried over from the 2012 design. One of the advantages of being mired deep in the midpackers with nothing to really race for is the ability to give up a year, and that's what Force India did; they quit developing the VJM05 and concentrated all their efforts on the 2013 design. That all being said, other than a wider nose and the twin vanes on top of each sidepod, there doesn't seem to be all that much difference from
the 2012 chassis
... at least from the nose.
I'd just like to point out that the VJM06 is the first of the cars to come out that you can really see where the modesty panel is, mostly because it looks like it doesn't fit well on the Force India. Definitely less of an undercut to the sidepods in comparison to, say, the Ferrari.
One thing they aren't doing is borrowing from the RB8 with the exhaust end of the sidepods; they look almost bulky when compared to, say, the Lotus E21. That isn't a bad thing, per se, and easily fixed if it turns out to be the wrong way to go, but one wonders if it's the right way to go. All in all, while the team may say it's an all-new design, I suspect there's less change involved than the team would have us believe. The technical regulations changed very little this off-season, so it's not like the car was suddenly going to be sporting bat wings and moose antlers in any case. If there's one team I'd like to see do well, it's this one... I just don't see it happening, though. We've been surprised before, however.
Sauber rolls out on Saturday, and the World Champions on Sunday.
Posted by: Wonderduck at 11:54 PM | Comments (6) | Add Comment
Post contains 414 words, total size 3 kb.
F1 Pr0n: Ferrari F138
I do wish Ferrari would stay consistent with their numbering practices. Everybody else follows a pattern... last year's Red Bull was the RB8, the previous chassis was the RB7, the one before that was the RB6, and so on, and this year's will be the RB9. McLaren has the MP4-28, preceded by the MP4-27, -26, -25 and back through the years with nary a bobble. But Ferrari! The team that should be the MOST tradition-bound, the team that should be all about history? "Hey, Guido, it's your year to name the car... whaddya want it to be called?" The F138, which name
will undoubtedly be considered a boon to the highlight editors at NBCSN, the BBC and SKY
, comes from the calendar year (20
13
) and the number of cylinders in the engine (as a tribute to the last year of the V
8
in F1). Tradition? We don't need no steenkin' tradition at Ferrari... we're the SCUDERIA, we do what we want and you'll like it. Because, whether or not you want to admit it, you want us on that track. You
need
us on that track. Without us, there is no great enemy to root against, and no prancing horse to root for.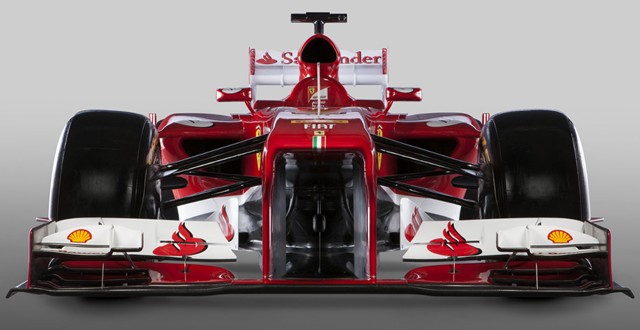 After last year's technical reorganization at Ferrari, the designers took a conservative approach to this year's car, making it much more of an evolution of the F2012 than an all-new car. Other than the obvious cosmetic difference from the modesty panel, it's really hard to see any difference at all from the nose. Oh, they cleaned up the front suspension, allegedly causing less drag, but other than that? I dunno,
I can't really see anything
.
There's some fine sculpting to the sidepods visible from the 3/4s view, and the team is claiming that the entire rear end has been reworked, but I just don't see it. This isn't a bad thing. While not the most aerodynamic car in the world thanks to the team's windtunnel problems, the F2012 in the right hands (ie: HWMNBN) was awfully close to being a championship-winning chassis. If they get over the aero hurdle, maybe they'll be back to being 800lb gorilla FERRARI again, as opposed to...whatever it was they were at the start of last year.
While I got used to the platypus nose, even thinking it gave the cars a certain charm, they do look better with the modesty panel. Not, it must be said, as good as two years ago, but better. And I DO have to take Ferrari to task for that white stripe along the bottom of the car. You're FERRARI. What color are your F1 cars? RED. The shade may change slightly, but it's RED. Idjits. All of 'em, idjits.
Force India is up next.
Posted by: Wonderduck at 07:32 PM | Comments (3) | Add Comment
Post contains 463 words, total size 3 kb.
45kb generated in CPU 0.0182, elapsed 0.1723 seconds.
48 queries taking 0.1584 seconds, 138 records returned.
Powered by Minx 1.1.6c-pink.