January 31, 2013
F1 Pr0n: McLaren MP4-28
Before I get into the details of the new McLaren, I have a complaint. See, the little team from Woking used to do great "glamour shots" of their cars... indeed, I believe I got my "nose-3/4-side" format for F1 Pr0n from them. But in recent years, they've gone away from that to putting the car on an angled plinth under nice warm lights... which is HORRIBLE for my purposes. This year they've only released TWO studio shots: one from the side, and the annual McLaren Centerfold. *siiiiiiiiiiigh* Well, let's work with what we've got.
Ladies and Gentlemen, the McLaren MP4-28.
For all intents and purposes, there's only two differences between this and the MP4-27. One, the sidepods have a steeper slope front-to-back, though they
didn't
copy the Red Bull exhaust thing like Lotus did. The other obvious difference is the nose. Last year's rollout had a very low, long nose; the MP4-28, on the other hand, has something more like the nose run at the end of the 2012 season, when the McLaren was the fastest, though least reliable, car on the track. It
looks
shorter, though that's probably an optical illusion, maybe because of the installed modesty panel covering the step.
Other than those differences, there's one other oddball thing... the two sidepod inlets have completely different shapes, and each one has a different style/shape of mirror. I can only assume that this is temporary, and one will be decided upon before the first race. Though I wouldn't put it past McLaren to go full wacko on us...
it's an odd-numbered year
, after all.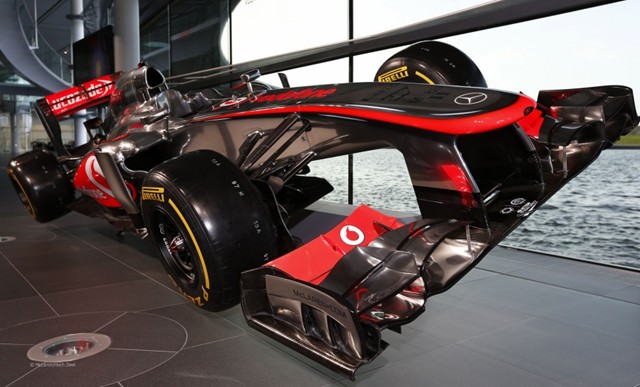 Under the skin, there's reportedly a number of changes. They've copied the Ferrari pull-rod suspension for the front, and improved the rear pull-rod suspension by putting all the pieces into one housing, thereby cutting down on drag. Reportedly. For the life of me, I can't see it. That, however, is why they have people who get paid to spot things like that and I work in a bookstore. Okay, we've seen the rest of it, but now it's time for moment we've all been waiting for... and no staples, either!
more...
Posted by: Wonderduck at 09:36 PM | Comments (4) | Add Comment
Post contains 410 words, total size 3 kb.
January 28, 2013
F1 Pr0n: Lotus E21
It's that time of year again. With the
unofficial start of the motorsports year
having run this past weekend, it's time for a young man's thoughts to turn to the curves and bodywork of the lovely cars of Formula 1. What, you thought
I meant something else
? Fortunately for all of us, Lotus understands that which drives us, and today brought out their challenger for the 2013 F1 Championships, the E21.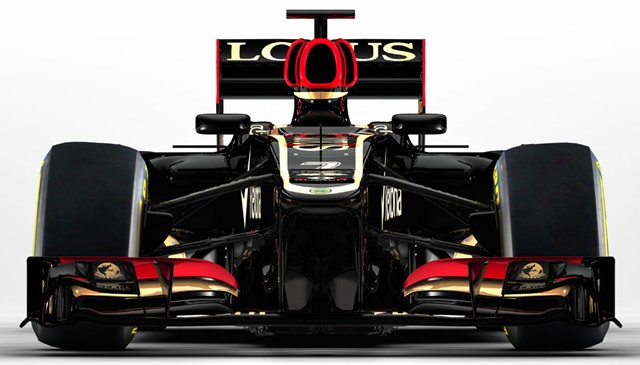 Which, at least from the front, looks very much like the E20. This is hardly a bad thing, as that chassis proved to be quite effective in 2012, moreso towards the end of the season. One thing that has visibly changed is the livery colors; there's more red and black, less gold. Purists may not like this as it doesn't "tip the hat" to the old Lotus "
John Player Special
" colors, but I could care less. The red looks great!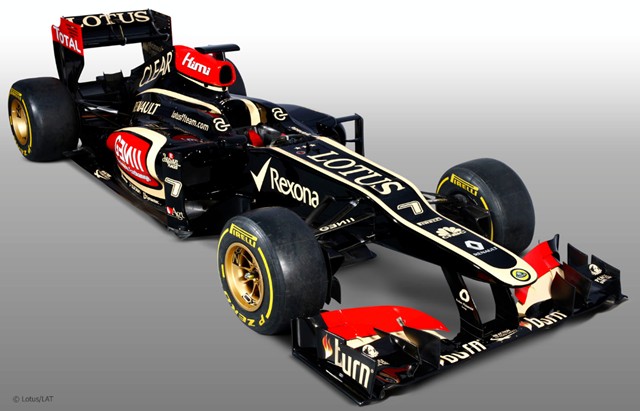 It's from this angle that the surprises start to really become visible. They're not using a "modesty panel" to cover the stepped nose; Lotus has said that they don't want to add any extra weight to the car, particularly high up, for mere cosmetic purposes. Now, if they can get a smidgeon of downforce out of it, however.... All the way back to the air intake, the E21 still looks like last year's car.
Whoops! Here's a difference: Lotus is copying the rear end of the Red Bull RB8 sidepods and exhaust exits. That'll bring the exhaust down and around the end of the diffuser, trying to get a bit of a blown diffuser effect, without having a blown diffuser (which would be illegal). Let's face it, if you're going to copy from someone, one may as well copy from the best, right?
It's like Laser Floyd, except better!
So there's our first charger of the year. Next up is the McLaren MP4-28 on January 31st... we'll see you then with the next installment of F1 Pr0n!
Posted by: Wonderduck at 07:46 PM | Comments (4) | Add Comment
Post contains 332 words, total size 3 kb.
21kb generated in CPU 0.0133, elapsed 0.1112 seconds.
46 queries taking 0.1017 seconds, 117 records returned.
Powered by Minx 1.1.6c-pink.