September 18, 2010
F1 Pr0n First Look: Korean International Circuit
Usually, F1 Pr0n deals strictly with the rollout of the cars for the new F1 season. However today we've got something special on tap: a whole new circuit. The Korean International Circuit at Yeongam is due to play host to the first GP of Korea on October 24th, but there's been talk of the place not being finished in time. Well, I'm here to tell you that it sure as heck looks like the talk is true. But first, here's the track map: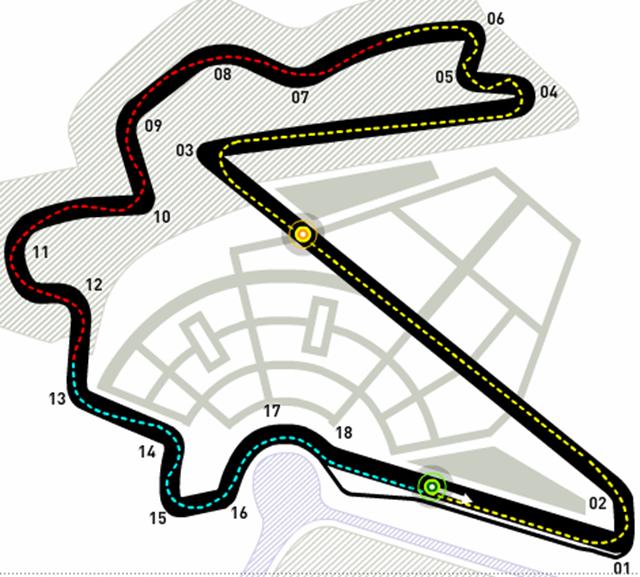 Okay, let's play "Guess The Track Designer," shall we? Nah, what's the point, it's pretty obvious that Hermann Tilke's scat is all over the layout. There is one series of turns that I'm fascinated with on here, Turns 4, 5 and 6. I'm fascinated because I can't imagine anybody thinking that a hairpin followed by a tight 90-degree turn followed by another 90-degree turn in the opposite direction could
possibly
make for good racing.
I can see Tilke's design process at work here: "First let's draw some straight lines. Then I'll let the cat push a piece of charcoal around the paper. Okay, that's the layout!" Remember once upon a time I mentioned how all the good circuits in F1 had a
flow
to them, how one part of the track should lead to another in a natural, organic way? Well, the KIC doesn't do that anywhere. It honestly feels like Tilke set out to avoid that at all costs.
To make matters worse, there's much doubt in my mind as to whether or not the whole place will be finished in the five weeks remaining until race weekend. "But Wonderduck," I hear you asking, "how do you know that???" Well, allow me to show you an interesting picture:
This is the view of the main straight from right around where the start/finish line is marked on the trackmap. That's the main grandstands on the left, the paddock area is to the right. Does that look even remotely like someplace you'd want to go to to watch a race? Does that grandstand look like it's completed? Other structures around the track are much the same, looking like concrete shells with nothing inside, just the exterior walls. The actual race track asphalt is laid, but the curbs, the runoff areas, everything that allows cars to race safely? Missing or incomplete. But don't take my word for it, just take a look at this video.
The race organizers and Red Bull had a demonstration run a couple of weeks ago using the 2008 Red Bull chassis and the FIA's super-hard demo tires. Surprisingly, Cowboy Karun Chandhok was the driver (the usual RB drivers weren't allowed to run, as it'd be an unfair advantage, I guess). The FIA and Hispania Racing, Chandhok's normal team, let him do it, which is a pretty clear indicator that we won't be seeing him again this year. I can only imagine what he must have felt, actually getting into a real F1 car and being allowed to turn some laps.
Anyway, watching that video just confirmed all my opinions from the track map: it looks like disaster-in-the-making, as far as racing goes. Now
driving
the circuit looks like it'd be a blast, but that's not the same as racing around it.
We'll see in about five weeks. Stay tuned.
Posted by: Wonderduck at 08:35 PM | Comments (3) | Add Comment
Post contains 562 words, total size 4 kb.
20kb generated in CPU 0.0133, elapsed 0.5658 seconds.
45 queries taking 0.557 seconds, 110 records returned.
Powered by Minx 1.1.6c-pink.