January 31, 2014
F1 Pr0n: Marussia MR3
Thursday was the third of four pre-season testing days at Jerez this session, and finally the good folks from Marussia were able to get their car out on track. It was an epic struggle for that to occur, with the car not working just before they made it there, the transporter apparently breaking down on the way, so on and so forth. But they got the new MR3 out of the garage, making it a full 10-for-10 on teams at the event (only Lotus didn't attend... and their car reportedly needs about 20 weeks before it'll be able to work, according to one wag). So what's it look like?

Baby! That's the epitome of F1 Pr0n, right there! Best looking car of the season, bar none, and it's not even close. I particularly like the air intake behind the driver's head, quite a bit different from everybody else. The nose looks, as has become the norm, completely different from all the others.
The nosecone seems higher that I expected, but maybe that's just an optical illusion. The proboscis has a square pyramid tip to it, another new feature. One drawback of the black livery is that things like sidepod openings just sort of disappear, a black hole on a black background. Still, it looks lovely.
See what I mean? It also looks BIG, though I'm sure it's no longer or taller than the others. Driver Max Chilton just sort of... disappears... in the cockpit, doesn't he? Will the good looks matter? Hell no, not unless a hot livery means you take a second off your time. Otherwise, they'll just look really photogenic as they're lapped for the third time.
Tonight or Saturday, I intend to do a F1 News Recap post, because there's news indeed coming out of Jerez. See you sooner or later!
Posted by: Wonderduck at 08:08 AM | Comments (5) | Add Comment
Post contains 308 words, total size 2 kb.
January 28, 2014
F1 MegaPr0n: Caterham CT05, Williams FW36, Red Bull RB10, Force India VJM07, Mercedes W05
It's the first day of pre-season testing for the F1 Circus, and while it was a bust as far as on-track action went (nine cars, something around 80 laps total run), it was a huge success as far as getting cars in front of cameras! Ladies and Gentlemen, THIS is
your
F1 MegaPr0n for 2014!
Lots of pictures, so click "more" to get started!
more...
Posted by: Wonderduck at 10:08 PM | Comments (4) | Add Comment
Post contains 988 words, total size 7 kb.
January 27, 2014
F1 Pr0n: Toro Rosso STR9
As the temperatures here at Pond Central begin their precipitous plunge towards a predicted -21°F tonight (that's -30°C, folks!), our thoughts turn to the south of Spain. There, nestled amongst the sherry vinyards of Andalusia, is the Circuito de Jerez, a Formula 1-level racetrack used by The Circus for pre-season testing. It is there, under a clear sky and 60°F temperatures, that the fourth of the 2014 rollouts has occurred. Ladies and Gentlemen, allow me to introduce the Toro Rosso STR9!
The problem with circuit rollouts is that you don't get glamour shots, but "real" pictures. No straight side shots, no directly-head-on nose shots, that sort of thing. But it's not like we can't see what's what with what we've got, heavens no! Long sloping nose like the McLaren, I actually think it looks really good... until you to the front wing. Hide the children, Mable, this is gonna be bad!
Oh dear god. I hope this is all just a bad dream, that F1 is just trolling all of us. "It's all a joke, you all fell for it, here's what the cars will really look like!" Unfortunately, I know it isn't... the cars are going to actually look like this all season.
One interesting feature of the STR9 Durante is that it's the first of the cars to not have a center pillar supporting the rear wing. Instead, the endplates run all the way down to the floor and diffuser. The sidepods don't have the complex sculpted undercutting to them that the McLaren and Ferrari have, making it all look very "big shoulder"-y. Or at least as much as a F1 car
can
look brawny.
So tomorrow is going to be very busy indeed, as the first pre-season test in Jerez begins... expect there to be a LOT of new cars tomorrow! See ya then.
Posted by: Wonderduck at 07:32 PM | Comments (6) | Add Comment
Post contains 312 words, total size 2 kb.
January 26, 2014
F1 Pr0n: Sauber C33
Hinwil. Hardly a city name that inspires visions of glamour and intrigue. Yet it is Hinwil in Switzerland, population 10602, that F1 Pr0n travels to today. For this little town in the Swiss Confederation is the location of Sauber F1 Team, who today rolled out their car for the 2014 season, the Sauber C33!
Unfortunately, they did it by releasing just a pair of pictures of a grey car in a grey warehouse with a grey floor. Still, we can (barely) tell what they're doing with the nose!
It's looks like it tapers in around the "Diamond I" on the front of the car, as opposed to McLaren's proboscis and Ferrari's Gypsylips. Until we see a front shot, however, we can't be sure just what it looks like for sure. What I CAN say is that it's completely different than the other two we've actually seen to date. Other than that, however? Just not enough detail in the angles we've got to say anything intelligent about the car... which is, truly, par for the course.
Allegedly, the Toro Rosso rollout is Monday... see ya then!
Posted by: Wonderduck at 07:49 PM | Comments (4) | Add Comment
Post contains 189 words, total size 1 kb.
January 25, 2014
F1 Pr0n: Ferrari F14T
Despite their recent drought as far as championships go, the big team in Formula 1 is still the band from Maranello. Today, Ferrari debuted their car for the 2014 season, the F14T. Interestingly, the name was picked by the rabid tifosi in an online poll. I wonder if anybody noticed that it spells "FIAT" in l33t? Anyway, I understand the "T" stands for "turbo", but I'm just old enough to remember when teams were able to bring a spare car to the track, aka "the T car." Whenever I'll look at the F14T name, I'm going to inevitably think of it as the "Ferrari F14 spare."
But enough of the ruminations of an old, bitter man. What does the thing look like anyway?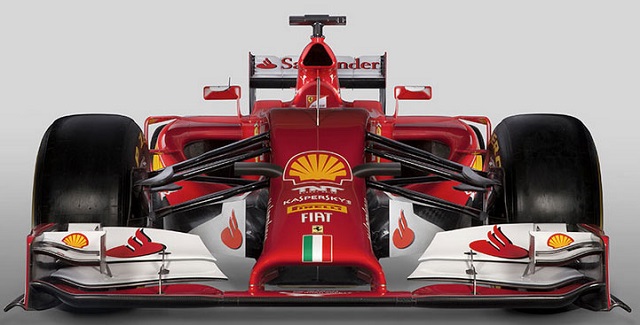 Completely different style of nose from the McLaren, but equally legal. I suspect we'll be seeing this type of thing at each and every rollout: how will each team interpret the new rules, and which interpretation will be the best? It's not as ugly as the McLaren, but something tells me that the Glare on Wheels might actually have the better solution. Interestingly, the Ferrari has much smaller sidepod radiator inlets than the McLaren. Clearly
they
don't think they'll have cooling difficulties.
Oh geez. What looks acceptable from the front suddenly looks really, really ugly from the 3/4 position. The MP4-29 has a nice clean arc from cockpit to tip. This is like the 2012 stepped nose that everybody hated, mixed with a substantially lower termination point... yick.
I actually like this; as long as I don't have to look at the nose, the car looks good. I even like the paintjob... the less Ferrari Red on the track, the better. In comparison to last year's car, the back half of the F14T is bigger, so as to fit all the new engine components and such into it. Sidepods don't seem to be as steeply undercut as they have been in past years, either. We'll see!
Ferrari decided to give us a nice glamour shot as well... click for more, and no staples!
more...
Posted by: Wonderduck at 11:03 PM | Comments (4) | Add Comment
Post contains 356 words, total size 2 kb.
January 24, 2014
F1 Pr0n: McLaren MP4-29
Every year around this time, something special occurs. The hibernating F1 Circus begins to stir, shaking off the accumulated dust and tireclag of the offseason. It used to be that the big Red team would be the first to stumble out of the cave, blinking and sneezing, but no longer is this the case. This year, it's the Glare on Wheels that's made it's way into the light first... not only that, but it stopped to pose for some pictures. So, let's kick off the new season with some true F1 Pr0n, the debut of the McLaren MP4-29!
New regulations this year require a very very low nose, with the front wing attached to it by twin pillars, and you can see that quite clearly in this shot. What you don't see is the thinner rear-wing elements required, or the larger sidepod intakes needed to help cool all the new engine stuff required for the turbocharger and larger KERS battery pack. No, that's all visible from the front... so let's see that sexy, sexy front view, shall we?
Off in the distance, I hear the sound of retching and wails from those weak of heart: "Dear god, what in the name of all that's holy is that?" I'll admit, even though I knew it was coming, the new eatanter nose is... um... er... what's the term I'm looking for here?
Ah yes:
Fugly
. No other word even comes close to describing the travesty foisted upon us by the FIA rulebook this year. I mean, dear heavens, just look at that thing... who could really like that?
Ladies and Gentlemen, McLaren's biggest fan.
However, all is not lost... the little team from Woking has one tradition that they haven't thrown away quite yet: the glamour shot! Click "more" to see what I'm talking about... but not until you put the kids to bed.
more...
Posted by: Wonderduck at 10:48 PM | Comments (4) | Add Comment
Post contains 368 words, total size 3 kb.
38kb generated in CPU 0.0202, elapsed 0.226 seconds.
50 queries taking 0.2128 seconds, 144 records returned.
Powered by Minx 1.1.6c-pink.