March 02, 2016
F1 Pr0n: Sauber C35
The fourth oldest team (using current names) on the grid, behind only Ferrari, McLaren and Williams, Sauber F1 finally got their 2016 challenger on track. So what magic does the team from Hinwil, Switzerland, bring us this year?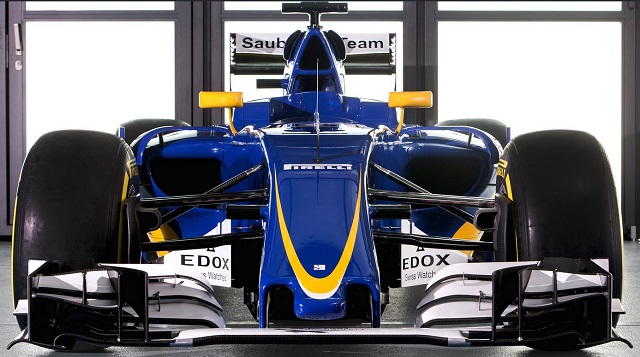 Did you know it rains about half the time in Hinwil, and that the little town has a population of around 10000? Neither did I. What does that have to do with the C35? Nothing at all. About the car, people who know these things say that the front from the cockpit to the nose is, essentially, the same as last year's design as used from Singapore on. For the most part that's fine, but most of the other teams have changed their front suspension to have a unified lower wishbone. Sauber has not, which should incur some sort of drag penalty.. how much and if it's enough to matter is another question. The front wing is, more or less, new and essentially a copy of the Mercedes wing style.
Moving backwards, there's a startling change to the size of the C35's sidepods in comparison to last year. They're smaller, more sculpted, and with a greater undercut to them... very much like the Ferrari, in fact. Which makes sense, since Sauber uses Ferrari power units. It stands to reason that their cooling requirements would be similar. "Similar" doesn't mean "the same" however, and the C35 has larger inlets than Ferrari. Maybe things are packaged differently underneath the bodywork. One completely unique feature of the car is the rear wing support. Everybody else has a single pylon setup last year but Sauber, who kept a more traditional twin pylon design. This year, they've changed to a Y-shaped pylon, probably for weight and aero reasons. We'll know if it works when other teams start changing to Y-pylons.
With luck, the C35 will bring Sauber back to the days where they were right on the verge of joining the Big Four. They're too good to languish in the ranks of the backmarkers.
Posted by: Wonderduck at 10:46 PM | Comments (1) | Add Comment
Post contains 341 words, total size 2 kb.
14kb generated in CPU 0.011, elapsed 0.2824 seconds.
45 queries taking 0.2757 seconds, 108 records returned.
Powered by Minx 1.1.6c-pink.