February 29, 2016
F1 Pr0n: 2016 miniMegaPr0n Part II: Renault, Red Bull, Force India, Manor
The first round of pre-season testing is now complete, and 10 of the 11 new chassis have hit the track. We've already looked at Ferrari, Mercedes, McLaren and Williams in
the first miniMegaPr0n
, and Haas got its own entry because
they're just that darn cool
. This installment will look at four of the remaining teams. "But Wonderduck," I hear you wail, and I think you need a little tuning, you seem a tad flat, "why not all six?" Well, that's simple. Toro Rosso is running an all-black testing livery that is totally impossible to pick any details out of from the pictures available, and Sauber hasn't debuted their 2016 car at all. So four it is!
So enjoy these on-track snaps and amateur analysis from the duck with the best grasp of F1 in the world, yours truly. And I can make that claim because what
other
duck is going to disagree with me in a way anybody could understand?
more...
Posted by: Wonderduck at 09:05 PM | Comments (2) | Add Comment
Post contains 863 words, total size 6 kb.
February 22, 2016
F1 Pr0n: Haas VF-16
If you're a fan of Formula 1 coverage here at The Pond, you have this car to thank for 2016. To be blunt, I was leaning towards giving up on writing about F1 unless something important occurred... but then Haas F1 Team joined the grid. Why does that matter? Because they're an American team, based in Kannapolis, NC, with a "forward base" in Banbury, England for the European leg of the season. Yes, I'm rooting for the team on strictly nationalistic grounds, and that's what is keeping me interested in F1 this year.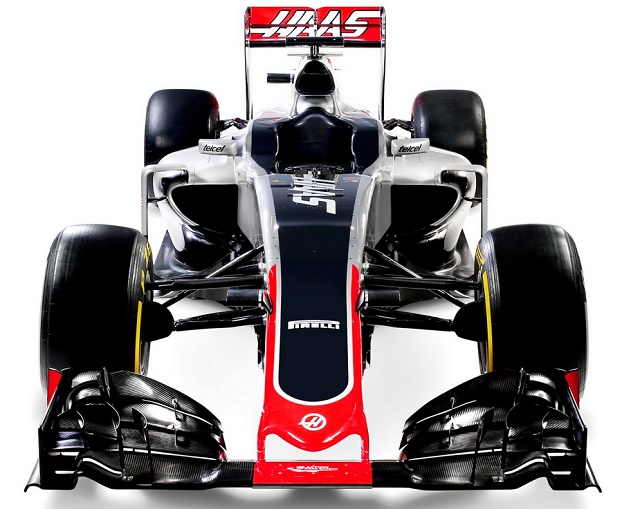 The livery is based on that used by "parent company" (i.e., both are owned by Gene Haas)
Haas Automation's machine tools
. Indeed, the car's "VF" designation comes from them, too. The first machine design they sold was called the VF-1, short for "Very First". As an aside, the Navy fighter squadron VF-16 flew off the second USS
Lexington
(CV-16) and were known as "The Fighting Airedales."
The overall design is reminiscent of both the 2015 Ferrari SF-15T and the SF-16H. This should come as no surprise to anybody, since the two teams have a very close technical partnership. Not only is Haas using the 2016 Ferrari powerplant, they also purchased as much as the tech regs allowed from the Italian team. Thus the suspension and gearbox, as well as incidental parts (like brake ducts) are also Ferrari-made. The rest of the design is all Haas, however, and was produced by Dallara for the team.
There's an interesting wrinkle on the nose just behind the suspension mounts. The general school of thought at the moment is that its for some aspect of the suspension, but nobody knows for sure. The tip of the nose is more Mercedes than Ferrari, as it has no proboscis. Obviously there's no way to compare the design with prior Haas cars, but it can be said that it's not quite as refined as, say, the Ferrari bodywork. The sidepods are a little larger, the rear of the car is not as tightly packaged, that sort of thing, but you'd expect that from a first-year design. You don't take as many risks on your initial go-round.
Haas F1 wants points in its initial season. Normally I'd think that was impossible, but for Haas, maybe not. Unlimited windtunnel testing for the past year, plus the partnership with Ferrari, has presented the team with unprecedented advantages over prior new teams like HRT or Virgin. Let's see if they have taken full advantage... testing starts on Monday!
Posted by: Wonderduck at 12:41 AM | Comments (9) | Add Comment
Post contains 424 words, total size 3 kb.
February 21, 2016
F1 Pr0n: 2016 miniMegaPr0n Part I: Ferrari, McLaren, Williams, Mercedes
With preseason testing starting up at Barcalounger on Monday, many of the teams finally got around to officially showing us what their cars were going to look like this weekend! With this post, I'll touch on the Big Four of Ferrari, McLaren, Williams and Mercedes. The fifth team that debuted on Sunday will get their own post.
Once testing begins, we should see almost all the rest of the cars, and we'll deal with them in Part II. So what will the high-powered steeds of Formula 1 look like this season? Let's get to lookin'!
more...
Posted by: Wonderduck at 11:14 PM | Comments (2) | Add Comment
Post contains 875 words, total size 6 kb.
February 04, 2016
F1 Pr0n 2016: (Not The) Renault RS16
Would you believe that it's nearly that time again? Off in the distance, one can hear the engines grumble and the turbos beginning to whine... or is that just people who want the V10s back, it's hard to tell. Formula 1 is just around the corner, and the first of the rollouts didn't occur today. Now, I know you're assuming that I just typo'd up there, but nope, I meant it: the first of the rollouts
didn't
occur today. What did happen, though, is that Renault debuted... something. Ladies and Gentlemen, allow me to not introduce you to something that isn't the RS16!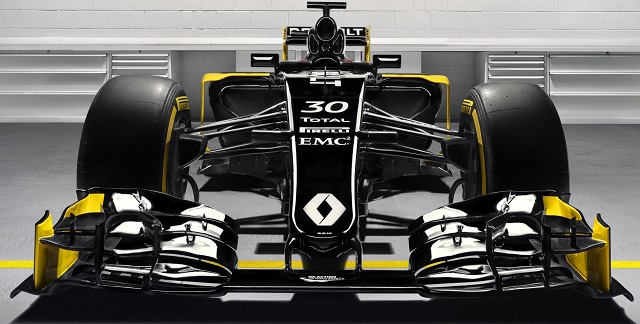 As you may or may not remember, the team known as Lotus was about to go legality-plank-up last year, but longtime F1 waffler Renault eventually rescued them from the abyss. Renault is one of the truly important names in the sport, either as an engine manufacturer, a team sponsor, a factory works team, or all of the above at once. They've raced as Equipe Renault Elf, Renault F1 Team, Lotus Renault GP, and won two constructor's championships on their own. They've also supplied engines to championship teams from Williams, Red Bull and Benneton along the way, making them one of the most decorated marques around. Now they're back, officially known as Renault Sport Formula 1 Team, with their car for 2016, the RS16.
Which, in fact, you are not seeing here. Oh, to be sure, the team debuted the car you're seeing here today in a grand presentation, but this isn't the RS16. See, Renault got into Lotus quite late last season and it's known that the dying team had no design on the table for this year... why spend the money when you're not even sure you'll be able to finish 2015? So Renault had to come up with a design on its own, something that can't be done in just a couple of months. What we're undoubtedly looking at here is the chassis of last season's E23 with the new front wing the team ran in the post-season test at Abu Dhabi back in November. Though you can't see it in these pictures, people who know these things have said that the exhaust on this car looks exactly like 2015, which would be against the tech regs for
this
year.
Hell, Jerome Stoll, president of Renault Sport Formula 1 Team, even said that the livery you see here will change by the first race weekend in Australia. So if the car isn't going to be what you see here, and the paintjob is going to be different, why in the world did Renault even have this event today?
To unveil the team. Let's face it, a lot of people were pretty sure that Renault dragged its feet on the Lotus deal because they were lukewarm on the sport. And, considering the grief they took from Red Bull concerning their engine, who can blame them? This event was clearly a "we're back now" thing, and all things considered, a welcome one. F1 is better off with Renault as a manufacturer than without it.
As near as I can tell, this is the first, and last, scheduled rollout of a car until pre-season testing begins in a couple of weeks. We'll keep an eye out, though, just in case.
Posted by: Wonderduck at 09:55 PM | Comments (5) | Add Comment
Post contains 559 words, total size 4 kb.
32kb generated in CPU 0.0717, elapsed 0.1972 seconds.
48 queries taking 0.104 seconds, 131 records returned.
Powered by Minx 1.1.6c-pink.