April 01, 2015
Fish In Anime #3: Gold Fish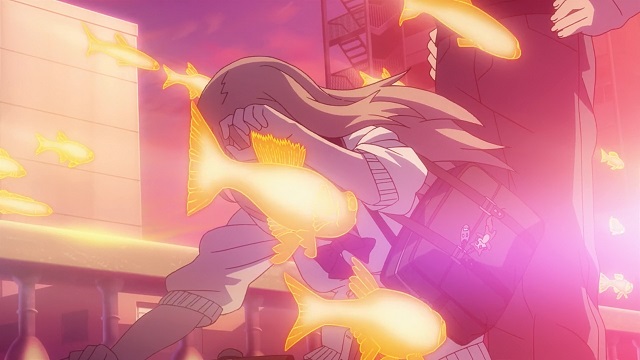 -Tokyo ESP
Ep02
So this magic penguin burps up flying gold fish that activate mutant powers in people when they fly into them. That, in a nutshell, is the premise of
Tokyo ESP
. Of course, there are people who use their new-found powers for Bad Things... and a perishingly few that decide to become the X-Men. Well, no, not really, but kinda. Hijinks occur, but they're of the "only mildly interesting" type. I'm pretty sure I wouldn't have watched the show if it wasn't for the appearance of
the Monochrome Schoolgirls
in Ep01... I kept hoping they'd come back.
Never did.
Posted by: Wonderduck at 06:40 PM | Comments (2) | Add Comment
Post contains 107 words, total size 1 kb.
1
Hmm I watched the first 2 episodes, but I lost interest and dropped it. Although I did start more than 20 shows that season so I guess I was busy.
Posted by: Riktol at April 03, 2015 11:47 AM (MQZN9)
2
Riktol, you probably made the correct decision. I finished it because I really like
Ga-Rei Zero
, and
TESP
is by the same guy. I truly mean it when I say that I finished the series only because I was hoping that Kagura and Yomi would show up again.
Oh, there are plenty of worse series out there, but this one doesn't have any real spark to it. It was just another show in another season of shows. Not as good as some, not as bad as others... slightly above average at best, slightly below average at worst.
Unless you're a fan of
GRZ
, in which case the first episode is good, and the first five minutes are GREAT. Then you can stop watching.
Posted by: Wonderduck at April 03, 2015 02:18 PM (jGQR+)
19kb generated in CPU 0.04, elapsed 0.2265 seconds.
49 queries taking 0.2026 seconds, 159 records returned.
Powered by Minx 1.1.6c-pink.