November 04, 2007
Ducks In Anime: Recursiveness Abounds!
-
Alfred J Kwak
, ep2
It's a duck... with a duck!
Posted by: Wonderduck at 10:40 PM | Comments (2) | Add Comment
Post contains 15 words, total size 1 kb.
The Greatest Anime Ever.
Sometimes when you're down and out, and life has you on the ropes, something wonderful comes along and makes you realize that the world is great and good.
This has occurred today. Today, a fansub group released episode 1 of The Greatest Anime Ever. Ladies and Gentlemen, for your entertainment, may I present...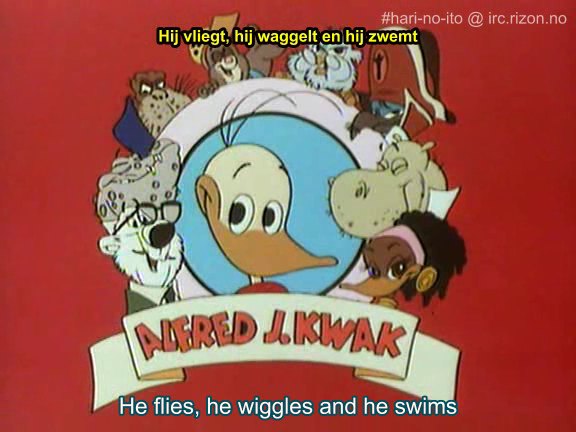 ...flying, check, good for a duck. Swimming, check, good for a duck. Wiggles?

ALFRED J. KWAK
, or
Ahiru no Quack
in Japan. This is an important distinction, because
AJK
was originally a Dutch-Japanese collaboration that was translated into no less than
seventeen
different languages! While a children's show, it appears to be headed into quite mature territory.
According to
Wikipedia
, for example, In episode 1, Alfred is hatched, and minutes later, evil land developers turn his home near a stream into a theme park. Alfred's family is killed in a car accident in episode 2. His opponent is named "Dolf", and is apparently based on Adolf Hitler (though we haven't met him yet). The characters age over the course of the 52 episode run.
Our hero as a young

man

duck.
As you can tell from looking at the screenshots, this is an old show, starting in 1989. It's not bad, for a children's show, all things considered. The transfer to the
OGM
format is pretty poor, with any movement being blurry; that's probably an artifact of the original DVD source material. Still shots look fine, if a little soft-focus.
Our hero's father, taking umbrage at the slight on his family...


Truthfully, I'm sure I wouldn't've watched this if it didn't have a duck as the main character (and I didn't have broadband). However, I'm glad I did... it's fun, and there's a lot of potential here.
ANN
says it's a historical show, teaching children about life and such things as WWII. If so, I can't wait.
One huge surprise, though, was the voice of Alfred. The moment I heard the theme song, I thought "I know who that is," and a look at the cast list confirmed it:
Megumi Hayashibara
, performing in only her fifth or sixth show, and what might be her first lead (I can't tell if
Ranma 1/2
debuted before or after). It's a piece of anime history, and it's about ducks! How cool is that???
And in this episode,
Steven
's worst nightmare comes true:
more...
Posted by: Wonderduck at 01:44 AM | Comments (6) | Add Comment
Post contains 477 words, total size 5 kb.
24kb generated in CPU 0.05, elapsed 0.1757 seconds.
46 queries taking 0.1549 seconds, 163 records returned.
Powered by Minx 1.1.6c-pink.