September 14, 2011
Sugar. Spice. And Everything Nice. These Were The Ingreedients Chosen To Create The Perfect Ducks In Anime.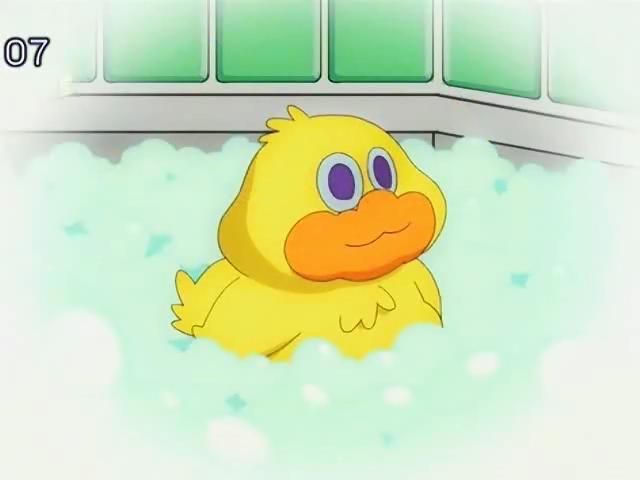 -
Powerpuff Girls Z
, Ep21
The original
Powerpuff Girls
was an intelligent, engaging, entertaining and funny romp of a show, one that never failed to make me laugh at its aimed-at-adults humor. The Japanese, seeing it as homage to Super-Sentai style anime, thought it would be a good idea to remake it in their own unique way. Thus was born
Powerpuff Girls Z
. It was a magical girl show, with three normal little girls becoming "Hyper Blossom," "Rolling Bubbles" and "Powered Buttercup." It was also turned into a kids show. In short, it was everything the original was not... in particular, it was not funny or clever in the least. But it did have a rubber duck in one episode. In fact, the rubber duck was even the main "villain" of Ep21 "Quack Quack Attack". Given life by the "black light" that created monsters, the duck eventually grew to enormous size.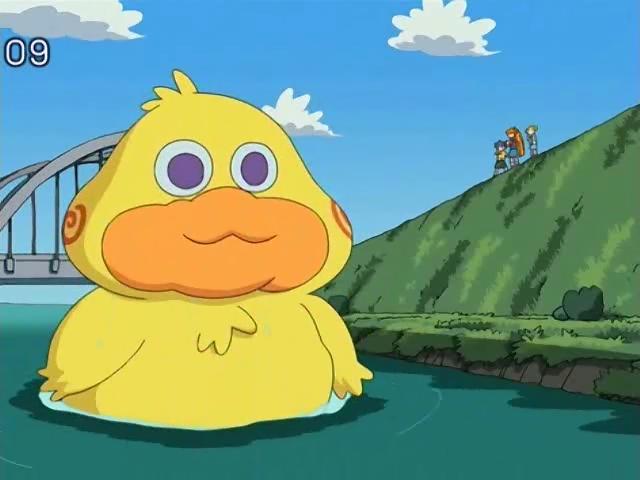 Left: Steven's worst nightmare. Right:
PPG
fans' worst nightmare.
The duckie wound up accidentally terrorizing the city of Townsville as it tried to find its owner, which it loved very much. All it wanted to do is be reunited with the little boy that dropped it one day. Eventually it was, it returned to normal duckie size, and all was right with the world. The End.
But hey: rubber duckie. That's the only worthwhile thing to come out of
PPGZ
, right there.
Posted by: Wonderduck at 09:08 PM | Comments (5) | Add Comment
Post contains 249 words, total size 2 kb.
September 03, 2011
Ducks In Anime: Don't Call It A Comeback
The bad thing about hunting for rubber ducks in anime is that you can go for months without ever seeing one. Even shows where a rubber duckie would make the most sense, like one taking place in an onsen, will inexplicably skip the duckie... and yes
Hanasaku Iroha
, I'm very disappointed in you.
And then from out of nowhere, in a show you'd never expect to include anything as light-hearted as a duckie, you get rewarded.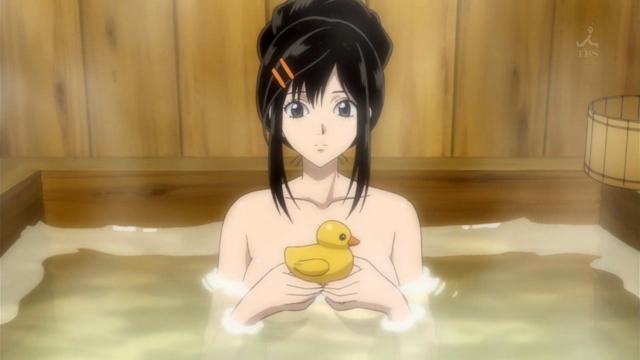 -
Blood-C
, ep08
I mildly enjoyed the first few episodes of
Blood-C
, but not really enough to keep up with it. I wasn't a fan of the first two installments (
Blood: The Last Vampire
,
Blood+
) and the addition of CLAMP to the team for
C
did nothing to keep me enthralled. I found myself wondering just exactly why Saya would do her hair like
that
, which is probably not what the creators intended. Then came the censoring of the fight scenes in later episodes, and I just gave up. But something told me to download this episode today... maybe it was a mystical link I have with duckies, maybe it was fate, maybe it was
Doki's preview picture
, I don't know. But there, in the middle of an dark, dark anime about a schoolgirl with a sword killing the bad things that go chomp in the night (and in the day, for that matter)... is a duck.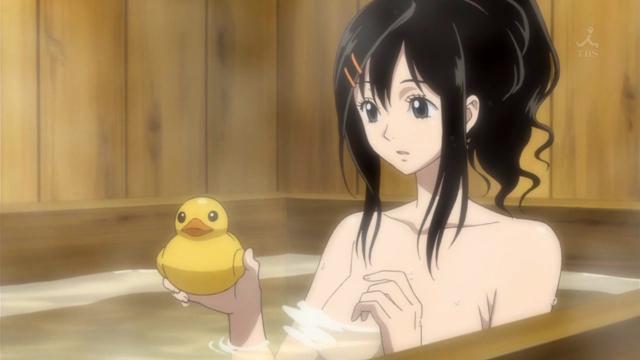 A nice duckie, too. Good sized, big eyes, floats well, an all-around attractive duckie.
Posted by: Wonderduck at 09:04 PM | Comments (3) | Add Comment
Post contains 254 words, total size 2 kb.
24kb generated in CPU 0.04, elapsed 0.2713 seconds.
46 queries taking 0.2359 seconds, 163 records returned.
Powered by Minx 1.1.6c-pink.