October 14, 2015
Ducks In Anime: One Punch Duck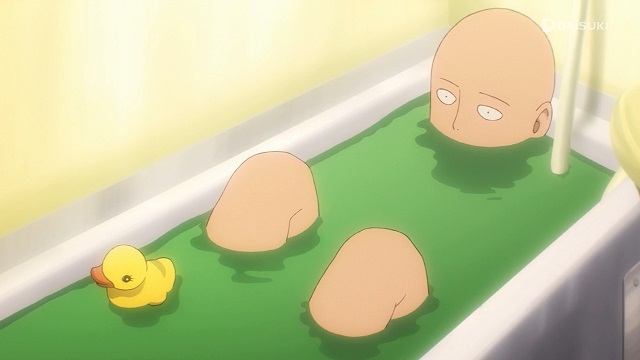 -One Punch Man
, Ep01
I've never been happier for green water ever. The hype was ridiculous over OPM leading up to this season, and every ounce of me wanted to just ignore it. After all, fighting anime ain't my gig except for
Ikkitousen
, and the fighting isn't the reason I watch that franchise. However, I saw too many reviews suggesting that there was more to the show than just stupid over-the-top fighting, so I gave it a watch. Good thing, too... it's funny as all get-out. The main character has Superman's Dilemma... no, not
how does he have sex
... but what happens when you're so strong that nothing at all can threaten you, and you can defeat anything literally with one punch? If you're like our hero, you get bored. You fight mostly because you're annoyed by the beings that ruin the roof of your apartment instead of using the door, or because they destroyed the grocery store that's most convenient for you. You literally dream of a challenge that will cause you to actually have to work for a victory.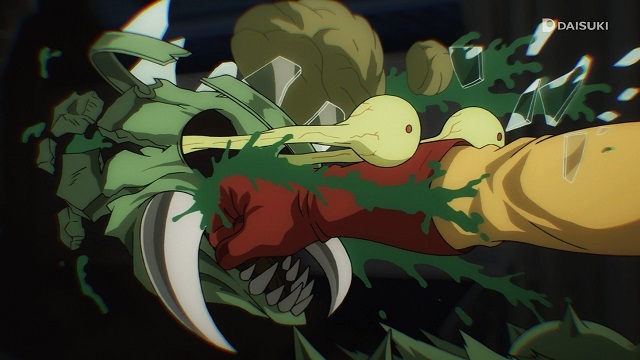 Instead, to you everything is a mook. And you are empty inside.
But your rubber duckie loves you. Because that's how rubber duckies do.
Posted by: Wonderduck at 09:37 PM | Comments (6) | Add Comment
Post contains 211 words, total size 2 kb.
18kb generated in CPU 0.09, elapsed 0.3983 seconds.
45 queries taking 0.3673 seconds, 159 records returned.
Powered by Minx 1.1.6c-pink.