September 26, 2014
Ducks In Anime: Then Shots Rang Out Edition
-Sabagebu!
, Ep06
I've been meaning to watch this show about schoolgirls shooting each other with pellet guns and apparently being jerks to one another, but haven't gotten around to it yet. Then
Brickmuppet
told me there was a scene with a high duck/person ratio and here we are. That's a very nice amount of ducks, though the frogs do detract from the overall atmosphere somewhat. Still, 10 ducks is a very nice number indeed.
Cute ducks, too.
Posted by: Wonderduck at 09:50 PM | Comments (3) | Add Comment
Post contains 85 words, total size 1 kb.
September 22, 2014
Ducks In Anime: Both Of You, Dance Like You Want To Win Edition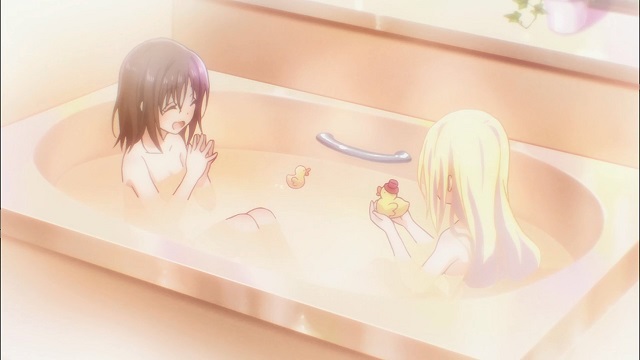 -HaNaYaMaTa
, Ep11
Late last week, I get an e-mail from my brother in feathers
GreyDuck
, alerting me to a ducks in anime sighting. The show, he said, is about a style of Japanese dancing. Oh. Whee. Still and all, I went looking for the ducks in the episode he said, and a very weird thing happened.
I couldn't find it. Huh. He said it was in a bath scene, maybe he meant Ep10, which takes place in a hot springs/bathhouse? Bemused, I downloaded that episode and started to watch. No duck, but another very weird thing happened by the time I reached the end.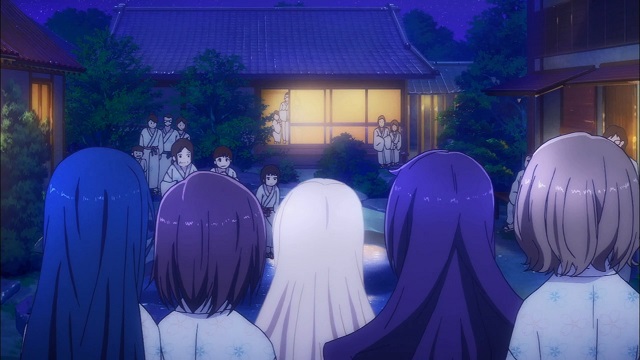 I was leaking manly tears of manly joy. Confused (but manfully joyful), I went on and watched Ep11... and oh, there the duck is. Two of them, actually! No tears for that episode, so I went back and watched Ep10 again, just for the helluvit. If you're in the mood for an emotional event, go watch it yourself. It's dumb, sure, but in a good way. In a sports story, the bench player just came up with the bases loaded and two outs in the bottom of the ninth... and the winning run scores on a wild pitch.
Anyway, I liked it, and there's two ducks. So there you go, what more could you ask for?
Posted by: Wonderduck at 09:56 PM | Comments (3) | Add Comment
Post contains 233 words, total size 2 kb.
20kb generated in CPU 0.03, elapsed 0.1868 seconds.
46 queries taking 0.1664 seconds, 161 records returned.
Powered by Minx 1.1.6c-pink.