March 24, 2008
I Needs Me Some Of That...
In comments
, Steven points out something interesting over at
Peter's J-List Sideblog
. Seems Peter was over in Tokyo recently, and he took a picture of a store with the intriguing name of...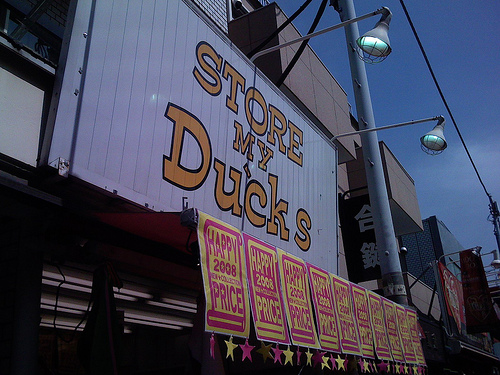 Store My Ducks. Brilliant!!!


But here's where it gets weird... or if you know me and my penchant for ducks, maybe it's not so weird after all:
I ALREADY KNEW ABOUT THIS PLACE!!!
See,
the Brickmuppet hizzownself
, Ken, went to Tokyo last summer, and he sent me this photo: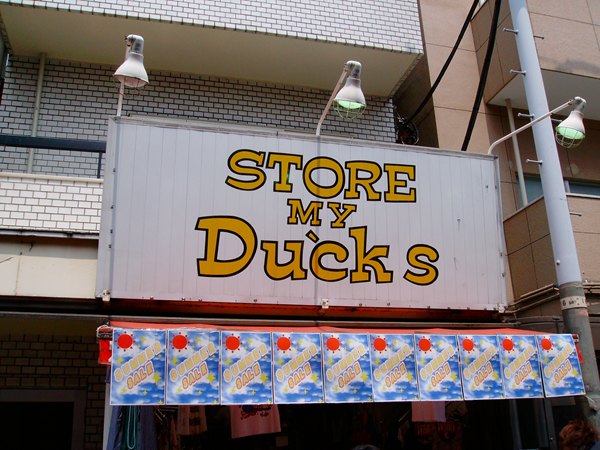 Store My Ducks! Even MORE brilliant!!!
And you know it's the same location... there couldn't be two places with that much awesome on display in this world.
What I regret is that I haven't the faintest idea of what Store My Ducks actually
sells
... I have a feeling it's the greatest store EVER.
Posted by: Wonderduck at 10:08 PM | Comments (6) | Add Comment
Post contains 140 words, total size 2 kb.
March 20, 2008
The Melancholy of Ducks In Anime
-
Ouran High School Host Club
, ep07.
I forgot just how much fun
Ouran
is. Even though I've got new episodes of
Clannad
,
ARIA
, and
Bamboo Blade
to watch, and I somehow fell three weeks behind on
Kimikiss
, I guess I felt like something else.
On a whim, I brought up ep01 of
Ouran
... and wound up watching six more.
I don't usually marathon a show; three or four is my usual maximum at any one time.
Kanon
and
Azumanga Daioh
seem to be the only series that I can sit and watch the whole run of (though I did watch 10 episodes of
Clannad
when I was sick a couple of weeks ago, that was more because I was testing my new DVD player's reaction to a high-complexity dual-layer burned disc... or, rather, two of them), but if I didn't have to work in the morning, I might find that
Ouran
would join them.
Which is so strange, because the pointy-chin style of show usually doesn't interest me at all. But then,
Ouran
breaks a lot of rules in the first place, doesn't it?
Posted by: Wonderduck at 01:03 AM | Comments (1) | Add Comment
Post contains 190 words, total size 2 kb.
22kb generated in CPU 0.03, elapsed 0.1813 seconds.
46 queries taking 0.1592 seconds, 162 records returned.
Powered by Minx 1.1.6c-pink.