November 15, 2017
Ducks In Anime: Out Of The Darkness, A Light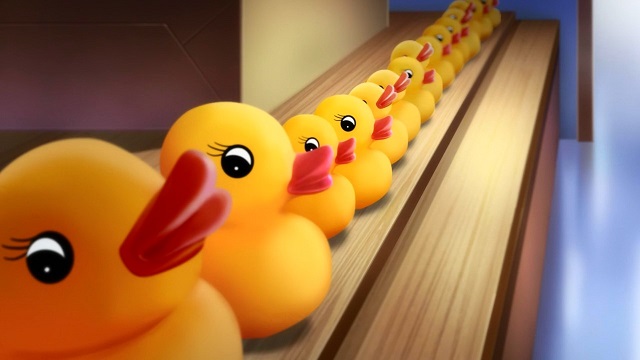 Despite my advancing years, my eye can still be distracted by cute representatives of the opposite sex, even to the point of watching an anime series solely because of a character design. Oh, it doesn't happen often... I usually require something more than that, like a storyline or grand concept that is appealing... but upon occasion everything will line up just right. As I wasn't really paying attention to anything this season... I still intend to finish up
Girls Last Tour
... I said "what the hell," and began watching
Aquarion Logos
.
This was not the best idea I ever had. I acknowledge that giant robot shows can in theory be interesting and enjoyable. Having acknowledged that, I need to state that
Aquarion Logos
does nothing to prove that theory correct. Lots of combining small ships to make a big one, lots of yelled attack moves, flat-out awful animation levels, a stupid stupid plot... really, the only worthwhile thing in it is the Tagonist, Maia (above). Yes, tagonist. She's not on the side of Right And Good, so she can't be the protagonist, but she's not on the side of Darkness and Evil anymore either, so she's no antagonist. So she's a Tagonist.
*
Oh, and the cafe that's a front for the Good Guys' Giant Robot Hangar has a row of rubber duckies, as seen up top there. Sadly, even the combination of cut-off jeans shorts and rubber duckies cannot save this series.
*
Yes, I know I'm not using protagonist and antagonist correctly. Just roll with it.
Posted by: Wonderduck at 11:59 PM | Comments (9) | Add Comment
Post contains 268 words, total size 2 kb.
21kb generated in CPU 0.11, elapsed 0.2494 seconds.
45 queries taking 0.2038 seconds, 162 records returned.
Powered by Minx 1.1.6c-pink.