June 18, 2017
Ducks In Anime: UberLyft
As I often do on Saturday nights, I was online chatting with
Brickmuppet
(which says a lot about my life, doesn't it?). He was sending me various and sundry pictures of a somewhat questionable nature, as is the usual wont, but one of them was different. It was a picture of a tiny fairy-like being riding a duck. I recognized it immediately, because c'mon, it's an anime duck... and I realized that I had never actually used that particular show before! The time has come to rectify that mistake.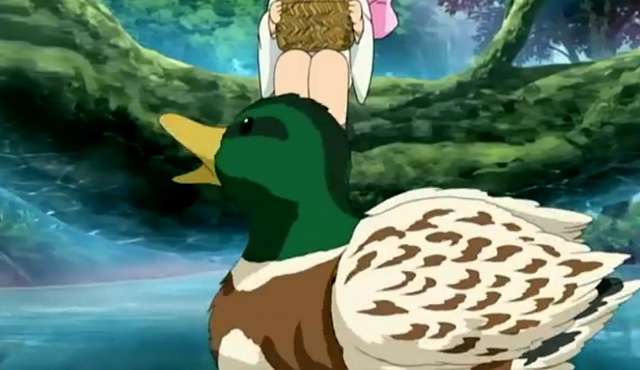 -Binchou-Tan
, Ep01
The entire series has been put on yootoob and I warn you, you will immediately develop both cavities and diabetes from watching it. But it's really kinda worth it... it's just a lovely little piece of fluff where every character is the living embodiment of types of charcoal.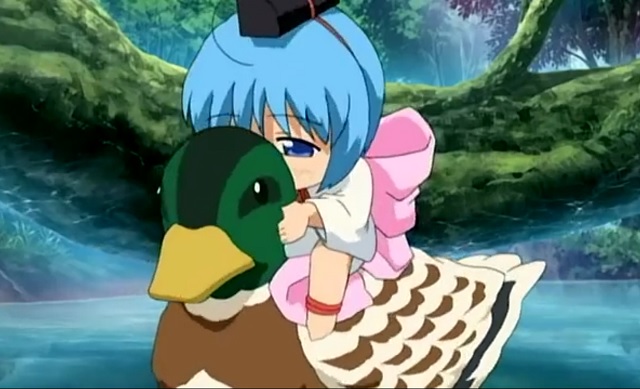 It isn't
all
sweetness and light of course. Binchou-tan is a lonely orphan that lives in a small house deep in the woods and has to forage for food when she isn't working in the nearby town doing menial tasks. One of her friends is a miko that communes with the afterworld. Y'know, that sort of thing. There's some meat in the froth, though. Well worth the cost of time, dental work, and insulin. I will warn you that, unless you are completely heartless, there is a very chance you will be tearing up or flat-out crying during the last few episodes.
And it's got the best looking realistic ducks I've ever seen in anime. That counts for a lot too.
Posted by: Wonderduck at 11:50 AM | Comments (3) | Add Comment
Post contains 264 words, total size 2 kb.
June 13, 2017
Ducks In Anime: For A More Civilized Age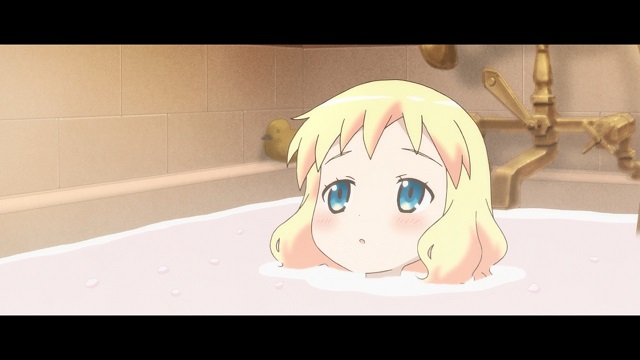 Should have been a slam-dunk for me... a laid-back, funny,
CGDCT
series seems right up my alley. Except there were a couple of minor problems... it wasn't laid-back or funny. It
tries
to be funny, it just... isn't. Not to me, in any case. Four of the five girls are annoying... like, fingernails on a blackboard annoying... and the one that isn't tends to be both quiet and spacey, a combination that just... doesn't... work. It only just barely worked with
Azumanga Daioh
's Osaka, and believe me,
Kiniro Mosaic
ain't no
AzuDai
. What I'm trying to tell you is "don't watch it."
Sorry, I'm heartless and cruel... trying to be sad and cute ain't gonna cut it with me, not now.
Posted by: Wonderduck at 09:37 PM | Comments (3) | Add Comment
Post contains 132 words, total size 1 kb.
June 03, 2017
Ducks In Anime: Stand Alone Duckie
-Ghost In The Shell: Stand Alone Complex
, Ep26
A few months back, I stumbled upon
GITS:SAC
running on Cartoon Network at, like, 4am. I was struck by just how great the show looked, particularly since it was first broadcast in 2002. Oh, sure, there are moments when it looks... not so hot... but by and large, they're outnumbered by the drop-dead gorgeous visuals.
For a while there, Production IG was
the
company to go to if you wanted a show to look top-shelf. Sort of the way KyoAni is now, I suppose. I gather they were the first to really devote themselves to digital animation. Surprisingly,
GITS:SAC
avoids most of the oddness of early computer animation; only some cars look like they've been pasted into the scene. I find it hard to ding the series in any way, really. The storyline is a little clunky at times, but on the whole it all works. Hard not to recommend it.
...and the rubber duckie has a red sailor hat and kerchief on. Bonus points for that!
Posted by: Wonderduck at 06:30 PM | Comments (1) | Add Comment
Post contains 181 words, total size 1 kb.
24kb generated in CPU 0.05, elapsed 0.238 seconds.
47 queries taking 0.2039 seconds, 164 records returned.
Powered by Minx 1.1.6c-pink.