January 10, 2013
Ducks In Anime: Mochi Edition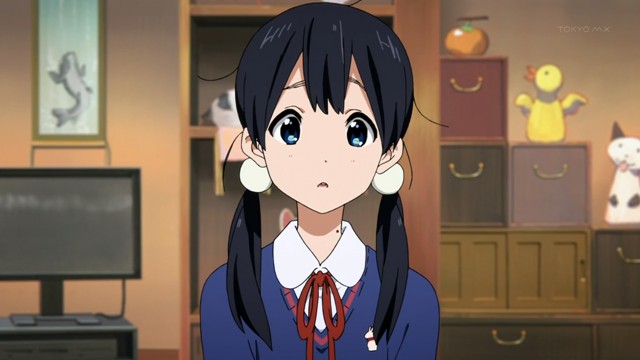 -Tamako Market
, Ep01
Well, the first episode of the new KyoAni show debuted today. Unlike almost everything else they've done,
Tamako Market
is original to Kyoto Animation, not based on a manga, light novel or video game. This... may not be a good thing, as KyoAni's previous foray into original work,
Munto
... let's just say it wasn't worthwhile and leave it at that.
As far as THIS original work goes, jury is still out. It had some good points (it looks great, as all KyoAni shows do, and Anko is also great) and bad (wtf bird?), but it's anybody's guess as to which will win out.
Still, they put a duck in it. That counts for a lot.
Posted by: Wonderduck at 12:03 AM | Comments (1) | Add Comment
Post contains 123 words, total size 1 kb.
January 03, 2013
Ducks In Anime: Purple
-

Chuunibyou Demo Koi ga Shitai!
, Ep05
Kyoto Animation doesn't do ducks very often, but when they do, they're
usually nothing
to
write home
about. It's almost as if they didn't give much thought to ducks in everyday life or something. It does appear, however, that with Ep05 of
Chuu2
, they've seen the error of their ways. A lovely shot in a lovely scene.
Posted by: Wonderduck at 01:02 AM | Comments (4) | Add Comment
Post contains 67 words, total size 1 kb.
20kb generated in CPU 0.49, elapsed 0.4762 seconds.
46 queries taking 0.4436 seconds, 160 records returned.
Powered by Minx 1.1.6c-pink.