March 05, 2012
F1 Mini-MegaPr0n: The Little Sisters Of The Poor
Preseason testing is over. Twelve days of (essentially) unlimited running is complete. We're now less than two weeks away from the first race of the new F1 season... and the worst two teams on the grid, HRT and Marussia (the team formerly known as Virgin, or TTFKAV), have finally debuted their 2012 runners. Just in time to pack 'em up and ship 'em out to Melbourne. No testing, no practice time, no nothing... but hey, the cars are ready. I guess. Maybe. Meh. Both HRT and TTFKAV failed mandatory crash tests, keeping them off the track. Not a good sign, but they're ready now.
Y'know, say what you want about the team, and lord knows I will, but HRT has a good sense of what livery colors look good. I mean, last year there was the "begging livery", which pretty much captured the essence of every kid's idea of how a racecar should look. This time, it's a bit of a cap-tip to Force India's
first
two
paintjobs
. Appropriate, considering that Tata Motors is a major sponsor. Oh, the car? Well, the F112's nose seems weird. Maybe it's the paint, with the gold outlining the underside, but it sure looks like it's higher than other teams'. The platypus seems to be less pronounced, as well. From there back, though, it kinda looks like the team put
last year's chassis
in an oven and let it get all melty.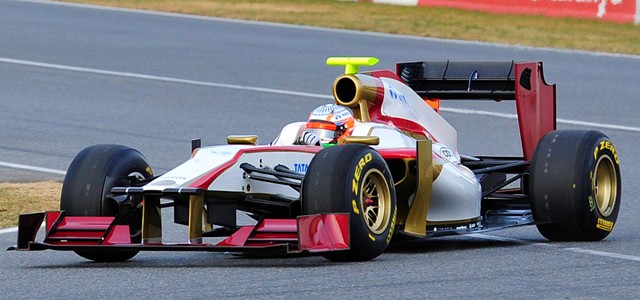 Otherwise, it looks quite a bit like other team's cars... which is a good thing for HRT. Means they are getting closer to the rest of the pack, design-wise... and with two season's worth of data under their belts, they should start getting results. In theory, at least.
Now, onto the team that's been the worst on the grid for their entire life: TTFKAV!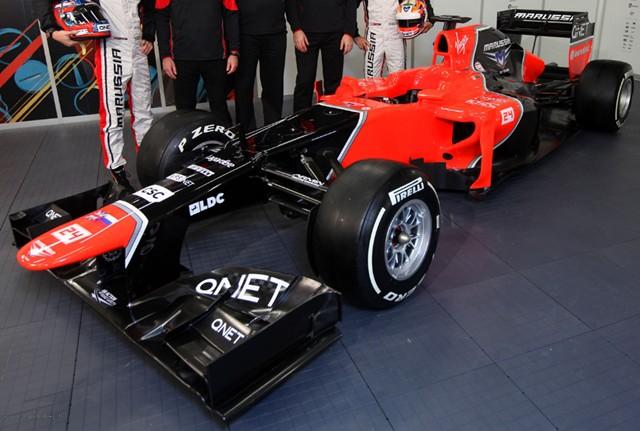 If you had told me that Marussia/Virgin/TTFKAV would be the only other team to use McLaren's styling for the platypus, I would have laughed at you. Red Bull, Ferrari and Mercedes couldn't/didn't, but Marussia
did
? Pshaaaaah, right. Except for the whole "technical partnership" between the two teams that I forgot about, but still, c'mon.
According to the team, the MR01 has very little in common with last year's VR-02. That's undoubtedly a good thing, but it could also be a case of "starting over from scratch." We'll find out soon enough. I'm still stunned by the nose. No shelf, no drop... just like the McLaren. The rest of the chassis looks pretty conventional, at least by the 2012 definition of "conventional." Just like HRT, they'll begin the season on the wrong foot, with no testing and no idea what problems are waiting to bite them in the butt. A team like one of the big four? They could
maybe
get away with no testing, but you know they'd hate it and they'd probably wind up flushing the season early. If Marussia or HRT are smart, they'll be using this season as nothing more than a really long testing session for 2013.
It's almost back.
Posted by: Wonderduck at 09:32 PM | Comments (6) | Add Comment
Post contains 514 words, total size 4 kb.
Comments are disabled. Post is locked.
17kb generated in CPU 0.0211, elapsed 0.2371 seconds.
46 queries taking 0.2288 seconds, 115 records returned.
Powered by Minx 1.1.6c-pink.